Rationale
Climate smart agriculture (CSA) recognizes that climatic risks to agriculture-based livelihood are occurring at much greater pace and intensity than before and in order to address it, context-specific local solutions are needed. To answer this need, the CGIAR Research Program on Climate Change, Agriculture and Food Security (CCAFS) has developed the Climate-Smart Village (CSV) approach, specifically to address this issue and to allow farmers to learn from the evidences generated at the local levels, and enable them to build their own CSVs later on. In Southeast Asia, CSVs have been established in Cambodia, Laos, Philippines and Vietnam, to serve as model sites where CSA learning, as well as community-based participatory action demonstrations, may take place.
The Southeast Asian Regional Center for Graduate Study and Research in Agriculture (SEARCA) has been advocating for climate change adaptation and mitigation, as well as food security and nutrition security, by providing a venue for high-level discussions that may support policy advocacy and encourage organizations to learn from the best practices of their counterparts from across the Southeast Asian region. SEARCA has drafted the "Umbrella Program on Food Security and Nutrition Security for Southeast Asia 2014-2019" and the "Umbrella Program on Climate Change Adaptation and Mitigation for Southeast Asia."
Along this line, the International Institute of Rural Reconstruction (IIRR) initiated the CSV in Guinayangan, Quezon, through the support of CCAFS in 2014. Since then, various CSA interventions, initially targeted for 300 farmers, have eventually reached about 1,500 farmers, through farmer-to-farmer scaling. The Guinayangan CSV has also functioned as a "go-to site" for agriculture development workers in learning about technologies, as well as participatory approaches and social learning methodologies for promoting CSA and the CSV approach. The knowledge and experiences generated from the Guinayangan CSV were already shared to around 285 agricultural researchers, students, extension workers, government officials, and media representing around 145 institutions (local & national governments, NGO, NARES, media, state universities, farmers groups) from 10 countries through both on-site (roving workshops, trainings, and site visits) and off-site learning events (trainings, forums, round table discussions). Guinayangan CSV has also been recognized and utilized by the Department of Agriculture (DA) as a learning site for capacitating 17 regional field offices and their respective partner local government units in developing AMIA villages (Philippine adaptation of CSV) in all 17 regions in the country.
SEARCA and IIRR have a Memorandum of Understanding (MOU) to collaborate on mutual areas of interest, such as school nutrition and climate smart agriculture. Being at the forefront of both CSA and CSV advocacy in the region, SEARCA and IIRR have partnered together to implement this workshop for the ASEAN Climate Resilience Network.
The ASEAN Climate Resilience Network (ASEAN-CRN) was established to ensure that ASEAN member states are capable of adapting to climate change and are able to execute mitigation efforts, in order to maintain food security and climate resiliency in the region. To achieve this, the Network provides a dialogue platform to discuss information, expertise and experiences on CSA. It serves as a link between policy makers to scientific institutions, universities, national research institutions in agriculture, and international organizations. The ASEAN-CRN focuses on advocating for the practice and implementation of CSA, as it is already a proven solution to converting and shifting orthodox agricultural systems to support food security under the new conditions posed by climate change.
To further enhance its capability in promoting and disseminating CSA work, the Network thought it best to expose its key members to the experiences and best practices of CSV projects and programs in the ASEAN region, by visiting selected sites and engaging with stakeholders in the Philippines.
Description
The applied learning activity highlighted the experiences in establishing and organizing CSVs in Southeast Asia (particularly the Guinayangan CSV) and was designed for ASEAN-CRN member countries, to provide them with experiential knowledge on the principles and practice of CCAFS' CSV approach to facilitating promotion and upscaling of CSA and its potential in enhancing food security in local communities.
Methodologies included plenary sessions, panel discussions, site visits, roving workshops and reflection sessions. Selected learning sites in Guinayangan, Quezon were visited, and participants submitted action plans as part of the requirements of the activity.
This learning event was designed following the eight guide steps learned from establishing and operating the CSV in Southeast Asia (see diagram) and featured the various participatory approaches, tools, and strategies utilized by CCAFS and the local government and farmers that contributed to the development of Guinayangan as a CSA learning site in the Philippines.
Participants
The program was designed for at least 20 participants from the ASEAN Climate Resilience Network (ASEAN-CRN).
Goal
The main goal of this learning activity was to help the participants gain a better understanding of the concept of climate smart villages and its impact in improving food security in local communities.
Objectives
At the end of the seminar-workshop, the participants were expected to have an increased appreciation for climate smart villages (CSVs) and its potential to significantly improve food security in local communities.
Specifically, the participants were expected to:
Increase knowledge and understanding of the CSV approach to make farming communities climate smart, utilizing the experience of Guinayangan CSV in the Philippines; and
Identify practical strategies and approaches in promoting and scaling CSA practices in their respective areas of work and fields of expertise as well as in contributing to the regional community of practice of CSA.
Modules
| | |
| --- | --- |
| Module 1 | Principles Involved in Establishing Climate-Smart Villages (CSVs) |
| Module 2 | The Practice of Establishing CSVs |
| Module 3 | Utilizing CSVs for Scaling Up |
| Module 4 | Interaction with Guinayangan CSV Stakeholders |
| Module 5 | Field Visits to Other CSV Sites |
| Module 6 | Reflection and Planning |
Additional Information
News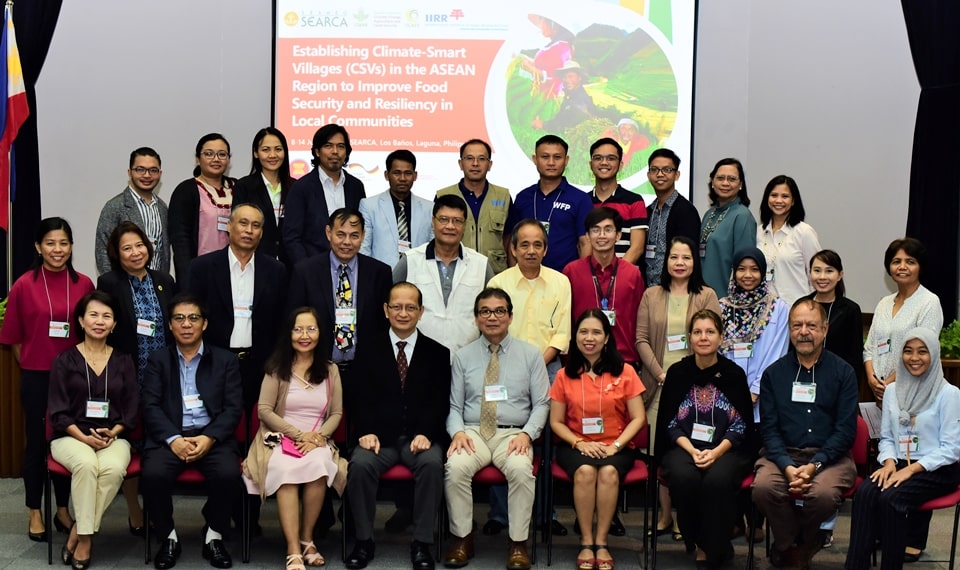 SEARCA, CCAFS, and IIRR-led roving workshop features best practices in climate-smart agriculture in Guinayangan, Quezon