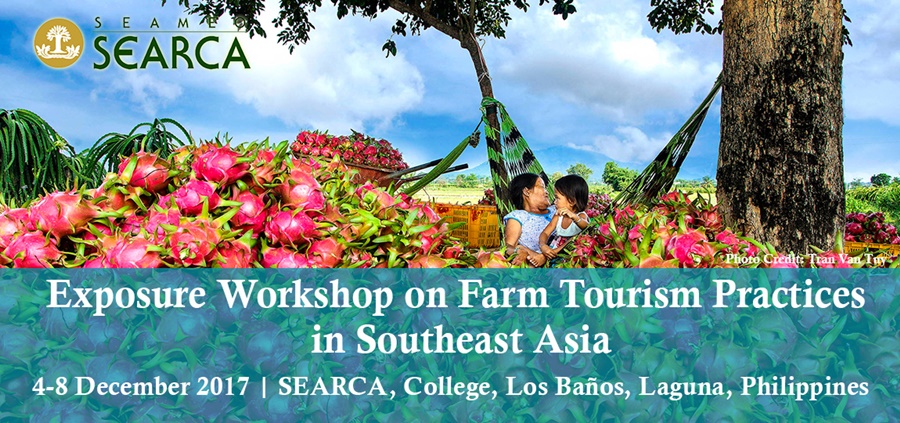 Background
Quick Facts:
When:
4-8 December 2017
Where:
SEARCA, College, Los Baños, Laguna, Philippines
Application Deadline:
03 December 2017
Contact:
Ms. Nova A. Ramos, Program Specialist,
;
Farm tourism has found its niche as a growth industry in many parts of the world. Such growth requires the coordination of institutions and organizations that can coordinate strategic planning, promotion, and information management for farm tourism to thrive.
Tourism development today has taken a major leap forward by incorporating agricultural, environmental, and economic activities into its programs that encourage active involvement and participation of people and their communities. Specifically, these are the agritourism, sometimes referred to as farm tourism, and ecotourism endeavors of organizations or individuals who adopt technologies generated and developed out of agriculture, socioeconomic researches, and conservation practices on the environment as profitable activities for local and international tourists, including its aesthetic valuation.
Being a young industry, farm tourism in the Philippines is still growing and developing. While there is a dearth of information related to farm tourism practices, there is literature that shows the management practices in farm tourism sites. This new economic development strategy of farm tourism helps farmers uplift their living and working conditions to generate income and enhance farm profitability (Schilling B. J., 2006). Moreover, it is rapidly being embraced as a strategy to conserve the family farm, and to teach the public about authentic farming life.
Thus, this exposure workshop aims to provide an avenue for the exchange of best practices and technologies in farm tourism among selected providers in the region thereby drawing out needs to support these initiatives, e.g., through enabling policies and improved support services, among others.
This learning event also aims to capacitate the participants in providing technical guidance to farm tourism practitioners to enable them to work in partnership with other institutions and agencies to foster farm tourism in their respective areas.
Objectives
The exposure workshop aims to enhance the knowledge, skills, practices, and attitude of the participants on inclusive and sustainable agriculture and rural development focused on farm tourism enterprise through the learning tour approach by delivering new ideas and techniques that will enable them to develop and manage farm tourism programs in their respective areas. Specifically, the participants are expected to be able to:
Describe farm tourism trends and practices in Southeast Asia;
Distill common issues and concerns, challenges, and opportunities in the implementation of farm tourism programs;
List and discuss the minimum standard requirements and guidelines for the operation and maintenance of farm tourism sites; and
Develop a farm tourism program or agenda as may be relevant to their respective contexts (for enterprise venture, research, teaching, extension, or policy).
Workshop Sessions
The exposure workshop will have the following sessions:
Preliminary Activities
Country Paper Presentations
Farm Tourism

Global Trends in Farm Tourism
Development of a Farm Tourism Enterprise (case presentation)

Support to farm tourism
Public and private partnership initiatives
Tools and techniques in the promotion and marketing of a farm tourism enterprise
Standard requirements and rules for the operation and maintenance of farm tourism sites
Guides for a better farm tourism
Rules on the operation and maintenance of farm tourism sites

Field Learning Sites Visits
Developing a Farm Tourism Program
Approaches and Methods
The exposure workshop will adopt a combination of various training methods to maximize and facilitate the learning of the participants, as follows:
Sharing of experiences facilitated by country reporting;
Participatory lecture-discussion/Powerpoint presentations;
Workshops/small group planning exercises;
Plenary sessions; and,
Field learning visits/exercises.
Sixty percent (60%) of the workshop duration will be allocated for classroom learning methods, while the remaining 40 percent will be allocated for field learning exercises/experiences.
Workshop Outputs
Participants are expected to have the following outputs:
Country papers/reports for presentation;
Field observations, insights, and learnings; and
Farm tourism program.
Meanwhile, SEARCA will produce briefs and notes for sharing on best practices, industry needs, and policy recommendations to be harvested from the workshop report.
Intended Participants
The exposure workshop is open to the following:
Practitioners – investors and entrepreneurs who are directly engaged in the farm tourism industry in the region.
Regulators – officials and staff of government agencies both from the agriculture and tourism sectors as well as other interested local government agencies.
Interest groups – non-government organization, people's organizations, and development organizations that are implementing programs and interventions on agriculture and tourism sectors.
Academe – state colleges and universities along with private academic institutions who are actively engaged in farm tourism activities and development projects.
Organizer
The workshop is being organized by the Knowledge Management Department-Training Unit (KMD-TU) of the Southeast Asian Regional Center for Graduate Study and Research in Agriculture (SEARCA).
Workshop Duration and Venue
4-8 December 2017 | SEARCA, College, Los Baños, Laguna, Philippines
Workshop Fee
The workshop fee is US$570/PHP25,653.00 per participant (live-in rate), which covers workshop materials, meals during the duration of the event, accommodation (twin-sharing), and whenever applicable, airport transfers. Live-out rate is US$400.00/PHP17,997.00. Subsidized rates are available upon request to government employees.
All other expenses associated with the workshop (international air travel, visa, airport terminal fees, travel/health insurance, and other personal expenses) are at the participants' own expense.
NOTE: Limited training support is open only to qualified nationals of SEAMEO member countries (i.e., Brunei Darussalam, Cambodia, Indonesia, Lao PDR, Malaysia, Myanmar, the Philippines, Singapore, Thailand, Timor-Leste, and Vietnam).
Applications
Online applications will be accepted until 3 December 2017. Walk-in applicants are welcome on 4 December 2017.
For the application form for fee-paying participants, please click here.
For training grant applicants, please click on the application form and nomination form.
Additional Information

Program Flyer


Exposure-workshop Program


Registration Particulars


Travel Information