Training Course on Impact Assessment and Poverty Alleviation: Focus on Technology and Capacity Development
Course Rationale
Decision-makers in governments, donor agencies, and other organizations are more and more raising the concern that the resources allocated to research and development (R&D) ought to bring about meaningful, visible change in the lives of the poor. It has thus become incumbent upon researchers and development practitioners to provide convincing evidence that they are making a dent in alleviating poverty through sound and rigorous impact assessment.
Through impact assessment, researchers measure and evaluate changes in the well-being of individuals, households, and communities after a particular project, program or policy is implemented. A good measure of these R&D programs incorporate stakeholder capacity development in relation to the application of technology and of scientific principles. The impact assessment of such programs therefore investigates the anticipated or actual effects of their technologies from social, economic, and environmental vantage points.
It must be underscored that impact assessment is different from process monitoring and evaluation, in that the latter does not estimate the magnitude of effects nor assign causation. On the other hand, causal analysis is essential for understanding the relative roles of alternative interventions; hence, justifying impact assessment over these other tools of tracking change.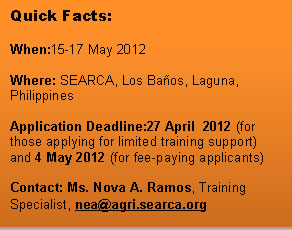 This impact assessment course is not SEARCA's first. In 2004, the Center piloted a training of trainers on impact assessment, with participants from government line agencies, research centers, academic institutions, and non-government organizations involved in monitoring and evaluation or policy research in their respective organizations. In 2005, the United Nations Development Programme (UNDP) and the National Anti-Poverty Commission (NAPC) supported SEARCA's second impact assessment course, with participants from NAPC, local government units, and the Office of Muslim Affairs/Autonomous Region of Muslim Mindanao (ARMM). In 2008, SEARCA offered a Training Course on Impact Assessment of Anti-Poverty Programs with Focus in Technology and Capacity Development. All these courses approached impact assessment in the context of effective policymaking and good governance for poverty alleviation.
Who should get involved?
The training course is designed for: 1) researchers and development practitioners in agriculture and rural development; and 2) policy makers and practitioners involved in contracting out development programs or serving as conduits of development programs.
What will you achieve?
The three-day training course generally aims to enhance participants' basic knowledge of impact assessment, its issues, and tools and to provide illustrations of impact assessments.At the end of the course, participants are expected to be able to:
Discuss the limits and potentials of impact assessment for R&D programs on technology and capacity development for poverty alleviation;
Identify selected methodologies in evaluating the impacts of such R&D programs; and
Construct research design impact assessments for programs on technology and capacity development for poverty alleviation.
Course Modules
Module 1: An Overview of Impact Assessment – discussions and knowledge exchange on impact assessment approaches, design, and methods; steps in a framework for impact assessment; how technology development and capacity building complement each other; selected impact assessment frameworks for capacity development; identification of the impact pathway for technology development and capacity development
Module 2: Quantitative Methods Used in Impact Assessment - selecting indicators for the assessment with focus on measures of poverty; qualitative versus quantitative methods; illustrations of statistical methods used in impact assessment; examples of impact assessment studies; constructing a research design for impact assessment
Module 3: Workshop on Constructing the Research Design for Impact Assessment – workshops and presentations of outputs, which will include designs for impact assessment of R&D programs with technology and capacity development components for poverty alleviation
Course Duration and Venue
15-17 May 2012 (three days) | SEARCA, College, Los Baños, Laguna, Philippines
Course Fee
The course fee is US$415 per participant, which covers course materials, meals during the duration of the course, welcome dinner, accommodation, and airport transfers. Live-out rate is US$313.
All other expenses associated with the course (international air travel, visa, airport terminal fees, and other personal expenses) are at the participants' own expense.
NOTE: Limited training support is open only to qualified nationals who are government employees in selected SEAMEO member countries (i.e., Cambodia, Indonesia, Lao PDR, Myanmar, Philippines, Thailand, Timor Leste, and Vietnam).
Applications
The deadline for application with limited training support is 27 April 2012. Deadline for registration of all other applicants is 4 May 2012.
For the online application of limited training grants, please [rokdownload menuitem="119" downloaditem="567" direct_download="true"]click here[/rokdownload].
For the online application of those applying as fee-based participants, please [rokdownload menuitem="119" downloaditem="562" direct_download="true"]click here[/rokdownload].
Additional Information
For the course brochure, please [rokdownload menuitem="119" downloaditem="566" direct_download="true"]click here[/rokdownload].
For the course schedule, please [rokdownload menuitem="119" downloaditem="563" direct_download="true"]click here[/rokdownload].
For registration particulars, please click here.
For travel information, please click here.