Regional Course on Research Management for Executives (RRMEX)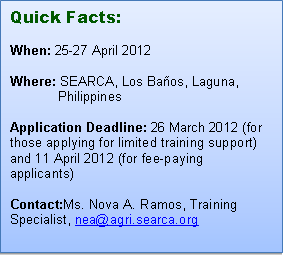 A course aiming for regional competence in research management
Course Rationale
Most of the current research executives and research managers in Southeast Asia have proven themselves technically proficient in their respective fields of expertise. They rose to their current positions mainly because of their track record as researchers, technical experts, or even academicians. However, their jobs as research executives transcends beyond scientific and technical expertise. It requires knowledge and competence to handle unique and creative personalities with different levels of education, expertise, and experience. Many of them rely mainly on their experience or intuition as they perform management functions expected of them as research executives. It is common knowledge that many or most of them have not had much opportunity to augment their management knowledge and capability.
A 2008 survey on the profile of the research management profession revealed that it is still in a state of rapid e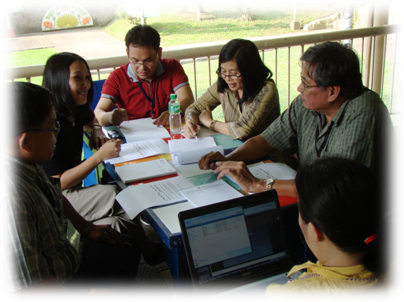 xpansion and research managers are working in an increasingly complex and changing environment where the development of appropriate training, evaluation and other structures remain outstanding concerns. Eighty percent of the respondents from Asia indicated that they have at least 15 years of experience as research managers. Nearly all research manager respondents are senior or mid-level administrators with high-level academic qualifications. They claimed that they spend a sizeable amount of their time on management. This includes assistance in identifying new sources of funds, presenting research applications and advice on costing projects and negotiating contracts with external sponsors. It incorporates project management and financial control systems; and also involves help in exploiting research results through commercialization, knowledge exchange, and dissemination to wider society. Abilities to develop good personal relationships and absorb complex information are seen as most important for the job. Responses also indicated that the greatest barrier to increasing the expertise is the lack of appropriate training. Nearly 60 percent of the respondents felt they had unmet training needs. This course primarily aims to provide executives and senior research managers with the opportunity to enhance their knowledge and skills in research management.
Who should get involved?
The course is tailored for research executives of public, private, and academic institutions in Southeast Asia. It is designed specifically for research executives and senior research managers at the policy and strategy creation level. Participants must be the head of a research unit/institution, spend half of their time in research management, and are likely to continue serving their organization for three years or longer.
What will you achieve?
An awareness of the demands of the increasingly complex and changing environment on research management as a profession;
A deeper understanding of the critical management issues and concerns experienced and shared by research institutions in the region;
Experience in strategically applying relevant lessons learned in the performance of your job as research executives, and the best practices pertinent to your research institution; and
An opportunity to reflect on and discuss with experts and peers practices, issues, challenges, ideas, and perspectives in research management.
Course Modules
Module 1: The Research Management System – the unique features, components, and interactions affecting team productivity and culture of excellence in knowledge-creating systems
Module 2: Strategic Research Management – relevant concepts and analytical tools with their application to actual problems experienced in various contexts by research organizations
Module 3: Managerial Leadership – issues and concerns faced by research executives with regard to leadership and management of research in the context of modern-day organizations and on the necessary skills, decision-aid tools, and useful tips on managing relations and dynamics of knowledge-creating teams
Module 4: Resource Generation and Management – strategic ways by which research executives generate and allocate research grants and revenues, and establish resource complementation through institutional linkages/partnerships
Course Duration and Venue
25-27 April 2012 (three days) | SEARCA, Los Baños, Laguna, Philippines
Course Fee
The course fee is US$415 per participant, which covers course materials, meals during the duration of the course, accommodation, health insurance, and airport transfers. Live-out rate is US$313.
All other expenses associated with the course (international air travel, visa, airport terminal fees, and other personal expenses) are at the participants' own expense.
NOTE: Limited training support is open only to qualified nationals of selected SEAMEO member countries (i.e., Cambodia, Indonesia, Lao PDR, Myanmar, Philippines, Thailand, Timor Leste, and Vietnam).
Applications
The deadline for application with limited training support is 26 March 2012. Deadline for registration of all other applicants is 11 April 2012.
Registration Form
For those applying for limited training support ([rokdownload menuitem="119" downloaditem="487" direct_download="true"]Application Form for Training Grant[/rokdownload] and [rokdownload menuitem="119" downloaditem="488" direct_download="true"]Nomination Form[/rokdownload])
For those applying as fee-based participants ([rokdownload menuitem="119" downloaditem="485" direct_download="true"]Course Application Form[/rokdownload])
Additional Information
[rokdownload menuitem="119" downloaditem="484" direct_download="true"]Course brochure[/rokdownload]
[rokdownload menuitem="119" downloaditem="486" direct_download="true"]Course Schedule[/rokdownload]