On April 29, the International Service for the Acquisition of Agri-biotech Applications (ISAAA), together with the Southeast Asian Regional Center for Graduate Study and Research in Agriculture (SEARCA), celebrated the twentieth anniversary of the global commercialization of biotech crops. At a media conference in Muntinlupa City, scientists discussed advances made in the field of biotechnology over the past twenty years, as well as highlighting breakthroughs made in 2015.
At the media conference, Singaporean scientist Dr. Paul Teng, Chair of the Board of Trustees of ISAAA, discussed the global status and impact of commercialized biotech crops over the past twenty years.
Why do we need biotech crops?
First, Teng outlined the importance of biotech crops, emphasizing that scientists did not advocate "biotech for the sake of biotechnology." "The challenge for many countries is making enough food available," he said. Due to climate change and the world's growing population, there was a need to double crop production, but with fewer resources—less water, less manpower, even smaller tracts of land. This must be achieved by 2050, when the global population is expected to reach 9.7 billion.
"Biotechnology can help us, as an adaptation measure. Conventional techniques will not allow us to achieve the crop production that we need," he cautioned. "Biotech crops are not the only answer, but it is a very big part of the solution. In developing countries, we can lose up to half of the crops we harvest. In developed countries, we waste up to 30% of food." Solving harvest and food waste problems, he argued, would go a long way towards food security.
The international picture
Teng addressed the concern that biotech crops only benefited big farms and seed companies, pointing out that 90% of the farmers who benefit are actually small resource-poor farmers, roughly 18 million farmers annually, worldwide.
This has great impact on Asia, which is home to 87% of the world's small farmers. But it impacts Europe too. Though the EU has a strict ban on the planting and importation of genetically modified (GM) crops, there are a few countries that do grow biotech crops. Teng says, "The EU imports tonnes of biotech products each year. Their animal industry wouldn't survive without those imports." The Americas benefit as well, with the United States, Canada and Argentina being top exporters of biotech crops. China is currently an importer of biotech crops, but is on track to release GM corm in five years.
Focusing on progress in 2015, Teng mentioned newly developed biotech crops. The USA has approved potatoes with Innate™ Gen 2, which have the traits for "non-bruising, less browning, less acrylamide plus late blight resistance." Both the USA and Canada have approved non-browning apples. Argentina approved potatoes with Virus Y resistance, and drought-tolerant soybean, while Brazil approved eucalyptus with up to 20% more biomass.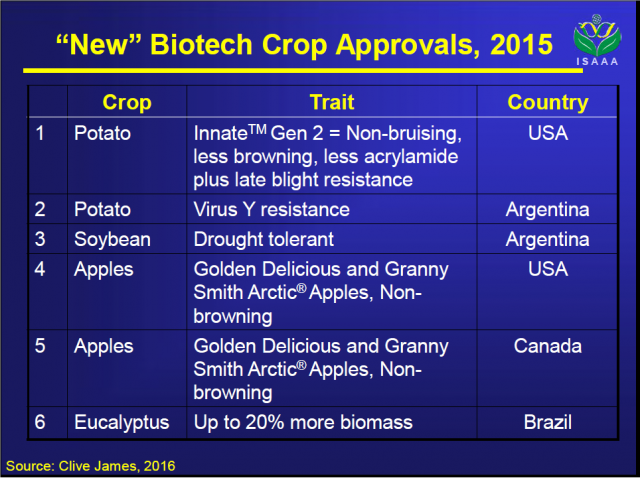 Benefits of biotechnology?
In the conference's welcome remarks, Dr. Gil Saguiguit, Jr., Director of SEARCA, lamented the claims that biotechnology is detrimental to health. "In North America, every year, people die from eating organic food," Teng pointed out. He went on to describe the impact of biotech crops over the past twenty years: 22% increase in yield, 37% decrease in pesticide use, and 68% increase in net profits for farmers. He also emphasized that yield and profit gains are higher in developing countries that in industrial countries, reiterating that biotech crops benefit small farmers.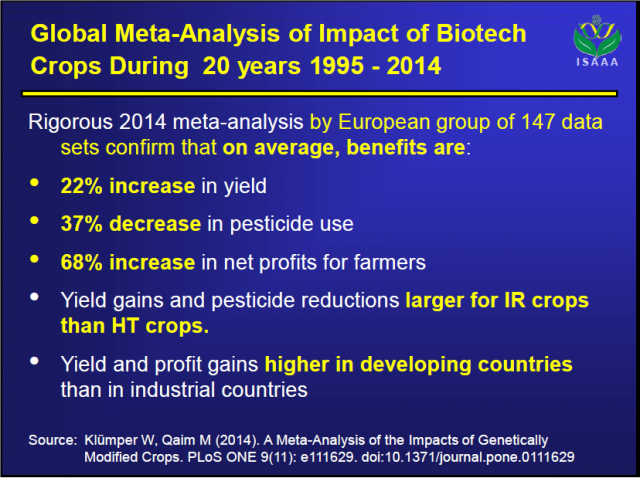 There were many other benefits of biotech crops, Teng shared, including improved productivity, especially in farmer benefits and income; the protection of biodiversity; environmental impact and climate change; and humanitarian benefits. Such impact, he argued, that contributes to goals set by world leaders at the 2015 United Nations Climate Change Conference (Paris COP21), and by the Papal Encyclical of June 2015.
Looking forward
Despite the numerous detractors who protest biotech crops, Teng is optimistic about its future prospects. With the advent of climate change, the need for sturdier crops grows even more urgent. Some countries need drought-tolerant crops, while others need flood-tolerant ones. And whatever criticism they face, it seems scientists won't be deterred from doing their work.
Teng's presentation is based on ISAAA Brief 51: 20th Anniversary (1996 to 2015) of the Global Commercialization of Biotech Crops and Biotech Crop Highlights in 2015, by Clive James, Founder and Emeritus Chair of ISAAA.