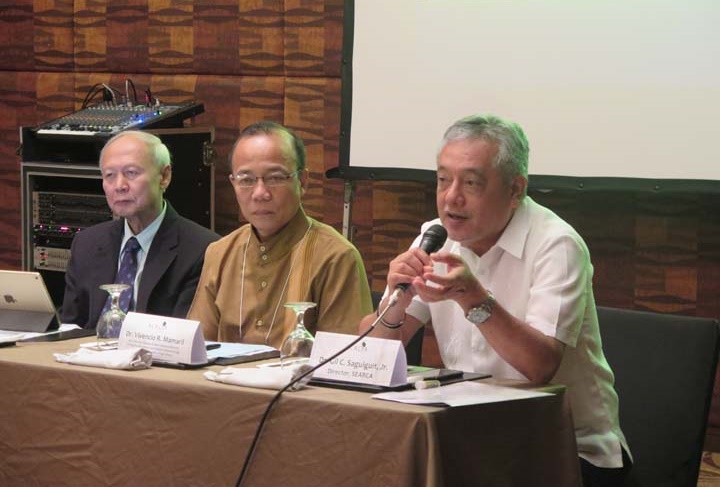 Biotechnology experts have reported increased production in 2016 in a rebound from stymied production the previous year due to regulatory barriers and persistent resistance from environmentalists.
But they insisted that progress in production—both in yield per area and total farm area planted—has spared forest lands from being invaded for farm production and has sharply cut down chemical use in farms, a potential that they hope would draw sharp interest from producers and governments.
Not only was 2016 noted for a rebound in biotechnology crop production, it also marked a spike in global production of genetically modified (GM) crops in the last two decades, and got more countries to adapt it, according to Dr. Paul S. Teng, chairman of the board of trustees of the International Service for the Acquisition of Agri-biotech Application (ISAAA).
Last year ISAAA has noted that biotech crops were planted in 185.1 million hectares in 26 countries, which involved 18 million farmers.
"This is the fastest adapted crop technology in recent times," the group said, citing the dominance of the developing world in the number of countries planting the GM crops.
Three developing nations—Brazil, Argentina and India—landed in the top five, with the US leading the list with its 72.9 million hectares, and Canada on the fourth spot.
The potential for wider global adaption of biotechnology would largely hinge on governments confronting the increasing urgency to find food for their people as lands remain constant and population kept multiplying.
To increase production yield per acre or per hectare of area would be likely a current arena, "even if you start with the hybrid variety", Teng said.
Philippines top biotech grower in SEA
In the Philippines, Teng said the area planted to GM corn, for instance, has increased 16 percent to 812,000 hectares "as the country remains to be the top grower of biotech or GM crops in Southeast Asia".
The Philippines ranked 12th as global producer of the GM corn today after it was also the first country in Southeast Asia to plant the crop in 2003, he added. The Philippine government approved its commercial production a year earlier.
The increase in area planted to corn was equivalent to 110,000 hectares, the ISAAA said.
GM corn is the leading GM crop in the country that is already being produced commercially. Three other crops are in their research and development stages. These are the stem borer-resistant Bacillus thuringiensis eggplant, ringspot virus-resistant and delayed ripening papaya and the fortified beta-carotene golden rice.
The progression in commercial production of GM corn was ascribed to "favorable weather conditions and high local demand for livestock and feed stocks".
The increase is also reflected in the adaption by more farmers "mainly because of better income compared to non-GM corn," Teng added. The increase though, was slight, at 65 percent for some 406,000 farmers.
What was significant in this number of farmers, he said, was that they average 2 hectares, a size common among small "resource-poor" Filipino farmers.
The ISAAA 2016 report, which was launched in Beijing, China, early this month, said Filipino farmers earned $642 million in the period 2003 to 2015. For 2015 alone, the GM-corn planters earned $82 million. The increase in hectarage and production was accounted by the 13 approvals granted by local governments for the cultivation of GM corn.
Challenge for poor regions
Although the developing world accounts for the big number of countries adapting biotechnology, the challenge was to increase its planting to, and yield per area, on crops that they heavily import from the developed economies.
Asia, for instance, which appears consistently green in any color-coded food production map, imports heavily on soybean from countries with minimal agriculture area but are known for high yields per farm area.
The potential to catch up and cut down on imports, is emerging for the developing, or poor, regions of the world. As of 2016 there were 19 countries in the poor region adapting biotechnology, although many of them raise GM crops for food, feeds and processing, unlike Chile and Costa Rica in South America that were growing modified crops already for export.
While countries were also adapting hybrid varieties of their food crops, Teng said this may provide the step closer to adapting biotechnology, which he said "should not be clouded in fear over their effects on the environment and human health".
ISAAA noted that countries using biotechnology for farm production were adapting to the demands of their other food sectors, such as livestock. Brazil, it said, currently the largest GM crop-producing country among developing economies, may still raise its GM-maize production, as it expects its pork- and livestock-industry expands to meet the consuming market.
The regulatory barriers put up against GM crops has pulled back production through years, and ISAAA said there had been successes in some countries, including the Philippines, which has formed a four-Cabinet level interagency regulatory body.
Dr. Vivencio R. Mamaril, acting director of the Bureau of Plant Industry, said that while this interagency body may help bring into one body the diverse issues raised against biotechnology crops, "their diverse concerns, too, could be confusing and disconnected".
He suggested that in the case of the Philippines, "government agencies, including Congress, should establish regulations now to avoid getting preempted by the entry of GM crops, especially during the Christmas season".
"Government should be prepared this early to handle issues like entry of GM crops," he said.
Game changer
While the current production of GM crops is described as stymied due to regulatory barriers and ineffective responses to environment and health issues, the ISAAA said biotechnology adaption in the food production has already contributed a lot to biodiversity, better environment and livelihood to rural families.
It said the increase in crop yield per specific area compared to hybrid and traditional crop varieties earned for small farmers $167.8 billion between 1996 and 2015.
Teng said biotechnology has been contributing to the search by governments to find much higher yields per hectare and, by consequence, avoid the opening up of forest lands for farm cultivation.
In the period 2006 to 2016, the world saved 174 million hectares of forest lands from ploughing and cultivation because of the increased yield per acre or hectare of existing farm lands.
Teng added the GM crops were being developed to address specific diseases of commonly used crops, vegetables and fruits that have reduced the yields of these food items. These include the resistance of eggplants to stem borers, potatoes and apples to browning and papaya to ringspot virus.
In turn, he said, farmers have discarded expensive pesticides and saved a lot of farm income.
But the bigger beneficiary here is the environment, Teng said. The ISAAA report reveals a decline by 19 percent in the use of insecticides and herbicides, equivalent to 620 million kilograms of active ingredients of these chemicals.
And much more, he added, as fewer incidents of felled forest trees and applications of fossil fuels in chemical inputs helped the world prevent destructive carbon dioxide emissions estimated at 26.7 billion kilograms.
"It is equivalent to taking 11.9 million cars of the road for one year," the Isaa added.
The more important also, Teng said, citing the ISAAA report, the better production yield and less use of chemical inputs have helped 18 million small farmers and their families.
"Its impact would cover an estimated 65 million people living in the poorest regions," he said.
The ISAAA added that innovations still coming in would "revolutionize the development of new biotech crops and traits" and described this trend the "game changer" in the third decade of planting and commercialization of the GM crops.