The implementing partners of ASFCC Phase II include the Center for International Forestry Research (CIFOR), the Non-Timber Forest Product-Exchange Programme (NTFP-EP) South and Southeast Asia, the Center for People and Forests (RECOFTC), the World Agroforestry Centre (ICRAF), and SEARCA together with the ASFN Secretariat in coordination with the ASEAN Secretariat.
The ASFCC supports the ASFN in addressing three inter-related issues confronting the region: food insecurity, poverty, and climate change. ASFN is funded by the SDC and aims to integrate social forestry into the climate change adaptation and mitigation strategies of ASEAN and its member states. It promotes the inclusion of communities, women, and vulnerable groups in social forestry and climate change adaptation and mitigation measures.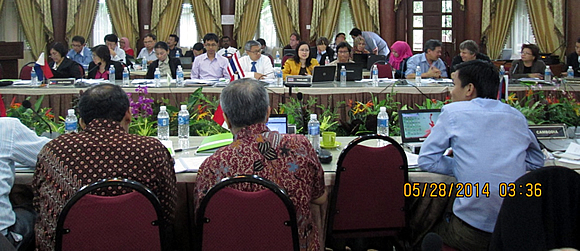 The ASFCC Phase II seeks to build on gains of Phase I and increase the flexibility and adaptability of the AMS Focal Points through a flexible funding mechanism. The external review findings on ASFCC Phase I highlighted the need for AMS to "act, react, and pro-act more flexibly to emerging needs in Partner Countries, which have a strong effect on policy adaptation, capacity increase at the national level, and assessment of applied research results feeding into policies."
The main objective of the ASFN Strategic Response Fund or ASRF is to enable the AMS Focal Points to quickly respond to emerging issues and challenges and articulate policy recommendations and directions on social forestry as it relates to climate change, food security, and poverty alleviation.
The ASRF is designed to provide ASFN Leaders and Focal Points seed fund to respond to immediate needs or catalyze strategic action to address emerging issues, opportunities, or other situations that may not have been anticipated but to which the AMS and ASFN's response is critical. SEARCA serves as the implementing partner for the ASRF. The types of projects it will support include: (i) Quick "turn-around" studies, (ii) Exploratory reviews, (iii) Meta-analysis/analytical studies and think pieces, (iv) Study tours, (v) Dialogues/roundtable discussions, (vi) Position or background papers as inputs to policy debates and decision-making, and (vii) Scholarships to participate in relevant and strategic training programs.
The Program Steering Committee of the ASRF chaired by Dr. Doris Capistrano, ASFCC Advisor had a Preliminary Meeting after the formal launch to discuss priority areas for awards based on agreed ASFN priorities and plans of actions and schedules of call for proposals. Other members of the PSC are Madam Wan Hasmah Wan Mohammad; Mr. Zaw Win; Dr. Pham Quang Minh of the ASEAN Secretariat; Dr. Juergen Blaser; Mr. Wiratno, the ASFN Secretariat Chairperson; and Dr. Gil C. Saguiguit, Jr.
The deadline for the submission of proposals for the First Call is on 15 AUGUST 2014. For more information and other inquiries, please contact:
The Regional Program Coordinator
Project Management Office
ASEAN Social Forestry Network Strategic Response Fund
Research and Development Department SEARCA
College, Los Banos, Laguna, Philippines 4031
Tel. No. (6349) 536-2287
Email:
Fax: (6349) 536-4205
(Amy M. Lecciones)