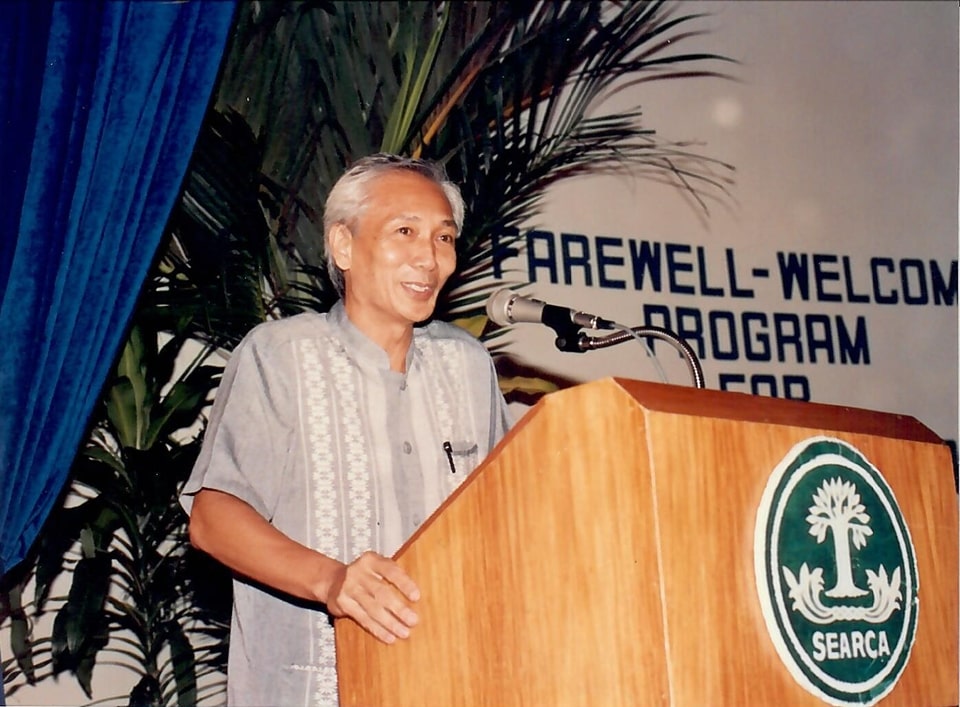 The Southeast Asian Regional Center for Graduate Study and Research in Agriculture (SEARCA) joins the University of the Philippines Los Baños (UPLB) in remembering the productive and vibrant life of Dr. Arturo A. Gomez, former SEARCA Director from 1988-1993 in a necrological service program held on 10 April 2022 via Zoom.
Dr. Gomez also served as Professor and Vice Chancellor for Academic Affairs of UPLB, SEARCA's host institution since its inception in 1966.
In his message to convey Dr. Gomez' legacy in Southeast Asia, Dr. Glenn B. Gregorio, current SEARCA Director and Professor at the UPLB College of Agriculture and Food Science (CAFS), emphasized his enormous contribution to SEARCA's development as an organization and to the Center's delivery of its mandate to advance agricultural and rural development.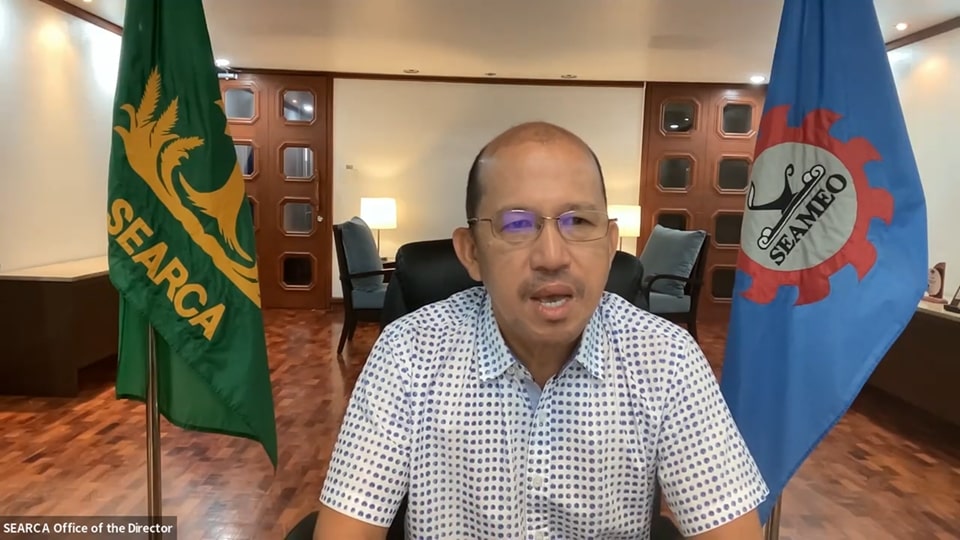 "Dr. Gomez was able to cement a strong foundation for SEARCA's human and financial resources. This included creating an endowment fund from the Center's income and establishing the Southeast Asian University Consortium for Graduate Education in Agriculture and Natural Resources," said Dr. Gregorio.
On a more personal note, Dr. Gregorio reminisced how Dr. Gomez was instrumental to his own professional growth as a mentor.
"Sir Art was my professor in Agricultural Statistics. His book on "Statistical Procedures for Agricultural Research" co-authored with his wife, Dr. Kwanchai A. Gomez became my guide during my undergraduate years up until my thesis on field plot techniques in sweet potatoes. I remember Dr. Susie Carpena was my adviser back then".
In March 2020, SEARCA and the CGIAR Research Program on Climate Change, Agriculture and Food Security in Southeast Asia co-published a compendium of climate-resilient agricultural technologies and approaches in the Philippines.
SEARCA dedicated the compendium to Dr. Gomez as one of the pioneers of multiple cropping systems in the country.
"AAG", as SEARCA staff fondly called him, was known for his honest and integrous persona, having been consistent, open to criticism, able to accept mistakes, and easily approached by anyone.
"On a personal level, AAG opened opportunities and pushed me to grow as a professional and as a person. He was a quiet man but very strong minded. Still, he was willing to listen to our ideas," said Ms. Lily L. Tallafer, former SEARCA Special Project Coordinator.
"I found Art as a good teacher who is easy to deal with as he had always a positive attitude. He is broadly and intellectually gifted," said Dr. Higino A. Ables, former SEARCA Deputy Director for Administration.
"I believe that Dr. Gomez is one of the best directors that SEARCA has ever had. As a training unit staff during his term, I would say that he was a visionary leader. Personally, what I learned from him was to have a foresight and to always be one step ahead in doing my work responsibilities," said Dr. Jess C. Fernandez, former SEARCA training staff and now SEAMEO Regional Centre for Food and Nutrition (RECFON) Deputy Director for Program.
"I owe Dr. Gomez a lot for taking me under his wing and for helping me earn my spurs in research and administration. Years later, he nominated me to be SEARCA Director. It was heart-warming that my mentor believed in my capabilities to lead the Center. Throughout my 3 consecutive terms he lent me his invaluable guidance and advice whenever he visited. SEARCA remained close to his heart until the end," said Dr. Gil C. Saguiguit, Jr., SEARCA Senior Fellow and immediate past Center Director.
Dr. Gomez is remembered not only for his ability to mobilize people into action within and outside of SEARCA, but also for his enthusiasm to share his knowledge and his commitment to work for the benefit of the Philippines, Southeast Asia, and beyond.
Present in the necro service of Dr. Gomez were his colleagues, close friends, family, and relatives. In attendance from SEARCA's end were Dr. Romeo V. Labios, Operations Consultant for Partnerships and Mr. Nathan P. Felix, Senior Public Relations Associate. Also in the program were former SEARCA Directors Dr. Ruben L. Villareal (2000-2002) and National Scientist Dr. Emil Q. Javier (1983-1984).