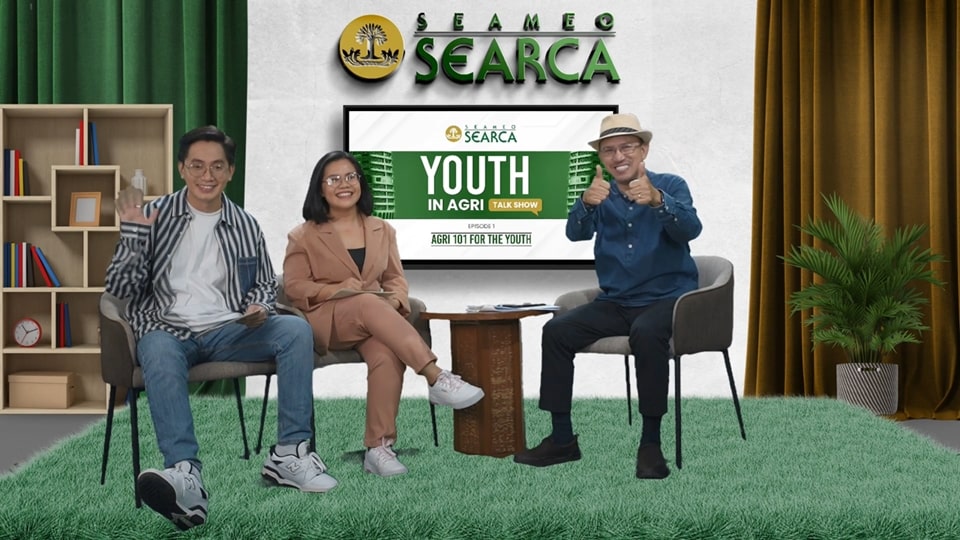 The Southeast Asian Regional Center for Graduate Study and Research in Agriculture (SEARCA) launched the pilot episode of the Youth in Agri Talk Show on 26 May 2023.
The talk show is aimed at stimulating the youth's general perception of agriculture as a field integrated into the basic education curricula, specifically in science subjects.
The first episode, "Agri 101 for the Youth," discussed farming practices on crop planting and crop rotation, planting methods such as hydroponic farming, and the difference between tissue-cultured seedlings and genetically modified (GM) plants. These topics were among the salient subjects inquired about by John Dominic Canato, Reese Kaitlin Evangelista, Chloe Gabriel Badulis, and Jayzet Yurie Isaiyas from the Colegio de San Juan de Letran Calamba (CSJL Calamba), and Daniel Bulahan and Karl Emjae Cañubas from the Dagatan Family Farm School (DFFS).
"SEARCA is one with the Philippine Department of Education (DepEd) in its efforts of integrating agriculture into early education programs to encourage young people to take it as a profession," said Ms. Sharon Malaiba, head of the Partnerships Unit.
"To support the Center's goal of making agriculture enticing to the basic education students, we will be maximizing online platforms such as the talk show in steering discussions and eliciting their interest and curiosity in farming, sustainability, and innovation," she added.
Hosted by youth ambassadors Loise Ann Carandang, senior communications associate, and Joseph Matthew Hedreyda, knowledge resources assistant, the talk show had SEARCA Director Dr. Glenn Gregorio as guest expert. He answered questions that ranged from his genetics and plant breeding expertise to his work experiences as a professor, agripreneur, and farmer.
Mr. Jeremy Feria, DFFS school administrator, expressed his heartfelt appreciation to SEARCA. "The talk show exposed the learners to a wealth of knowledge on different aspects of agriculture, such as modern techniques, sustainable practices, and value chain systems," he shared.
"Dr. Gregorio provided the learners with vibrant steps toward the right source of information on farming and the right skills to achieve awareness and interest in developing critical thinking skills, which can be useful in the future," affirmed Ms. Norma "Darling" Bardos-Villamor, Letran Calamba Basic Education Department principal.
Dr. Gregorio underscored the link between agriculture and learning. "If you know agriculture, you will learn everything about life—you will understand what you are eating, what is happening around the world, why there is a food crisis, and why there is a need to eat nutritious food." He concluded his parting message to interested youths with an invitation, "visit us and tour around our SEARCA Hub for Agriculture and Rural Innovation for the Next Generation (SHARING) AgriMuseum and Café to know more about what we do in the Southeast Asian region."
View the recorded livestream here: