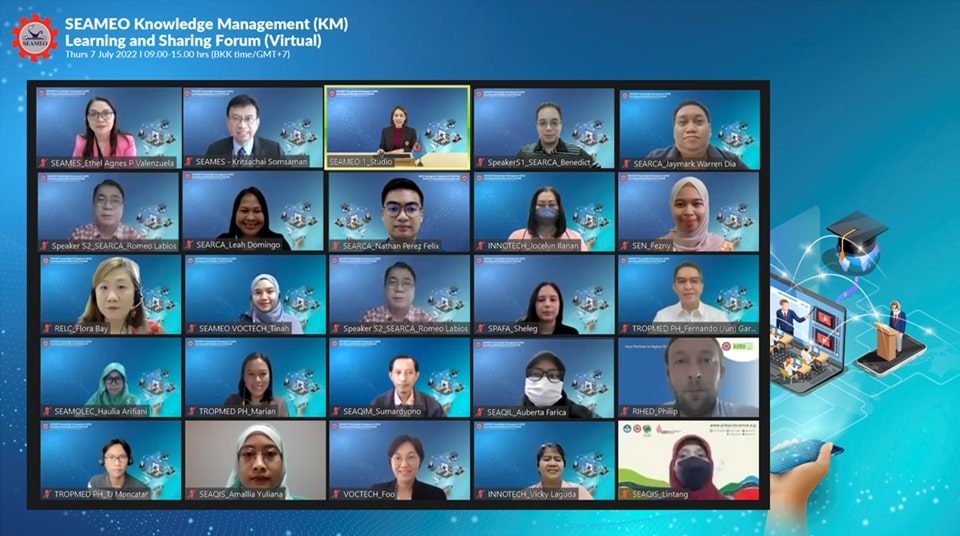 The Southeast Asian Regional Center for Graduate Study and Research in Agriculture (SEARCA) participated in the first virtual SEAMEO Knowledge Management (KM) Learning and Sharing Forum conducted by the Southeast Asian Ministers of Education Organization (SEAMEO) on 7 July 2022. The forum solicited suggestions for the SEAMEO-wide KM strategic framework that will enable the harmonious and logical flow of information and knowledge co-creation among SEAMEO centers in the Southeast Asian region.
"In 2012, the first training workshop on KM was organized by SEARCA to firm up notions of knowledge partnerships and enable SEAMEO units to draw up a joint KM agenda and related actions," said Dr. Ethel Agnes P. Valenzuela, SEAMEO Secretariat (SEAMES) Director.
She added that since the first KM workshop, following the footsteps of SEARCA, different regional centers have established new functions of KM which supported the rapid change in the digital era towards cultivating an enriched and empowered education community.
"The education landscape has been transformed because of COVID-19 and thus, it is necessary to strengthen the KM field even more. It played an important role in transforming the conventional ways that we usually work because now everything is digitalized," Dr. Valenzuela said.
The forum comprised four sessions, namely: Session 1: KM Approaches and Development at SEAMEO Units; Session 2: Sharing of KM-related Best Practices by SEAMEO Centers; Session 3: Group Discussion on SEAMEO-wide KM Strategies; and Session 4: Group Presentations.
Held virtually, the forum capacitated the participants to share the best KM practices by the SEAMEO units and identify which among these practices could be further harnessed to improve regional communication, capacity, and visibility.
Mr. Benedict A. Juliano, SEARCA Applied Knowledge and Resources Unit Head, discussed SEARCA's stories and lessons learned with regards to KM. He emphasized that SEARCA has three milestones that solidified the Center's KM community of practice.
"Although SEARCA started in 1966, it has arguably three major milestones starting in 2001 when the first Center-wide framework was proposed through one of its publications. This was the period when KM became in vogue for most organizations. The second was in 2012, when the first SEAMEO KM workshop was hosted by SEARCA and the third was in 2017 when a revise SEARCA KM framework was published that became the basis by which all SEARCA programs, initiatives, and outputs from its 9th and 10th Five-Year Plans could be classified," said Mr. Juliano.
At the start of SEARCA's 11th Five-Year Plan in July 2020, the KM department was replaced by the Emerging Innovation for Growth Department (EIGD) as the new banner program of ATTAIN. Mr. Juliano shared while there is a drastic change in the Center's organizational chart, its KM functions remain the same.
"Taking away the KM department from SEARCA does not mean it is no longer a KM organization. In fact, KM continues to evolve around the Center's current banner of ATTAIN as it needs to adapt to advances in technology and communication trends by engaging in digital and audience-specific content and purpose-driven storytelling and engagement tools and strategies," said Mr. Juliano.
He also put a spotlight on the Center's various projects and activities namely, the School-plus-Home Gardens Project (S+HGP), SEARCA Online Learning and Virtual Engagement (SOLVE) Platform Webinar Series, Open Model System Tractor Development, and Impact/Contribution of Knowledge Resources, and highlighted the corresponding KM tools and initiatives as well as its results and impact.
On the other hand, Dr. Romeo V. Labios, SEARCA Operations Consultant for Partnerships, discussed SEARCA's best practices in partnership development highlighting its three function areas which are the following: partnerships and linkages, events and visitors, and public relations.
Dr. Labios emphasized that the Partnerships Unit (PU) was created to increase visibility, relationships, and impact of SEARCA to its stakeholders and the general public through concerted and coordinated efforts on external relations and communication.
"PU was designed to strengthen partnerships to sustain funding from member countries and facilitate fund generation from new donors with the core programs. We saw that there is a need to establish collaborations that will promote academe-industry-government (AIG) interconnectivity guided by the Center's aspiration to be responsive to the needs of its internal and external stakeholders with shared mission and goals," said Dr. Labios.
In October 2020, SEARCA organized a virtual Stakeholders Forum to engage with partners and stakeholders in ARD to tackle the transformation of agriculture. Dr. Labios said that this was one of SEARCA's ways to get to know what other institutions are working on especially those that relate to the seven priority areas of SEARCA to areas for potential collaboration.
"COVID-19 pandemic may have hampered operations which limited partnership activities such as face-to-face networking events. The solution to a sustained and successful partnership-building is to innovate ways and means by exploring other modes of networking such as going digital," Dr. Labios concluded.
Dr. Kritsachai Somsaman, SEAMES Deputy Director for Administration and Communication, highlighted the good work SEARCA has been doing in the region with its multidisciplinary approach to KM.
"We have learned that SEARCA has been moving forward towards integrating KM work into their other office divisions which means KM is an important process for the whole organization," said Dr. Kritsachai in his closing message.
Dr. Kritsachai presented the suggestions for SEAMEO KM initiatives from the group discussions among participants such as the need for networking, regular meetings, and group communications for KM-related activities, sharing of KM expertise, conduct of KM-related staff exchange among SEAMEO centers, developing central digital repositories of partners and media, social media network community-building, and clustered international media outreach programs.
"On behalf of the SEAMEO Secretariat, I would like to extend my utmost appreciation to all our SEAMEO colleagues for your participation and active contribution in today's workshop. I hope that with the wisdom and expertise shared by all participants in the forum, SEAMEO will be able to achieve what we are mandated to do for the region and even beyond to contribute to the realization of our SEAMEO Strategic Plan 2021-2030," Dr. Kritsachai concluded.
The SEARCA delegation comprised Dr. Labios; Mr. Juliano; Mr. Jaymark Warren T. Dia, Unit Head, Management Information Systems Unit; Ms. Leah Lyn D. Domingo, Specialist, Public Relations; and Mr. Nathan P. Felix, Senior Associate, Public Relations.