Thirty-four participants from the country research teams, local government units (LGUs), the funding agency, a non-government organization, and the Royal University of Phnom Penh, Cambodia (RUPP) attended the workshop.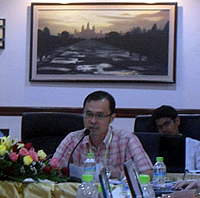 In his opening message, Dr. Ngin Chanrith, Director of the Department of Development Studies of RUPP, expressed his appreciation of the diversity of participants who attended the workshop, and lauded the country project teams for their effort to collaborate and work as together as a team, which he said is evident in the outputs of the project.
Dr. Herminia Francisco, Director of the Economy and Environment Program for Southeast Asia (EEPSEA) recalled the beginnings of the project and the rationale behind its design, which is multi-country, interdisciplinary, and participatory action research.
The country project leaders/coordinators reported on the results and analysis of their research findings, highlighting the study sites, methodologies used, and vulnerability and economic assessment results (i.e., mapping, household and social vulnerabilities). They outlined the project outputs such as peer-reviewed journal articles, conference/workshop papers, books, policy briefs, GIS maps, media coverage, websites and social media postings, CCA project proposals, and research outputs. They also reported on the project impact in terms of research, capacity building, and policy influence.
The LGU representatives of each country presented their roles in the project, their experiences, knowledge gained by participating in project activities, actions made based on their learnings, and suggestions for future interventions. Dr. Francisco led the team in the discussion of possible country and institutional collaborations and future projects related to climate change adaptation. The discussion focused on capitalizing the project's research findings and identifying what else can be done by participating institutions or can be supported by EEPSEA/IDRC to expand the impact of the project and further disseminate its outputs.
The research teams then discussed areas for future collaboration and finalized project documents required by the IDRC and EEPSEA. (Pamela Joana Rocamora)