SEARCA, represented by Ms. Nancy M. Landicho, OIC and Program Specialist of the Project Development and Technical Services (PDTS), Ms. Bernice Anne C. Darvin, Project Associate of the Research and Development Department (RDD), and Ms. Monalinda B. Cadiz, Program Specialist of the Knowledge Resources Unit (KRU), set up one of the 10 knowledge and learning booths (KLBs) at the event, showcasing the Center's strategic thrust for the region, "Pathways Toward Inclusive and Sustainable Agricultural and Rural Development," and highlighted its IFAD-funded projects, namely: Agricultural Transformation and Market Integration in the ASEAN Region: Responding to Food Security and Inclusiveness Concerns (ATMI-ASEAN); Rural Regional Transformation: Pathways, Policy Sequencing, and Development Outcomes in China, the Philippines, and Vietnam (RRT); and Supporting Smallholder Farmers in Asia and the Pacific-Islands Region with Agricultural Advisory Services (SAAS).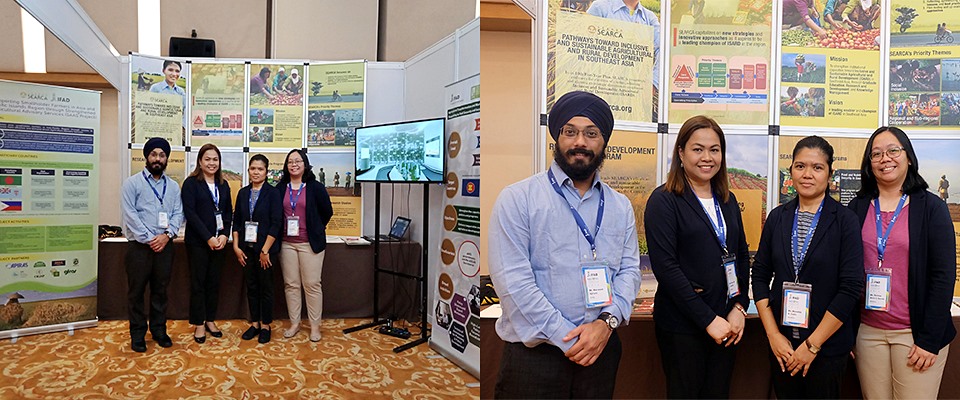 SEARCA's implementing partner for ATMI-ASEAN, the International Food Policy Research Institute (IFPRI), through Mr. Manmeet Ajmani, Research Analyst, presented one of IFPRI's policy studies under the regional component of the project entitled "Market Integration in ASEAN: A Comparative Study of Myanmar and Vietnam," at the SEARCA booth to three batches of audiences during the session series on the sub-theme "Inclusive Smallholder Agricultural Value Chains." The study profiled Myanmar's and Vietnam's agricultural trade of 11 years, which included global, regional, and local shocks such as food prices and the financial crisis of 2008-2009. Mr. Ajmani emphasized that, "the extent to which market integration works in mitigating shocks is an important value of regional arrangements and also gauges the sustainability of the system." He added that, "greater market integration among ASEAN countries will directly benefit smallholder farmers and agricultural enterprises in the region."
For the sub-theme "Food Safety, Quality Standards, and Nutrition," SEARCA, represented by Ms. Landicho, facilitated a breakout session and presented the output in plenary. SEARCA was also able to share its select publications to officials of agriculture ministries from participating countries and to IFAD, including the latest edition of the Agricultural Policy and Institutional Reforms primer series; the ARD book on Farms, Food and Futures; and the book on ARD leaders and innovators in Southeast Asia.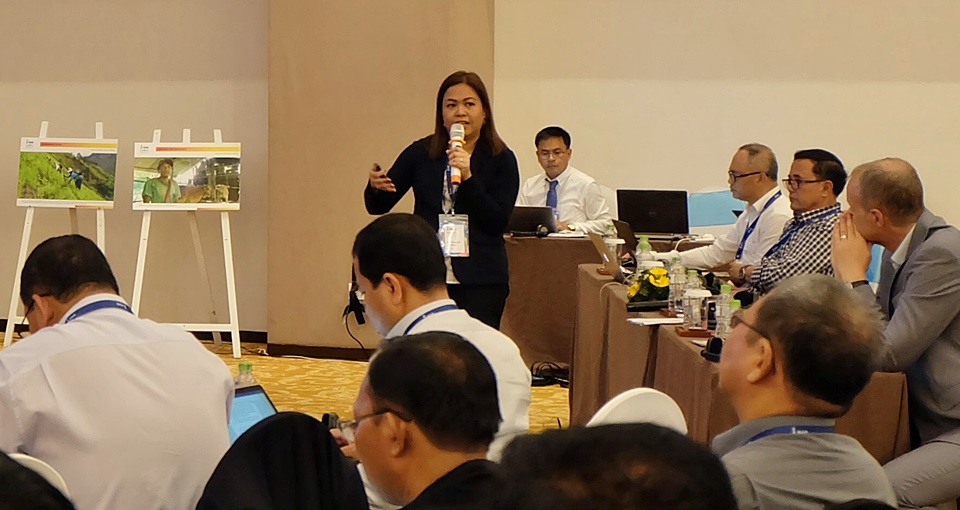 The first of its kind in the Mekong Hub, the learning event shared 37 cases of innovative practices from IFAD's 17 loan projects and 5 grant projects from participating countries, a selection of which was presented by their proponents in KLBs, including that of SEARCA. The booths served as the first stop for interactive learning, followed by the breakout sessions where participants identified good practices, opportunities, issues, challenges, and trends that affect smallholder ARD.
A synthesis on the sharing of innovations and spaces for discussion on the prospects of scaling up and replication surfaced common and emerging trends across participating countries and regional institutions. Jerry Pacturan, IFAD Philippines Country Program Officer, identified take-aways from the learning event, which included linking smallholder and private sector via value chain approach; focusing investments on priority crops and commodities; promotion of agricultural entrepreneurship and cooperatives; financial access and literacy of smallholders; water management; standardization and certification; and south-south technical cooperation on common potentials.
Mr. Thomas Rath, Country Director and Representative for Vietnam, Thailand, and Lao PDR and the Subregional Director of the IFAD Mekong Hub, enjoined participants to move forward by reflecting more deeply on the numerous adoptable practices and rich discussions during the learning event, lest drastic actions would be taken sans prudence. Nonetheless, he identified "low-hanging fruits," including opportunities for collaboration and available resources that can be accessed. Rath particularly urged for consideration of cross-cutting themes for more impactful programming, such as toward nutrition-sensitive initiatives. He also emphasized on the importance of knowledge management, including publications, to capture and share good practices and innovations across countries and projects in the region.