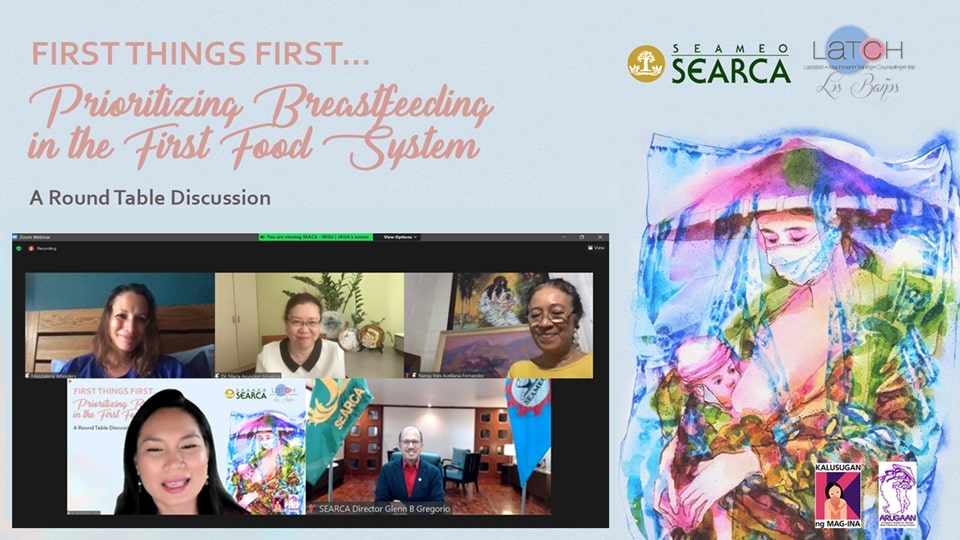 Collaborations between farmers, institutions, mother-support and nutrition support groups; prioritization of breastfeeding as a vital part of the "First Food Systems" paradigm; and a proposal for policy makers to make a close inspection of the current food and agri systems were among the calls of the participants in the round table discussion, "First Things First… Prioritizing Breastfeeding in the First Food System" jointly organized by SEARCA and LATCH Los Baños (LATCH LB) on 29 June 2021 via Zoom. This event is also supported by Kalusugan ng Mag-Ina, Inc. (KMI) and Arugaan.
"We at SEARCA, our priority areas like Food and Nutrition Security, Gender and Youth Engagement in agricultural and rural development (ARD), EcoHealth/One Health Applications to ARD, Sustainable Farming Systems and Natural Resource Management, and Enhanced ARD towards Climate Resilience are much related to breastfeed as a collective concept in pushing it to be the first or our priority in the agrifood systems," said SEARCA Director and 2021 UN Food Systems Champion Dr. Glenn B. Gregorio during his opening remarks.
He added that the Center has been working side by side with LATCH LB as partners in food distribution and bringing nutritious food to mothers, infants, and young children in the Municipality of Los Baños.
"I'm positive that this discussion on the very basic but important points of breastfeeding shall yield meaningful learnings and visible outcomes for our families, communities, and even to our policy makers and members of the academe," Dr. Gregorio emphasized.
In celebration of the 47th Philippine Nutrition Month, this round table discussion aims to look at the current health systems by hearing first-hand accounts from experts and grassroot community workers in the field of pediatric education, relactation, and optimal infant feeding practices.
Dr. Maria Asuncion Silvestre, KMI President, presented that the first food for the first 1000 days of an infant starts in utero, while the infant is still in the womb. She shared that nourishing the health of the mother is an utmost vital aspect.
"Breastfeeding is not just about the product which we pertain to the mother's milk, but it is also the process wherein the mother serves as the primary food producer. Breastfeeding is essentially the first food of the human body," clarified by Dr. Silvestre.
Sharing her experiences as a human rights worker, Nanay Ines Avellana-Fernandez, Arugaan Executive Director, resonated Dr. Silvestre's insights on embracing the "firsts" of both the mother and the child. Nanay Ines talked about some of her best practices from their Typhoon Yolanda response such as creating mother-child friendly spaces; providing onsite lactation counseling and breastfeeding management; providing re-lactation counseling when needed; and nanay-led mobile kitchens.
The Executive Director also added that mothers need to be aware of upholding the Philippine Executive Order 51 or the Philippine Milk Code in order to protect the mother and child from predatory marketing practices of formula companies.
Weaving all the testimonies of the speakers, Dr. Magdalena Whoolery, International Baby Food Action Network (IBFAN) and La Leche League Leader, discussed how human rights should come first in protecting breastfeeding especially in disaster and emergency situations like COVID-19.
Dr. Whoolery shared that breastfeeding, in fact, is actually a form of human rights – both the mother and child's right to breastfeed.
"Human Rights should come first over profit. The struggles and challenges workers on the ground face because of the unethical and aggressive marketing actions of industries that undermine breastfeeding. Industry proxies coercion with local government officials and institutions to "donate" formula and highly processed food to the population for market capture," she said.
Dr. Whoolery further added that breastfeeding can mean the difference between life and death. Putting importance to breastfeeding and mothers in particular, should be the priority among food and health ambassadors around the globe.
Tying breastfeeding and food systems in his synthesis, Dr. Gregorio concluded that production and consumption always comes to mind when the subject is food system. "And what would be the best example to that than the wonderfully-made food production system that starts from a mother for her child?"
He added that the discourse on food and nutrition has to level up but start at a mother level. Dr. Gregorio underscored, "We need to help mothers in pregnancy and postpartum recovery. We need to demand for long-term health of mother protection against diseases especially of COVID-19. Above all, we need to improve maternal health through proper education, giving of nutritious food and health services to help save the lives of every mother and child."