Once fully operational, the briquetting system can be integrated in rice grain processing which uses biomass furnaces in mechanical drying operations. This adds value to the biomass by-products obtained from the furnace, which are otherwise treated as waste materials or externalities, by using it as an ingredient to produce another marketable commodity.
Based on the result of simple test marketing, the briquettes are proven suitable for domestic cooking and small-scale industrial applications. Buyers include hotels, spas, and restaurants in Dagupan City. Because briquettes produce less smoke than standard charcoal, they are the preferred choice for indoor activities. The next challenge posed by SEARCA to the researcher is to develop briquettes that are compact enough to withstand long-distance travel without sacrificing combustibility.
In Infanta, Quezon, SEARCA alumnus, Dr. Violeto N. Coronacion of the Southern Luzon State University (SLSU), is currently implementing the project entitled, "Establishment of Organic Agriculture Center as a Tool to Mainstream Climate Change Adaptation and Mitigation in Research, Extension and Production Function of SLSU-Infanta Campus." The objective is to promote sustainable agriculture, through the adoption of organic and integrated farming systems, to teachers and students in Infanta and the neighboring town of General Nakar. Local women's groups and farmer organizations are also being targeted. Dr. Coronacion hopes to eventually mainstream the principles of sustainable and organic agriculture in the tertiary curriculum of SLSU.
With counterpart funding and technical assistance from SEARCA, national government agencies, local government units, and the SLSU-Infanta campus, a series of capacity building activities and training workshops on sustainable, organic and ecological agriculture (SOAE) was conducted. To complement these, a demonstration integrated farm was set-up on campus which demonstrates zero-waste management and complete-cycle approach of farm by-products. Spent water from the small fish pond is used to fertigate vegetable crops. Vermi-cast and vermi-compost are used as planting medium and basal fertilizer. Vermi-tea is used as foliar fertilizer as well as odor-killers for swine waste. Upon harvest, vegetable trimmings are used to feed the earthworms in the vermi-compost pit. Overripe organically-produced papaya and unmarketable legumes are used to feed the free-range chicken. Lemon grass and oregano are planted between vegetable plots to repel insects that damage vegetable crops. Chemical-based fertilizers and pesticides are not used.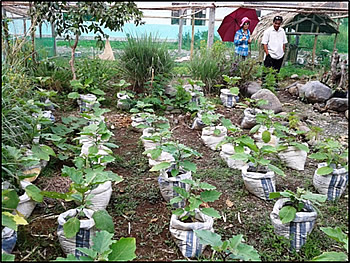 The SEARCA Re-Entry Program is a strategy employed by the Center to ensure immediate impact of its capacity-building program. Both scholars and alumni are invited to submit research and project proposals that, if accepted, will be undertaken by the scholar upon returning to their country and mother institution. SEARCA provides financial support of up to USD 5,000. At present, four SEARCA alumni have on-going Re-Entry projects: Engineer Tuates, Jr., Dr. Coronacion, Dr. Raquel M. Balanay of CARAGA State University, and Dr. Michelle V. Paraso of the University of the Philippines Los Baños. (Henry M. Custodio)