The Southeast Asian Regional Center for Graduate Study and Research in Agriculture (SEARCA) conducted its 15th SEARCA Online Learning and Virtual Engagement (SOLVE) webinar on "Youth Disengagement in Agriculture: Southeast Asian Youth Champions in Action" on 19 August 2020 via Zoom and Facebook.
This online platform is the final installment of the SOLVE webinar series on youth in agricultural and rural development (ARD) in August 2020. The first installment highlighted the challenges and opportunities for the young, while the second installment tackled agricultural underpinnings on youth empowerment. As a culmination of this month's theme, the third online discussion invited youth champs from the Philippines and Cambodia to talk about their experiences as youth leaders and as advocates of farming and food security.
Mr. Leo Manuel C. Casaclang, owner of LocalRoots Agricultural Farming and Services (LocalRoots) in Sariaya, Quezon Province, Philippines, shared how he turned a family farm into a successful agribusiness venture and the essential farming habits for starters. He suggested to always find something new, ask questions, remember to benchmark, network with others, and enjoy when starting a farming business. "For the youth, try and go out of your comfort zone, do not be afraid to venture in agriculture," he said.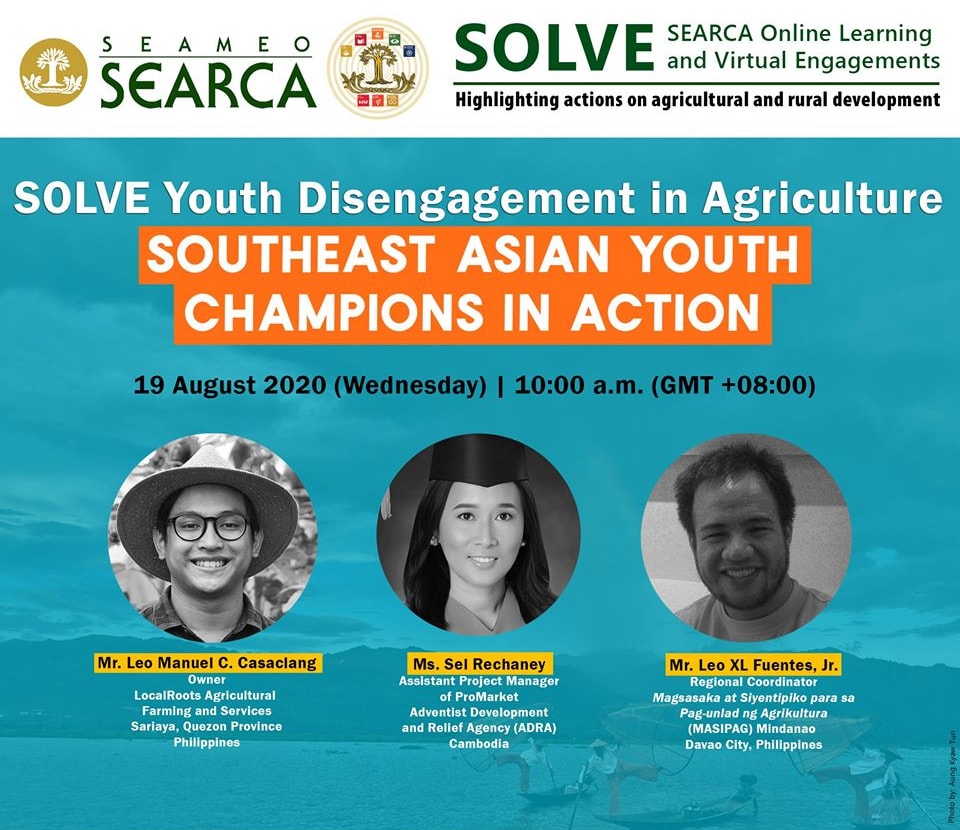 Moreover, Mr. Casaclang stressed the importance of youth in ARD. "Young people should try to go into farming. Pandemic showed us the food security is a must, food is a basic need that we need to meet. This shows that agriculture is very important in our lives," he said.
Highlighting the role of gender, especially women in ARD, Ms. Sel Rechaney, Assistant Project Manager of Sustainable Produce to Market Value Chain Enhancement Project (Pro-Market) at Adventist Development & Relief Agency (ADRA), Cambodia and SEARCA scholarship alumna, presented important takeaways on women entrepreneurship, her experiences as a youth leader in Cambodia, and an advocate of organic vegetable gardening. "Youths are important to lead the community and engage in agricultural sector because they have potential in accessing new agriculture technology, new market linkage modules based on new technologies, and are both creative and innovative," she emphasized.
In addition, Ms. Rechaney shared that organic vegetable gardening is important in having safe food because of it contributes to high nutrition consumption, reduction of environmental pollution, and sustainable production of goods.
Further, the importance of women to get involved in agribusiness was the high point of her discussion. She ended her talk by sharing how women greatly impacts the agriculture sector by engaging in capacity building activities on agricultural techniques, leadership, finance, marketing, and operations management.
On the other hand, situating the plight of the current challenges that confront the youth, especially those in the rural areas, Mr. Leo XL Y. Fuentes, Jr., Regional Coordinator of Magsasaka at Siyentipiko para sa Pag-unlad ng Agrikultura or (MASIPAG) Mindanao of Davao City, Philippines, stressed the need for a better normal through sustainable agriculture and the role of the youth in the march towards a better normal. He said "as the youth, how can we contribute in advancing the better normal? On an individual level we must not limit ourselves to our home there is also a need to support the farmers. From an individual level we move to a group consciousness to advocate for land reform and agroecology."
Additionally, Mr. Fuentes introduced the concept of agroecology as a holistic approach to sustainable agriculture and food systems. He furthered that it is grounded on several dimensions of sustainability, which are environmental, economic, political, and social and cultural dimensions. He also tackled the Masipag way of developing agro-ecosystems and collection, identification, maintenance, multiplication, and evaluation of crop and livestock breeds.
Mr. Fuentes ended his presentation by exposing the reality of the farmers and their families in rural areas and declaring a call to action. He said "the challenge for us, especially for future generation, is the ageing farmers. Beyond individual level efforts, let's join global campaign for a sustainable future. In the context of the Southeast Asia and worldwide, there is a need to be globalized and start localizing food."
The next SOLVE webinar will be held on 9 September 2020 with the theme "Enhanced Agricultural and Rural Development towards Climate Resilience." The theme is one of the seven priority areas of SEARCA's 11th Five-Year Plan (2020-2025), which is geared towards accelerating transformation through agricultural innovation (ATTAIN). Invited speakers will present developing nature-based solutions and important dimensions of climate resilience to planning.