The project team conducted interviews to gather preliminary data with nursery operators and processors in Oriental Mindoro.
ORIENTAL MINDORO, Philippines – A baseline study on plant nursery operators and calamansi processors was conducted by the project team composed of staff from UPLB, together with partners from Mindoro State College of Agriculture and Technology (MinSCAT), and the Office of the Provincial Agriculturist (OPAg) of Oriental Mindoro on 1-6 April 2019 in the municipalities of Victoria, Pola, and Roxas for the project Upgrading the Calamansi Value Chain towards Improving the Calamansi Industry of Oriental Mindoro.
Of the eight plant nursery operators interviewed, only three were accredited by the Bureau of Plant Industry (BPI). The retail price of the calamansi seedling varies depending on the season and the buyer. Government agencies buy about 85,000 to 100,000 seedlings, annually, each at PHP 50-100, while private individuals and walk-in buyers can get the calamansi seedlings at an average price of only PHP25-40 each. This difference is due to the inclusion of trucking costs in government agencies' purchases, contrary to private and walk-in buyers who have their own mode of transport.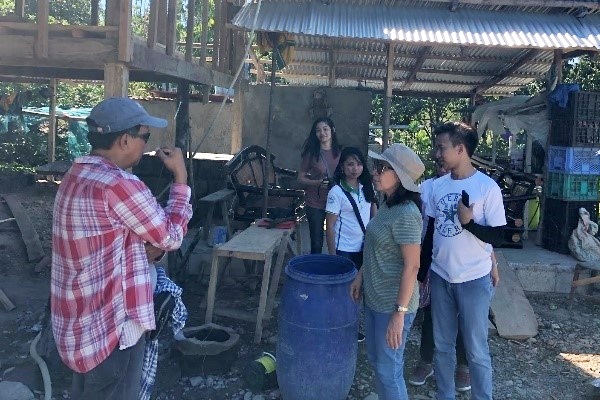 Interview with JMD Plant Nursery in Roxas, Oriental MindoroLocal calamansi processors receive support from government agencies. Of the six processors interviewed, four were found to have received equipment such as purifiers, extractors, double jacketed kettles, filling machines, and/or freezers from the Department of Trade and Industry (DTI) under their Shared Service Facility (SSF) Project. DTI also provided training and seminars on good manufacturing practices on citrus products, and proper labeling and packaging.
The initial study pointed out that in order to develop the production of processed calamansi, the value chain should be improved; with market expansion as one of the major roadblocks that should be considered. Likewise, processors should look into the use of residues of calamansi extract such as the seed, peel, and pulp for further product development. (Reymond Denver Q. Buenaseda and Christiansen D. Aguila)