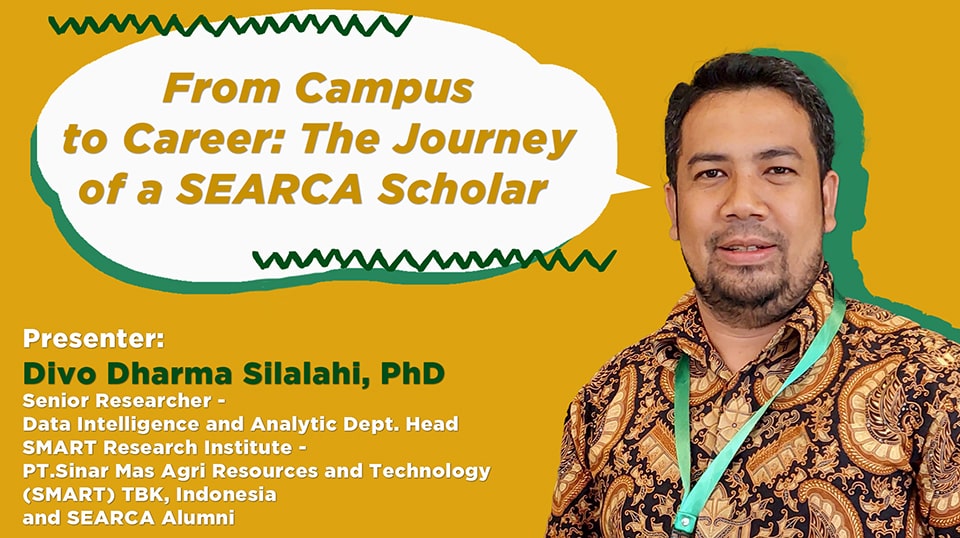 The Education and Collective Learning Department (ECLD) of SEARCA will conduct the 5th GSID Conversations on 28 April 2023 (Friday), 10:30 a.m. (GMT +8:00) for its scholars. The annual activity launched on 16 April 2021 creates a dialogue with industry professionals to support the scholars' personal and professional development. The upcoming GSID Conversations "From Campus to Career: The Journey of a SEARCA scholar" was organized as the Center recognizes the importance of guiding its scholars in navigating their years as graduate students and preparing them for life after their studies. Dr. Divo Dharma Silalahi, Senior Researcher - Data Intelligence and Analytic Dept. Head, SMART Research Institute - PT.Sinar Mas Agri Resources and Technology (SMART) TBK in Indonesia will serve as a resource speaker. A PhD graduate in computational statistics from Universiti Putra Malaysia (UPM) and a former SEARCA scholar, Divo will talk about his experience as a student, the unique challenges graduate students on a scholarship program face and the transition from student to practitioner.
The Center's alumni, led by the Regional SEARCA Alumni Association (RSAA), regularly support the ongoing scholars' activities by providing their time and expertise on agriculture and rural development-related issues and career advising. Just last month, the RSAA, in partnership with SEARCA, organized the SEARCA Scholars' Conference to guide the scholars in their thesis research. Prof. Dr. Asdi Agustar, RSAA President, noted that the conduct of such an event is one among the many efforts that make the association's vision and mission come true. SEARCA also hopes that every time a scholar meets an alumnus, they can establish a relationship and for the latter to inspire their juniors as they are in the position to share how they have moved on and achieved their goals toward success.
Besides the GSID Conversations, SEARCA also offers annual customized training programs targeted to build the scholars' capacity and facilitate the completion of their graduation requirements as well as seminars and conferences to support their academic milestones and recognize their capacity to produce quality research that has a great impact in fields related to agriculture. All these activities are part of the Center's bigger, better, and smarter scholarship package designed to foster well-rounded scholars and grantees poised to become the future leaders of ARD in the region.