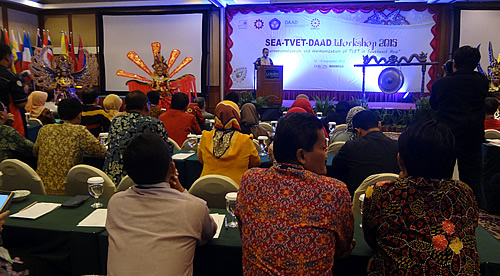 Meanwhile, the second workshop that took place on 10-12 September 2015 in Solo, Indonesia, with almost 400 participants elicited commitments among participating TVET institutions and universities for cross-country teacher and student exchanges. The workshop also introduced a plan to set up a Southeast Asian (SEA) TVET Consortium, which is a SEAMEO initiative. The Directorate of Technical and Vocational Education of the Indonesia Ministry of Education and Culture hosted this second meeting, with the German Academic Exchange Service (DAAD) Regional Office in Indonesia as partner, and the SEAMEO Secretariat (SEAMES) based in Bangkok, Thailand and two SEAMEO regional centers as regional coordinators. These were the SEAMEO Regional Centre for Vocational and Technical Education and Training (VOCTECH) based in Brunei Darussalam and the SEAMEO Regional Open Learning Center (SEAMOLEC) based in Indonesia. SEAMEO VOCTECH will lead SEAMEO's proposed SEA TVET Consortium.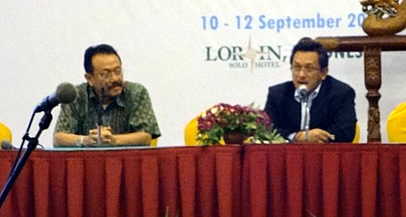 In agriculture and fisheries, which is the area of interest of the Southeast Asian Regional Center for Graduate Study and Research in Agriculture (SEARCA), its Director Dr. Gil C. Saguiguit, Jr. underscored the role of TVET in developing the region's human resources that can directly contribute to inclusive and sustainable agricultural and rural development (ISARD) in the Southeast Asian region. SEARCA has thus participated in the two regional meetings although TVET in agriculture and fisheries is not directly within its institutional strengthening and capacity development mandate. On the other hand, SEARCA focuses on serving the higher education, research and policy sectors. However, the Center will support TVET providers/institutions in curriculum/content development along the thrusts of ISARD where gaps in training content and trainer capacity may be found.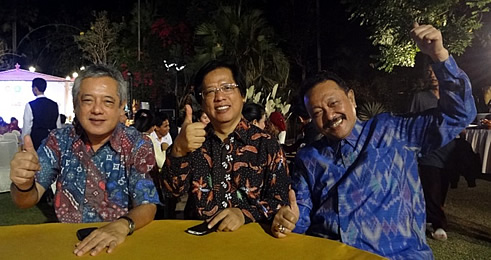 In the Philippines, the Technical Education and Skills Development Authority (TESDA) is the lead TVET institution, with various vocational schools and state colleges and universities offering TVET courses. Since 2011-2012, the Department of Education started rolling out the components of the K-to-12 basic education curriculum, which expands primary and secondary education to 12 years adding two final high school years with option for three tracks: academic, technical-vocational-livelihood, and sports and arts.
The promotion of TVET was identified as one of the priorities of Education Ministers in Southeast Asia during their Strategic Dialogue on 13 September 2014 in Vientiane, Lao PDR. Specifically, SEAMEO is promoting TVET among learners and their parents through more visible investments in the field, and improving relevance of the curricula to focus on creativity and innovation. The SEAMEO Strategic Dialogue of Education Ministers (SDEM) also agreed that TVET in the region can be enhanced through the development of a regional policy framework for labor, skills and learner mobility. (Maria Celeste H. Cadiz)