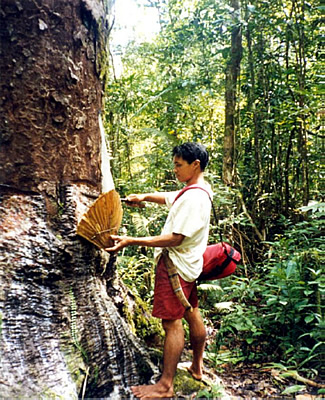 Almaciga (Agathis philippinensis) is one of the few conifer timber species endemic to the Philippines. Almaciga grows in almost all mountainous forests, particularly in Quezon, Zambales, Palawan, Cagayan, Abra, Kalinga Apayao, Nueva Vizcaya, Samar, Zamboanga, and Davao. It can grow up to 60 meters (m) tall with a trunk of 3 m in diameter. It is highly valued for its resin—the world-renowned Manila copal—which is used in manufacturing varnishes, lacquer, soap, paint, printing inks, linoleum, shoe polish, floor wax, plastic, water proofing materials, paper sizing, and other products.Locally, it is used for torches and as starting fire, incense, fuelwood, caulking substance, and smudge for mosquitoes.
Almaciga resin is an important dollar earner among the country's non-timber forest products. From 2000 to 2009, an average of 202,400 kilograms (kg) of Manila copal amounting to USD 188,900 was exported to France, Germany, Japan, Spain, China, and Switzerland. This species, however, is rapidly vanishing, and almaciga logging is currently banned by the Philippine government. Yet, almaciga may vanish naturally even if left undisturbed. In recent years, there have been reports of dying trees because of heartwood rotting, and destructive and excessive tapping of the resin.
The Southeast Asian Regional Center for Graduate Study and Research in Agriculture (SEARCA), through its Seed Fund for Research and Training (SFRT), supported the study. Forester Arsenio B. Ella, together with Forester Florena B. Samiano, both of the Forest Products Research and Development Institute (FPRDI), led the study. Titled "Enhancing the Adaptive Capacity of the Indigenous Peoples by Promoting Sustainable and Community-Based Resin Tapping of Almaciga (Agathis philippinensis Warb.) in selected Certificate of Ancestral Domain Title (CADT) Areas in Palawan and Sierra Madre, " it recommends to the Department of Environment and Natural Resources (DENR) to include almaciga propagation and plantation in its National Greening Program (NGP) to ensure the sustainability of the almaciga resin industry. The study further recommended that: (1) DENR should survey and monitor existing almaciga trees and ensure that proper resin tapping method is practiced; (2) build farm-to-market-roads to harness the full potential of the almaciga industry; (3) train the IPs on how to manufacture almaciga resin products like varnishes, lacquer, and soap, among others, for them to fully benefit from resin production; and (4) encourage the National Commission on Indigenous Peoples (NCIP) to integrate the sustainable management plans for harvesting almaciga resin into the preparation of the Ancestral Domain Sustainable Development and Protection Plan (ADSDPP).
Through the project, IP beneficiaries learned about climate change, its impact on forest ecosystems and forest-based groups, and how to adapt to it. The project conducted "techno-transfer," demonstration, and training on the proper methods of tapping almaciga resin. An impact assessment on the adoption of the FPRDI almaciga resin tapping technologies was also carried out.
The training led to an increased understanding of the proper method of tapping almaciga resin. Furthermore, the IPs understood their vital role to protect and conserve the forests. The training courses took place at Brookes Point and Aborlan in Palawan and at Dinapigue, Isabela and San Luis, Aurora in Sierra Madre. (Arsenio B. Ella, Florena B. Samian, and Pilipinas M. Luis)