The conference aimed to promote the creation of systems of farming capable of maintaining their productivity and usefulness to the community. The conference's central theme was how to mobilize small and family farmers/new and beginning farmers for food security, sustainable tourism, and rural development.
Senator Villar said that she was glad that the event gives importance and priority to small and family farmers, who should not belittle their contributions to society. The agriculture sector, she noted, supports two-thirds of the country's economy. With the surging population, she said there is a strong pressure in the agriculture sector to produce more food, and small and family farms have important roles to play in terms of the country's food security. She encouraged the participants not to leave their farms because the future generations depend on them for food.
She outlined several major legislations that have been passed in the Senate to help the farmers. These include the following:
Coconut Farmers and Industry Development Act, which creates the coconut levy trust fund that would provide interventions for the coconut industry's development;
Free Irrigation Service to Small Farmers Act, which gives free irrigation to farmers who own land not larger than eight hectares and condones unpaid irrigation fees and writing off of loans of farmers who own the same size of land;
Farm Tourism Development Act, which seeks to promote environment-friendly, efficient and sustainable farm practices; provide alternative recreation facilities and farm tourism activities for families, students and other clientele; and promote health and wellness with high-quality farm-produced food; and
Rice Tarrification Bill, which provides for the removal of the prescribed rice import volume and rice imports can eventually be opened to private rice traders who can import additional volumes of the crop from Southeast Asian countries like Thailand and Vietnam but will have to pay a 35-percent tariff. The collected tariffs will be used to fund mass irrigation, warehousing and rice research.
Senator Villar emphasized that in all the bills she has authored, she made sure there is adequate fund to provide research and development and further training of farmers, and guarantee that family farmers will be the center of agricultural policies and programs.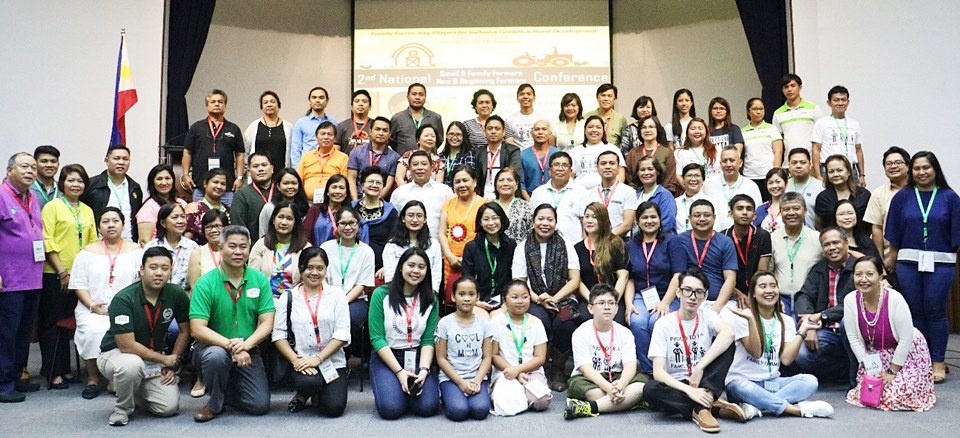 In welcoming the participants, Dr. Fernando C. Sanchez, Jr., Chair of SEARCA's Governing Board and Chancellor of the University of the Philippines Los Baños (UPLB), briefly introduced SEARCA and its core programs. He said that one of SEARCA's priority focus is to promote the greater and more competitive participation of smallholder farmers in the growing agricultural food markets to ensure their maximum benefit while contributing to the larger objective of addressing food security and poverty alleviation in the rural countryside. He said that SEARCA was pleased to host the conference, which brought together family farmers who are considered as a new breed of farmers who are very capable of transforming smallholdings into productive areas of for food production, sustainable tourism, and livelihood.
A total of 64 participants representing various professions and age groups attended the conference, exemplifying, according to Dr. Sanchez, "that this new trend of family farming makes agriculture literally closer to home and to the young people and other non-faming sectors as well." Aside from Sen. Villar's keynote speech, the conference also highlighted stories about farmer "heroes," millennial and Generation-Z farmers, and challenges of family farming; presentations on seed technology; and organization of the Pamilyang Filipino Farmers Agricultural Cooperative.
SEARCA, through its Knowledge Management Department-Training Unit (KMD-TU), hosted the conference, with the MoCA Family Farm and RLearning Center, a leading member of the Pamilyang Filipino Farmers, as main organizer. (Nova A. Ramos)