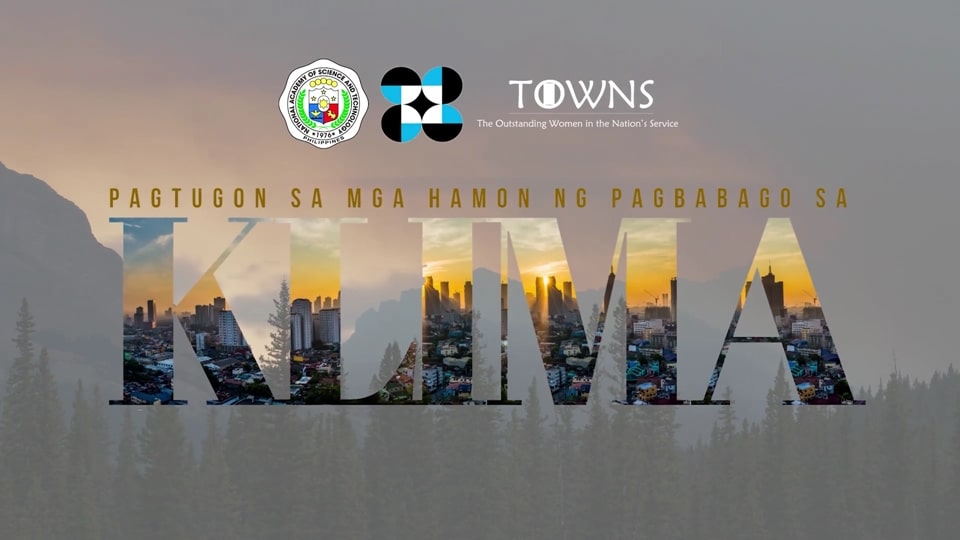 Transformation in food systems entails rethinking food security and sowing seeds of curiosity. These were the main actions reinforced by Dr. Glenn B. Gregorio, Director of the Southeast Asian Regional Center for Graduate Study and Research in Agriculture (SEARCA), and Academician of the National Academy of Science and Technology, Philippines (NAST PHL), in the first installment of the Climate Change Webinar Series organized by NAST Task Force on Climate Change and The Outstanding Women in the Nation's Service (TOWNS) Foundation, Inc. on 21 May 2021.
Acd. Aura G. Matias, Full Professor and Former Dean of the UP Diliman College of Engineering, representing NAST President Acd. Rhodora V. Azanza, shared that the webinar series aims to "inform the general public, particularly the youth, about the changing climate situation in the Philippines and how this will affect the Filipino way of life."
The theme of the first leg of the NAST TOWNS Talks is entitled, "Addressing the Challenges of Climate Change on Food and Nutrition Security and Health". It includes three presentations from experts in the field of health, food security, and nutrition.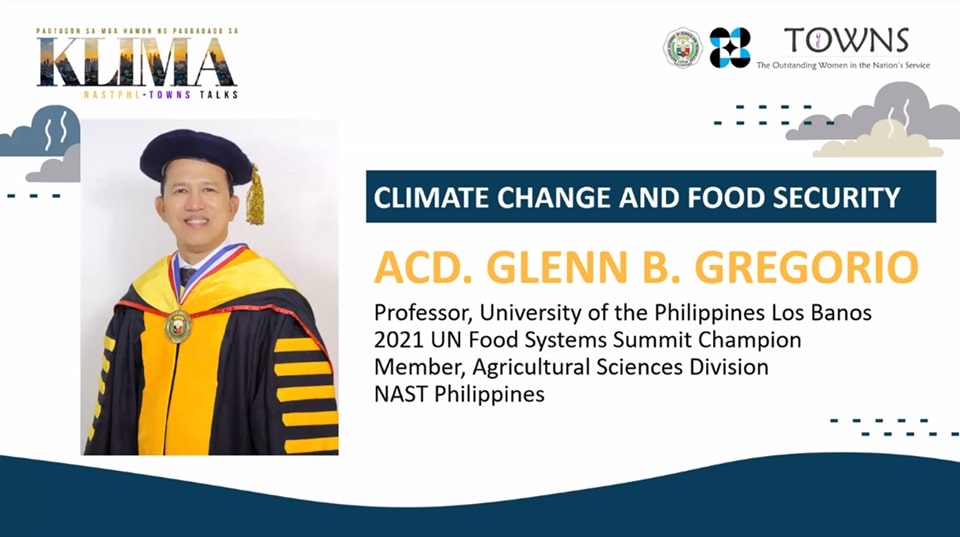 Giving direction to the situation of food security and its impact on climate change in the Philippines and Southeast Asia, Dr. Gregorio talked about "Food on an Increasingly Hot Plate: Climate Change and Food Security."
Dr. Gregorio pointed out that the changing weather patterns, rising sea levels, extreme weather events are occurring and have affected economies and lives around the globe.
"Since everyone goes hungry and would need to have safe and nutritious food, we must all be a part of the urgent actions to combat climate change and mitigate its impacts," Dr. Gregorio added.
The Academician emphasized SEARCA's 11th Five-Year Plan of Accelerating Transformation Through Agricultural Innovation (ATTAIN) and its life-long mission to transform farmers from practicing traditional to sustainable agriculture.
He added, "transformation in our food systems should start with our farmers, from a farmer as a producer-only to a transfarmer."
Dr. Gregorio further highlighted the need to transform rice farms to be more resilient to climate change. As a plant breeder and geneticist, he also promoted climate change-ready crop varieties, quality seeds or hybrid seeds, mechanization and digitalized farming, the use of smart fertilization through a nutritional revolution in farming, and water-saving technologies such as drip irrigation.
The SEARCA Director added, "climate change in agriculture is not just a problem, it is a driver for research and business. We have to be ready for the ASEAN integration. We need each other so we work together in harmony."
Dr. Gregorio also stressed the strong potential of the youth to create possibilities and new innovations in agri. He shared that he made a Solar dyer and a refrigeration system when he was still young in his high school years.
"It is good that young people are increasingly aware of the challenges and risks presented by the climate crisis and of the opportunity to achieve sustainable development brought by a solution to climate change. However, young people are not just victims, but also carry a lot of potential in carrying out and accelerating climate action. They possess massive power to advocate for change and to hold decision-makers accountable," passionately concluded by Dr. Gregorio.