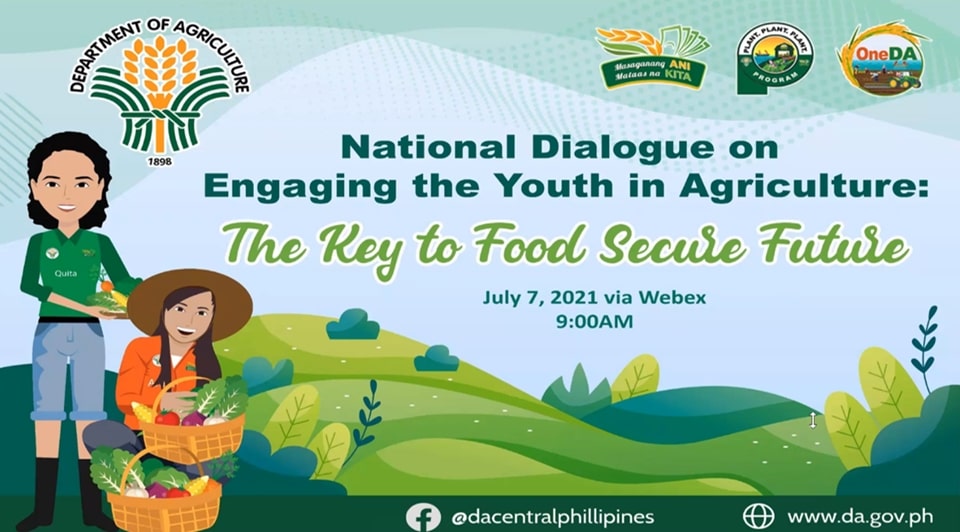 A curriculum and a learning environment that is safe, conducive, inclusive, and ASEAN-ready for the next generation of agri-food system champions sums up the presentation of Dr. Glenn B. Gregorio, the Director of the Southeast Asian Regional Center for Graduate Study and Research in Agriculture (SEARCA) and a Professor at the University of the Philippines Los Baños (UPLB), in the dialogue entitled National Dialogue on Engaging the Youth in Agriculture: The Key to Food Secure Future on 7 July 2021 via Webex.
Organized by the Philippine Department of Agriculture (DA), the dialogue serves as a preparation for the United Nations Food Systems Summit (UNFSS) in September 2021. It aims to encourage and motivate the Filipino youth to take the lead in transforming food systems.
DA said that "the dialogue will serve as a guide in crafting the country's position and statement to the UNFSS, and in developing youth-oriented and market-oriented programs geared towards increasing efficiency and competitiveness across the food system."
The event comprises plenary sessions on engaging youth in food systems and the role of youth in food systems. Dr. Gregorio was among the chosen panelists in the first session together with Mr. Sylvester Sioson of DA and Atty. Patrick Velez of the Food and Agriculture Organization of the United Nations (FAO).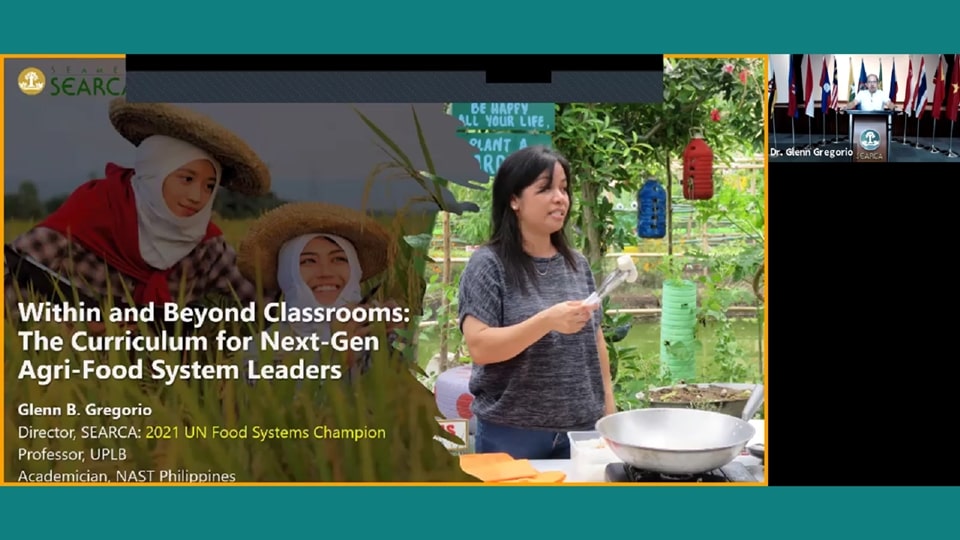 In his presentation, Dr. Gregorio underlined the importance of a learning space that is depicted by a classroom set up for learners.
He told the participating Filipino youth, "It all begins here—in a classroom. Our minds, our values, our skills are shaped inside the classroom. And so, if we are to talk about embedding the interest of our schoolchildren in agriculture, we need to start within classrooms and take it even beyond classrooms."
Eventually, the Director shared SEARCA's story of how its School Plus Home Gardens Project (S+HGP) in partnership with UPLB and the Philippine Department of Education (DepEd) flourished for the school children.
"The S+HGP revived and redesigned DepEd's earlier school garden programs to an innovative approach focusing on nutrition, education, and economic well-being of school children, their families, and their communities," said Dr. Gregorio.
The S+HGP was piloted in six schools in the province of Laguna with a model where harvests from the school gardens provided fresh vegetables for the school-based feeding program. The model also extended the gardening-feeding linkage to the establishment of food gardens in school children's homes. More than just establishing home gardens, the parents developed a greater sense of responsibility to ensure good nutrition for their children, while also saving on food expenses.
From the 6 original pilot schools in 2016, there are now 2 additional adopted schools, 23 sister schools, and 3 brother schools.
Dr. Gregorio highlighted another outcome of the S+HGP initiative that is an integration of concepts of agri, food and nutrition, climate change mitigation and adaptation, and solid waste management in grade school curricula.
"School heads and teachers were trained in a writeshop to draft lesson plans of Grades 4 and 7, and integrating these food system concepts in Science, Mathematics, English, Edukasyong Pantahanan and Pangkabuhayan or Home Economics, and Technology and Livelihood Education or TLE subjects," said Dr. Gregorio.
On the other hand, for high school students, the Director presented SEARCA's Annual Agri-biotech Boot Camp. The boot camp is designed to introduce the youth to different agri-biotech innovations that contribute to addressing food and nutrition security and improving the lives of farmers and consumers in a way that is safe for both people and our planet.
He added that "the sessions received an overwhelming response from junior and senior high school students, as well as their teachers, with over 18,000 views and reaching more than 24,000 people on Facebook."
For undergraduate and graduate students, Dr. Gregorio shared that SEARCA has an ongoing Innovation Olympics for college students to come up with innovative ideas to help farmers and farming families.
The theme for this year's competition is titled "Precision Agriculture for Small-Scale Vegetable Farming". The Olympics serves as a platform for students to share, create, and pilot new technology solutions for urban and rural smallholder vegetable farmers.
On top of this, Dr. Gregorio reinforced SEARCA's graduate scholarship programs that have greatly contributed to mold young agri leaders to play key roles in agricultural and rural development (ARD) in Southeast Asia.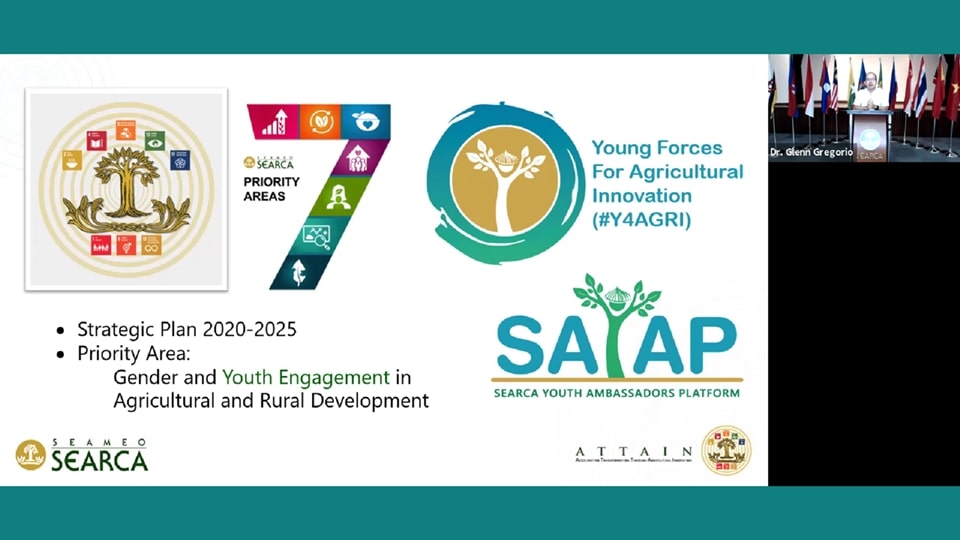 From school children, high school students, and university students, the Center's youth engagement strategy also covers young professionals and practitioners in the agri-food system. He underscored that Gender and Youth Engagement in ARD is part of the seven priority areas of SEARCA's strategic plan from FY2020/2025.
"Last year, we have launched the Young Forces for Agricultural Innovation or #Y4AGRI as our banner initiative for youth engagement. This program is by-the-youth and for-the-youth and through this initiative, we see the youth not just as beneficiaries but more importantly, as partners and leaders of agricultural innovation to elevate the quality of life of farmers and farming families," told by Dr. Gregorio to the young Filipino audience.
Dr. Gregorio added, "to ensure SEARCA walks the talk of youth engagement, the SEARCA Youth Ambassadors Platform (SAYAP) under the #Y4AGRI program was institutionalized. This is an internal youth empowerment platform for the young ones of SEARCA."
Last month, the young staff of SEARCA has hosted the First SEARCA Virtual Youth Camp where the young ones engaged young leaders and advocates of agri-food system from the education, business and civil society organizations, and government sectors to hear youth perspectives on their challenges and solutions in transforming agri-food system.
Dr. Gregorio pointed out that among the identified challenges during the camp include the disconnect between the curriculum and realities that rural farming communities face and the lack of agri-related tasks in the regular curriculum in elementary and high school.
"We can see from here that it is indeed very important for our young ones to bridge the gap between what is happening within and beyond classrooms. We must know the theory of it and we must know the praxis of it," said Dr. Gregorio.
As the Chairperson of the Technical Panel for Agriculture under the Commission for Higher Education (CHED), Dr. Gregorio shared the proposed ASEAN-ready curriculum design on agri education that is inclusive, innovative, creative, and enterprise and employment (E2) ready.
He emphasized that the ASEAN Agri-Ed entails the following: (1) competency-based curriculum; (2) industry co-designed and co-owned; (3) partnership-driven, Infrastructure-based; (4) employment and enterprise-ready; (5) multi-track and specialization; and (6) all-in ASEAN community perspective.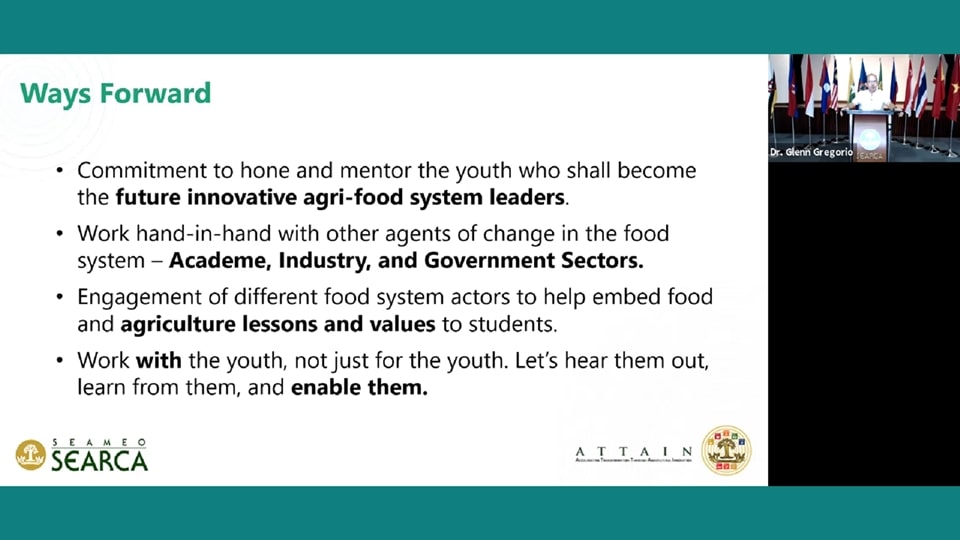 Moving forward with his presentation on initiatives to embed agri to the curriculum, the Director concluded, "at SEARCA, it is our commitment to hone and mentor the youth who shall become the future innovative agri-food system leaders—through youth-centric activities, innovative interventions, and platforms that give voice to the youth, through our innovation programs to support their "crazy" ideas turn into useful technologies, through our scholarships, our research and thought leadership. But we can only do so much, we need to work hand-in-hand with other agents of change in the food system."