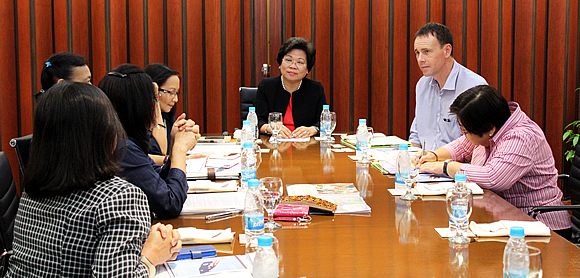 In a briefing led by Dr. Virginia R. Cardenas, SEARCA Deputy Director for Administration, and Dr. Maria Celeste H. Cadiz, SEARCA Program Head for Knowledge Management, Mr. Dutton was given an overview of SEARCA's programs and activities and the Center's Tenth Five-year Plan which covers fiscal years 2014/2015- 2019/2020. Also present at the briefing were Dr. Maria Cristeta N. Cuaresma, Program Head for Graduate Scholarship; Dr. Bessie M. Burgos, Acting Program Head for Research and Development; Dr. Mariliza V. Ticsay, Unit Head for Knowledge Resources; and Ms. Maria Monina Cecilia A. Villena, Coordinator for Special Projects.
Mr. Dutton was also apprised of SEARCA's past collaborations with various Australian institutions, including several research projects with ACIAR, the latest of which is the completed Transport Policy Study: Promoting Efficiency and Productivity of Flow of Goods – A Focus on the Transportation Needs of Mindanao. Currently, SEARCA is implementing an Overseas Study Mission of Livestock R&D Institutions which has Australia as one of the four countries to be visited in benchmarking the Philippine Carabao Center with similarly situated institutions in other countries.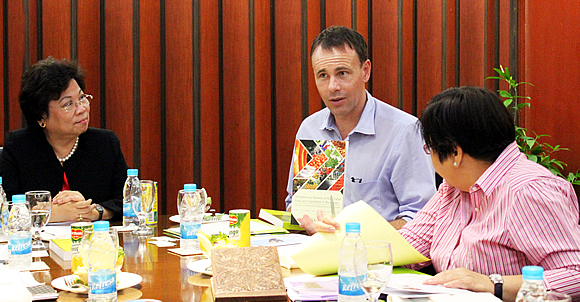 For his part, Mr. Dutton explained that the Australian Government's new aid policy focuses more on supporting countries in the Asia-Pacific, with emphasis on economic growth to raise living standards and improve people's lives. He said Australia would develop new initiatives to support economic growth in the Philippines including in the areas of economic policy and infrastructure. Noting SEARCA's regional focus, Mr. Dutton said the Center may also be able to tie up with Australia's regional programs. He also shared that 2014 is the 40th anniversary of the ASEAN-Australia Dialogue Relationship, and as such is an important year for Australia to support initiatives in ASEAN.
There was a discussion of prospects on how SEARCA may tap from Australia's expertise and resources, including learning events and pilots toward tying in the link among practice, science, and policy in "Inclusive and Sustainable Agricultural and Rural Development (ISARD)," the overarching theme of SEARCA's Tenth Five-Year Plan.
Mr. Dutton was also briefed about the upcoming 2nd International Conference on Agricultural and Rural Development in Southeast Asia (ARD2014) with an invitation for the Australian Government to support the knowledge event. The Australian Government, through the Australian Agency for International Development (AusAID), was one of the co-sponsors of the first international conference on ARD convened by SEARCA in 2005.