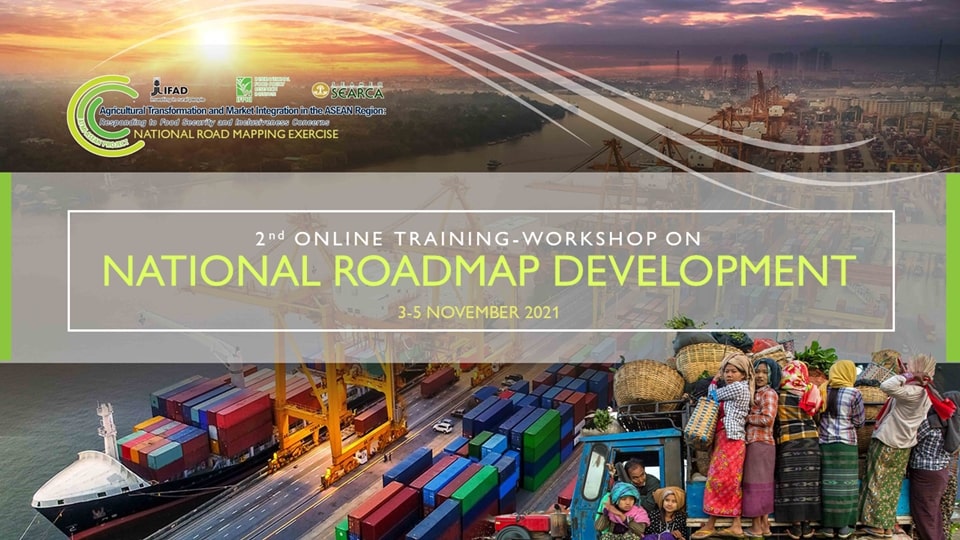 The Southeast Asian Regional Center for Graduate Study and Research in Agriculture (SEARCA) will conduct its second online Training-Workshop on National Roadmap Development as part of the national technical assistance component of the International Fund for Agricultural Development (IFAD)-funded Project Agricultural Transformation and Market Integration in the ASEAN Region: Responding to Food Security and Inclusiveness Concerns (ATMI-ASEAN), on 3-5 November 2021.
The three-day training-workshop will be facilitated by Dr. Roehlano M. Briones, Senior Research Fellow of the Philippine Institute for Development Studies (PIDS) and the Lead Technical Consultant of the national road mapping exercise.The training-workshop will cover an overview of the following areas: (1) roadmap development, (2) results-based management and (3) strategy formulation.
The exercise aims to develop national roadmaps detailing the strategies, programs, and activities needed to achieve the targets and objectives identified by the stakeholders across their priority value chains. The outputs that will be gathered from this training-workshopwill be used to support the development of the national roadmaps .
The selected participants are national experts from the project's five (5) target ASEAN Member States (AMS) who will coordinate and support the process of national roadmap development for the identified priority value chains. For the second batch, the participants will include members of the national road mapping teams of Cambodia and Lao PDR. A team representing the project's focal agency in Vietnam will also participate in the training-workshop as part of the technical assistance package that the ATMI-ASEAN Project will provide to the country, which will also include the development of a national strategy in lieu of the national roadmap.
The ATMI-ASEAN Project is being implemented by the International Food Policy Research Institute (IFPRI) as lead, and SEARCA as a partner.