SEARCA specifically tailored this training-workshop for the Philippine agriculture and fisheries sector to enhance the capacity of decision-makers and planners at various levels to mainstream CCA into their policies, plans, programs, and investments. It also aimed to increase the participants' understanding of the application of climate proofing methodology within their organizational environment to ensure that climate change concerns are integrated into their programs and initiatives.
Specifically, the workshop aimed to enable the participants to:
Understand climate change impacts and the need to mainstream climate change adaptation into policies, action plans, and project interventions in the agriculture sector;
Identify appropriate approaches for integrating climate change adaptation into development policies and investment plans at the national, sectoral, and project levels; and
Apply these systematic planning steps to selected cases in agriculture and fisheries toward developing flagship applications of climate proofing.
In welcoming the participants, Dr. Gil C. Saguiguit, Jr., SEARCA Director, noted how climate change threatens our food security as it negatively affects the region's agriculture and fisheries sector. Our best option against this challenge is to adapt and heighten the resiliency of the sector to the effects of this natural phenomenon, he said. It is in this context and along with its mandate of building capacities toward Inclusive and Sustainable Agricultural and Rural Development (ISARD) that SEARCA conducted the training-workshop aiming to equip the participants with knowledge and skills in integrating climate change adaptation and mitigation actions into their development plans and investments, he emphasized.
The 20 participants included 10 representatives of the Philippine agriculture and fisheries councils from the government, industry, civil society, and farmer sectors; three local government representatives from a project supported by USAID; four from the Department of Agriculture; two from the academe; and one from a farmer's regional network.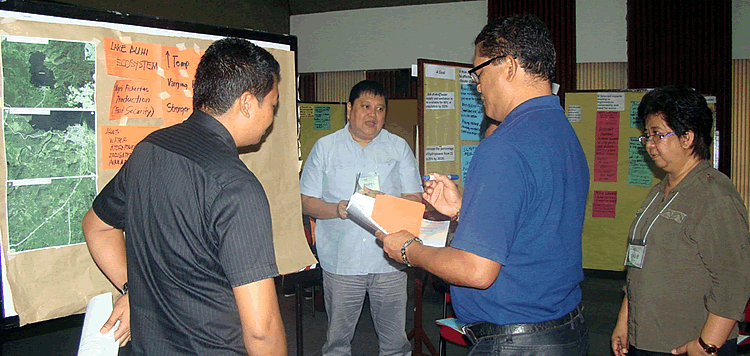 A highlight of the training-workshop was the application of the systematic adaptation assessment or climate proofing methodology on selected real cases that were submitted by the participants prior to the workshop. The participants "climate-proofed" the following development plans and projects:
The Community-based Coastal Resource Management Implementation in the Municipality of Naic, Cavite: A Case Study
Lake Buhi Water Allocation for Irrigation and Aquaculture
Larapan Riverbank Stabilization Project, Linamon, Lanao del Norte, Philippines
Value Chain Analysis for Wet Rice Production in the Municipality of La Paz, Agusan del Sur
The groups' workshop outputs were then presented in an "information marketplace." This method is based on the idea of a real market where there is buying and selling and the venue is used for stimulating the exchange of information among many people simultaneously within a limited time.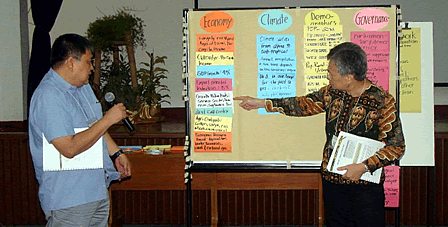 Dr. Daylinda B. Cabanilla, Associate Professor, Department of Social Forestry and Forest Governance, College of Forestry and Natural Resources (CFNR), University of the Philippines Los Baños (UPLB), and Ms. Rosario B. Bantayan, SEARCA Program Specialist, served as the training-workshop's Technical Coordinator and Co-Coordinator, respectively.
On the other hand, Dr. Felino P. Lansigan, newly-appointed Dean and Professor, UPLB College of Arts and Sciences, and Dr. Canesio D. Predo, Assistant Professor, Institute of Renewable Natural Resources, UPLB College of Forestry and Natural Resources, served as resource persons on introduction to climate change and climate change adaptation concepts and the use of economic tools in assessing adaptation options, respectively.
The training workshop and the reference materials used were based on the Organization for Economic Co-operation and Development (OECD) Policy Guidance "Integrating Climate Change Adaptation into Development Co-operation." Its publication was funded by the German Federal Ministry for Economic Cooperation and Development (BMZ) and it was developed by the Deutsche Gesellschaft für Internationale Zusammenarbeit (GIZ) GmbH in coordination with OECD, together with a host of reviewers from development agencies, NGOs, and research institutions from around the world. (Rosario B. Bantayan)
{vsig}1850-20-philippine-aggie-and-fish-reps-learn-climate-proofing-method{/vsig}