Genetically modified (GM) corn, cotton, sweet potato, and cassava are being tested in confined field trials in Kenya. Ratification of the biosafety regulations currently under review of Kenya's State Law Office is expected to pave the way for these GM crops to be commercially released.
This was reported by Dr. Roy Mugiira, Acting Chief Executive Officer of Kenya's National Biosafety Authority (NBA), in his seminar on "Biosafety in Kenya" co-organized by SEARCA's Biotechnology Information Center and the Program for Biosafety System Southeast Asia on 19 May 2011 at SEARCA.
Kenya's NBA governs the use and transfer of GM organisms. Its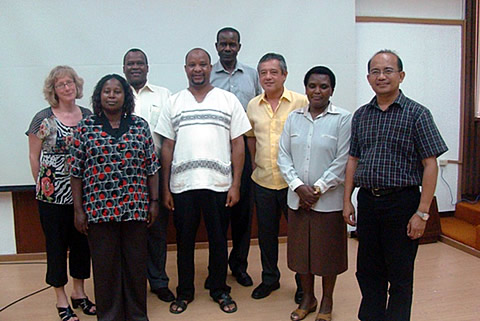 Board is a broad-based multi-stakeholder entity composed of eminent scientists; permanent secretaries from key ministries; directors of biosafety regulatory agencies; and representatives of farmers, consumers, and the private sector.
Dr. Mugiira said biotechnology is a flagship program of his country. Kenya has already put in place the policy and legal framework (Biosafety Act of 2009) as well as the administrative mechanism for its biosafety framework. The National Biosafety Committee, NBA, Ministry of Agriculture, and eight biosafety regulatory agencies comprise the administrative structure.
He added that the Kenyan government has also engaged the public's participation in the crafting of the country's biosafety framework. Stakeholders have been involved in drafting biosafety policies, guidelines, and regulations.
Awareness campaigns and programs are also being implemented. Bio AWARE is one such campaign currently implemented by the Ministry of Agriculture. It aims to increase people's awareness of biotechnology and biosafety. He said that constant government pronouncements in support of modern biotechnology have helped curb anti-biotech movements.
Dr. Mugiira was part of a group on a study visit to the Philippines to learn about the country's biosafety framework. Others in the group were Prof. Miriam Kinyua, NBA Board Chair; Prof. Moses Limo, Mr. Otula Owuor, and Ms. Cecilia Nzau, NBA Board members; and Dr. Karen Hokanson of the International Food Policy Research Institute's Program for Biosafety Systems (PBS). The PBS supports partner countries in Africa and Asia in establishing functional regulatory systems to assure the responsible development and safe use of agricultural biotechnology.