SEARCA Regional Professorial Chair Grant
AY 2020-2021
Making a Difference in Agriculture
Innovation towards Food Security with Dr. Felix M. Salas
Dr. Felix M. Salas from Visayas State University (VSU) was awarded the SEARCA Regional Professorial Chair Grant for his excellence and contribution in the field of Agricultural Chemistry. Currently, Dr. Salas is a Professor II at the Department of Pure and Applied Chemistry, College of Arts and Sciences.
Dr. Salas started his career in teaching two months after he graduated from his Bachelor's degree in Agriculture, major in Agricultural Chemistry at Visayas State College of Agriculture (ViSCA), now known as VSU. At that time, there were few industries in the eastern Visayas region and ViSCA was just an emerging academic institution. Teaching provided Dr. Salas with great satisfaction as he considers it a noble profession. As a fresh graduate, he wanted to work with young people in a vibrant and dynamic environment because he wanted to make a positive difference. Teaching also took him to other countries which widened his horizon and cultural perspective which he has shared to his students.
He finds great joy in influencing and having an impact in the lives and future of the youth. Throughout his career, he has been inspired by the importance of ideas that seek to improve life and opening educational opportunities for everyone.
According to Dr. Salas, the best thing about teaching in VSU is the freedom to excel and develop themselves. VSU offers opportunities to pursue graduate studies as part of the requirements for regularization and permanency of faculty members. This enabled Dr. Salas to pursue his MS in Chemistry at the University of the Philippines Diliman. He and his adviser received numerous recognitions for their research which encouraged him to pursue his PhD in Bio-Regulation Studies at Tokyo University of Agriculture (Tokyo NODAI), Japan through the Japanese Society for the Promotion of Science (JSPS) scholarship. His career outlook also shifted to include research and extension work.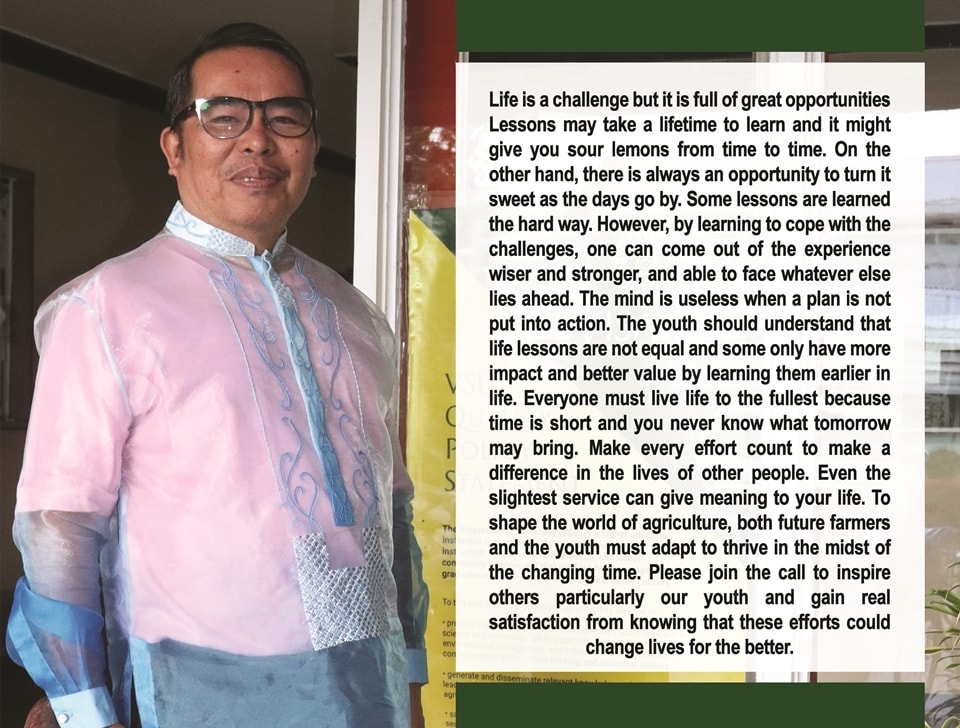 For Dr. Salas, every research is significant to him. He recognizes the importance of agriculture in the food security of Filipinos. He was inspired greatly by the implementation and results of a research study on liquid nutrient formulations for aggregate hydroponic vegetable production. This study was also acknowledged as a breakthrough in the field of Agriculture and Climate Change Adaptation.
Dr. Salas conducts studies that cut across agricultural sciences which have been recognized through the 2016 Regional Gawad Saka Outstanding Agricultural Scientist award, 2017 International Conference on Nature Studies and Innovations for the Environment (ICoNSIE) Best Oral Paper award, and 2018 Regional Civil Service Commission Pagasa award. He likewise holds 8 registered utility models generated from research findings on generally regarded as safe (GRAS) coatings to enhance shelf-life of vegetables.
As a licensed chemist and agriculturist, Dr. Salas was able to help his research team in the formulation of nutrient solutions for aggregate hydroponic production of horticultural crops by utilizing the potential of agricultural wastes and other indigenous materials. The technology on LNF was used in the Yolanda Rehabilitation and Recovery Program in Eastern Visayas. In fact, several learning sites and vegetable demo farms utilizing the LNF technology were established in Central Philippines through the auspices of the Food and Agriculture Organization of the United Nation, Climate Change Commission, Philippine Red Cross, Department of Agriculture, and the Department of Environment and Natural Resources.
Because of his dedication, he was recognized by VSU as an exemplary teacher and researcher. Dr. Salas never regrets pursuing a teaching career as it became his calling in a place, he calls home. For him, working as a teacher in VSU is like joining a large and diverse family.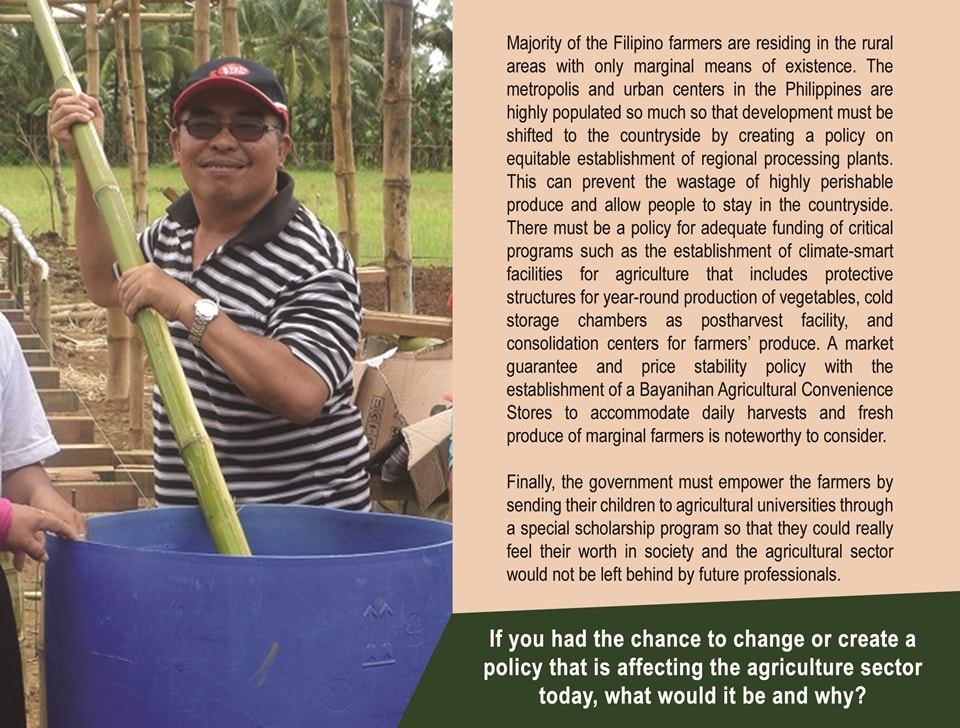 As part of the grant, Dr. Salas will hold a public lecture on "Innovative Liquid Nutrient Formulations for Improved Yield and Chemical Characteristics of Horticultural Crops under an Aggregate Hydroponic System" in Leyte, Philippines. The lecture aims to highlight the importance of the LNF technology and its major significant impact to the poor, underprivileged farmers and rural folks who do not have pieces of land for traditional farming.
Dr. Salas will also talk about innovations that support climate-smart agricultural food production all over the world, how the recycling of agricultural wastes can help mitigate the effects of climate change through carbon sequestration, carbon sinking, and carbon stocking. Furthermore, significant research findings on the influence of liquid nutrient solutions on some horticultural crops in terms of yield and postharvest qualities will also be included.
Aside from the public lecture, Dr. Salas hopes to promote the technological innovations for countryside development through seminars, scientific conferences, symposia, and community engagements.
Previous Visayas State University professors who were awarded the SEARCA Regional Professorial Chair Grant include Dr. Rotacio S. Gravoso and Dr. Zenaida C. Gonzaga in 2018-2019, Dr. Edgardo E. Tulin in 2017-2018, Dr. Victor B. Asio in 2014-2015, and Dr. Annabella B. Tulin in 2013-2014.