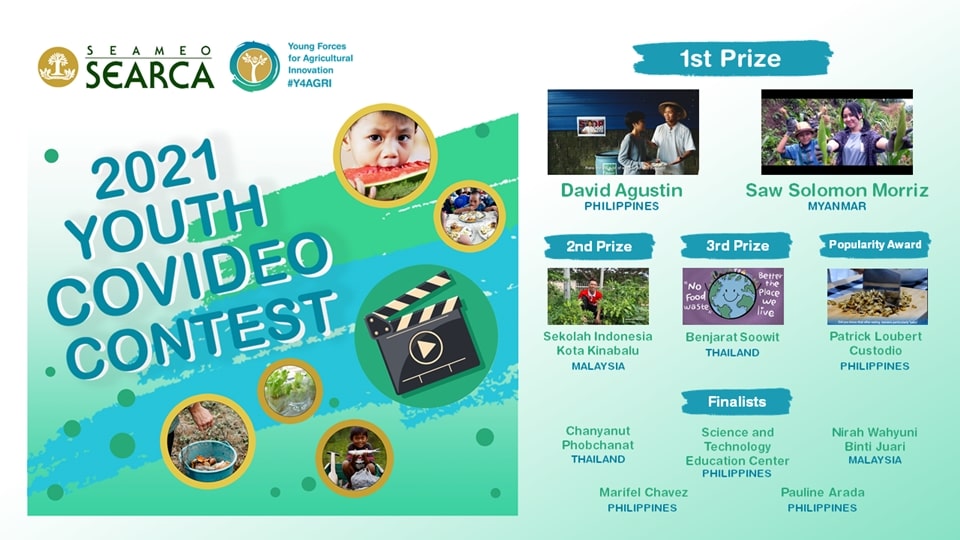 Ten video entries from young Southeast Asians took the spotlight as finalists for the 2021 Youth COVIDeo Contest of the Southeast Asian Regional Center for Graduate Study and Research in Agriculture (SEARCA) in a Virtual Awarding Ceremony on 21 October 2021 via Zoom.
With the theme, "Youth in Sustainable Food Consumption and Waste Management," entries from David Agustin (Philippines) and Saw Solomon Morriz (Myanmar) garnered the top prize. Sekolah Indonesia Kota Kinabalu from Malaysia and Benjarat Soowit from Thailand were hailed as 2nd prize and 3rd prize winners, respectively. Patrick Loubert Custodio from the Philippines won the Popularity Award for garnering the greatest number of Facebook reactions in an online voting.
The video contest is part of SEARCA's Young Forces for Agricultural Innovation (#Y4AGRI) program aligned to SEARCA's Gender and Youth Engagement in Agricultural and Rural Development (ARD) priority area. The contest aimed to gather youth-led solutions and actions in relation to the UN Food Systems Summit (UNFSS) that calls for global actions to transform food systems, including how food is produced, consumed, and disposed.
This year's contest received video entries from 453 young people in six Southeast Asian countries namely Indonesia, Malaysia, Myanmar, Philippines, Thailand, and Timor Leste. All the top winners and finalists received cash prizes.
"We are happy to see through your videos your practical ideas and creative presentation of facts and stories. Even during this pandemic, you are able to actively play your role as young people in creating small steps to accelerate agricultural transformation and to protect our environment," said Dr. Glenn B. Gregorio, SEARCA Director, in his opening message.
Mr. Agustin's video entry highlighted the issues on food systems such as hunger and food wastage by showing comparative frames and juxtaposition of food consumption. At the prevailing pandemic, he realized that there are certain challenges that must be addressed with the rise of food prices and increasing food wastes in the Philippines. Mr. Agustin, as a conscience to a little boy who was about to throw his food into the garbage, provided recommendations on food conservation and waste management.
On the other hand, Ms. Morriz's video entry told the story of Aspen, a 19-year-old teenager from Myanmar who lost an educational opportunity due to the health crisis and military coup. She narrated that Aspen saw an opportunity to start her home garden project and practice sustainable agriculture while schools are closed. The video highlighted the use of food waste as fertilizers and plants the seeds from the food Aspen and her family eat. Nutritional value of plants to help reduce carbon footprint and the idea of organically cultivated food were the key messages according to Ms. Morriz's entry to live a long life.
The second-best entry featured students at the Sekolah Indonesia Kota Kinabalu, Malaysia where they established an urban garden through their GREEN as Model Urban Gardening in School initiative. GREEN stands for garden, resources, education, and environment that focuses on practice of cultivating, processing, and distributing food in school. Their video aims to call for global action to change the food system, including how food is produced, consumed, and reprocessed.
Finally, Benjarat's video is a fun and informative animation that teaches how young people can reduce food waste during the COVID-19 pandemic. Simple methods such as creating a shopping list, or creating new meals from food leftovers, and applying the first-in, first-out principle can help reduce food waste and lower greenhouse gas emissions.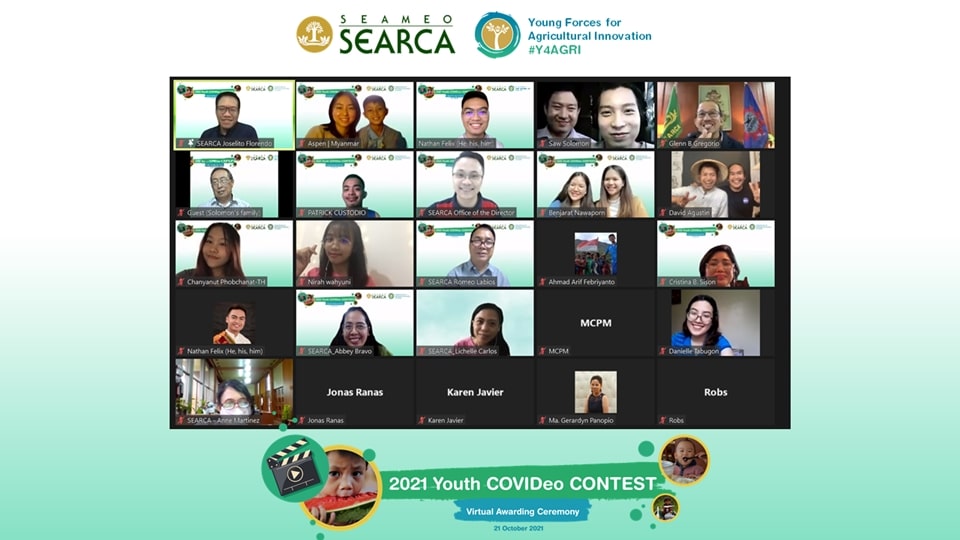 The 2021 Youth COVIDeo contest finalists with the SEARCA staff during the Virtual Awarding Ceremony.
Mr. Joselito G. Florendo, SEARCA Deputy Director for Administration, expressed his gratitude to all the finalists and participants of the contest.
"We hope that even beyond this contest, you'd carry on with your involvement in agriculture, especially with your family and immediate communities. Our youth engagement agenda continues beyond this contest, and we look forward to working with young people like you again in our efforts of engaging and empowering the youth in agricultural innovation," concluded Mr. Florendo.