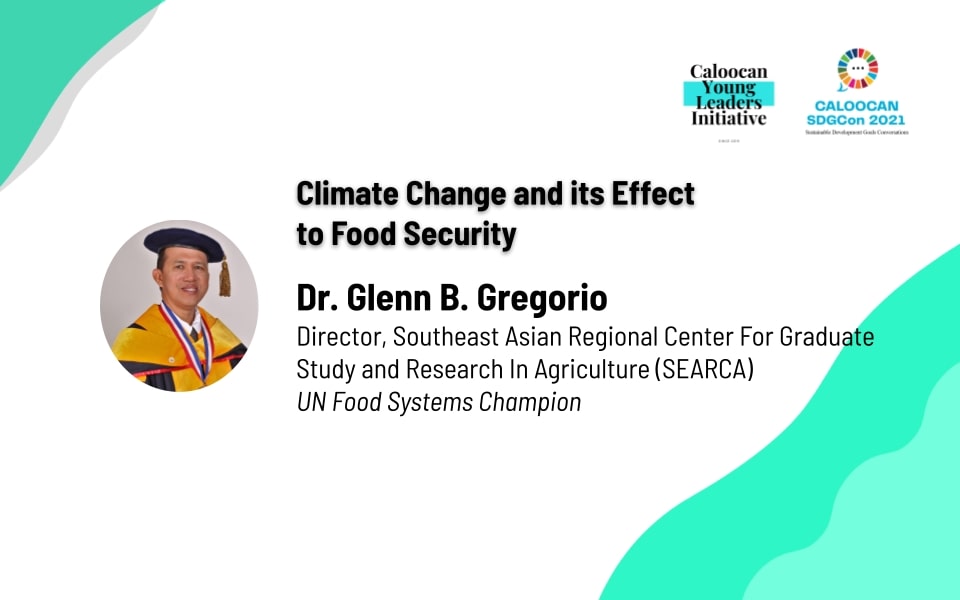 "The youth possess massive power to advocate for change and to hold decision-makers accountable," emphasized from the statement of the United Nations by Dr. Glenn B. Gregorio, Director of the Southeast Asian Regional Center for Graduate Study and Research in Agriculture (SEARCA) during the Caloocan Sustainable Development Goals Conversations (SDGCon) 2021 of the Caloocan Young Leaders Initiative on 24 April 2021.
Dr. Gregorio in his presentation titled "Food on an Increasingly Hot Plate" stressed out that the youth must sow the seed of curiosity and think critical perspectives on climate change and food security. He mentioned that "we need fresh, hot, and crazy ideas from the youth that is not business-as-usual in our genesis of rethinking this global issue."
He also shared that SEARCA supports youth participation in its 11th Five Year-Plan focused on Accelerating Transformation Through Agricultural Innovation (ATTAIN). Gender and Youth Engagement in Agricultural and Rural Development (ARD) is included as one of the seven priority areas under ATTAIN.
Dr. Gregorio gave importance to how food security affected climate change in his talk. He enumerated factors such as availability of sufficient quantity of food consumption, access and stability of food supply, and the utilization or the quality, safety, and nutrition of food.
SEARCA's programs on climate change was also promoted during the seminar-workshop. The Umbrella Program on Climate Change Adaptation and Mitigation for Southeast Asia or Umbrella Program on CChAM has been developed to serve as a platform for collaborative research and development (R&D), and knowledge management and capacity development (KMCD) on climate change adaptation and resiliency in Southeast Asia. Dr. Gregorio shared that the framework guidebook consists of four themes for the youth to explore, namely: Assessing climate change impacts and risks for policy, plans, and investments; Advancing low-carbon agriculture and rural development; Enhancing proactive adaptation to climate change, variability, and extremes; and Enabling policies and governance for climate-resilient agriculture and rural communities.
Another platform is the Knowledge Center on Climate Change (KC3) Adaptation in Agriculture and Natural Resource Management in Southeast Asia. A one-stop-shop of information on climate change adaptation and mitigation in Southeast Asia.
The SEARCA Director ended his talk by reiterating the need for a transformative mindset among rice farmers in order to be more resilient to climate change to enable more science and technology projects and initiatives especially among the youth.
"Youth are our powerhouse to make things happen in sustainable food systems. Let us support our young ones as once-young scientists, agriculturists, and climate change experts for the betterment of the Philippines, Southeast Asia, and beyond," concluded by Dr. Gregorio.
The Caloocan Young Leaders Initiative (CYLI) is a non-profit and non-partisan organization led by young professionals that aims to mobilize young people in Caloocan City to be active agents of community action and transformation.
CYLI's SDGCon aims to impart knowledge on the United Nations SDGs as a blueprint to achieve a better and more sustainable future for all and localize SDG advocacies in Caloocan City.
"As we believe that the pandemic made so much pain to everyone, we also realized that lack of food has been an emerging problem to us. Many people don't have the chance to eat quality food because of lacking resources. We are very thankful for having initiatives such as community pantry, but the question there is how sustainable will it be in long run? That is why this webinar is an eye-opener to our viewers that sustainable agriculture could help solve Philippine food securityand will help in mitigating climate change," said Mr. Cary Maynard R. Olivar, CYLI Climate Action Division Head and SDGCon Event Head.