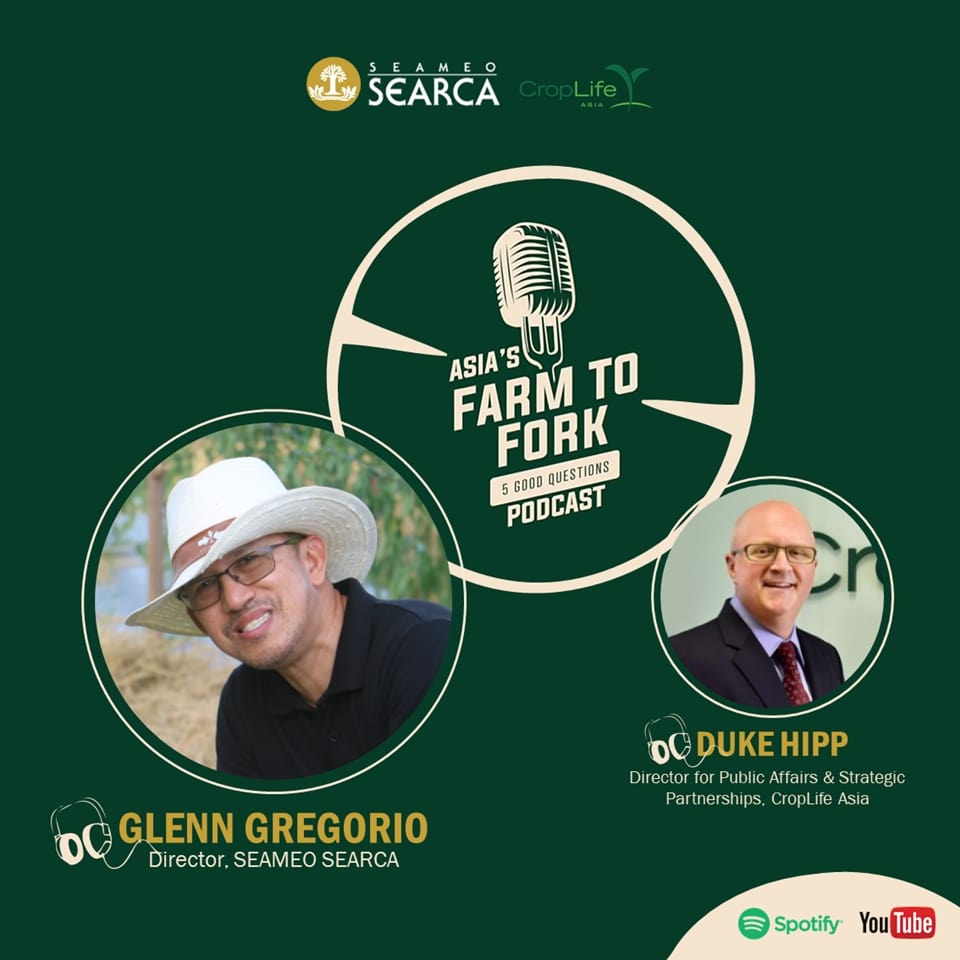 To still catch the wave of the recently concluded United Nations Food Systems Summit (UNFSS) Independent Dialogue on Transforming Agri-food Systems hosted by the Southeast Asian Regional Center for Graduate Study and Research in Agriculture (SEARCA) together with CropLife Asia (CLA), SEARCA Director Dr. Glenn B. Gregorio shared his life experiences as a farmer and his expertise in genetics and plant breeding in the sixth episode of the podcast entitled, "Asia's Farm to Fork: Five Good Questions" aired on 9 July 2021 via Spotify.
Led and hosted by Mr. Duke Hipp, Director for Public Affairs & Strategic Partnerships of CLA, the recently launched podcast asks five questions that aim to listen and get answers from a variety of stakeholders around Asia and beyond, with perspective on issues impacting food systems in the region.
Dr. Gregorio answered questions that ranged from his work experiences and expertise, key takeaways from the UNFSS dialogue, and insights on developing regional food value chains. Below is the transcript of the podcast.
In your 2 years leading SEARCA, is there something that's surprised you? Perhaps something about the issues, the work, the people that you didn't expect?
In my previous career as a plant breeder and scientist, my work focused on rice breeding and genetics. It may sound so very different from what I do now in SEARCA as the Center Director, which is more of an institutional leadership and management role in research and education. From focusing solely on rice before, I now get to deal with the bigger picture of agriculture and the different disciplines involved in it. But what is surprising here are not the differences but the similarities. In breeding, we have to consider the internal and external stresses. We must review historical findings, review our literature, study the patterns, and present empirical evidence to come up with sound conclusions. We have to apply systemic and multidisciplinary approaches. These are all applicable when you are managing a regional organization like SEARCA. We have to do a lot of planning, monitoring, and evaluation. At the same time, we discover and maximize the opportunities that come our way when things do not go as planned. But like in breeding, it all starts with a seed – It all starts with a plan.
How can we do a better job of producing more safe, nutritious, and affordable food to feed the growing population?
The food and nutrition security challenges of the Southeast Asian region remain to be a perennial concern now requiring decisive, systemic actions. Any discussions on transformative actions towards achieving sustainable food systems must be scaled, systemic, science-based, society-focused, and sustained. We envision strengthening major food systems in each country of the Southeast Asian region operationalized by integrated innovations in place, process, pockets, and people. How to achieve this? We need urgent innovations in research and education to increase efficiencies across the supply chains and massive promotion of responsible consumption that takes pride in the Southeast Asian culture and lifestyle.
In the wake of that Dialogue with CLA, what were some of the key takeaways?
From the point of view of farmers, there is a need to improve emphasis on consumer concerns for healthy and nutritious food. This also includes improving the nutrition of traditional foods. There are
also concerns about the environment. This is reflected in government programs and farmers' practices, but more information is needed to heighten farmer awareness and involvement in environmental stewardship. There were also points raised on farmer empowerment through associations, technologies for cost reduction, and yield maximization in the context of monoculture. Generally, we have to improve the understanding of the food systems concept and the role of farmers in shaping it.
What else needs to be done to make sure these farmers have what they need to be successful while also being good stewards of the land?
In the UNFSS Independent Dialogue co-organized by SEARCA and CLA, I shared our vision to transform farmers into new farmers or what we call, "Transfarmers". These are farmers with progressive mindsets and perspectives on farming as a business operating in a modern agriculture ecology. I would like to reiterate that we can accelerate this transformation through stronger collaboration between the academe, industry, and government sectors. To illustrate further, universities are where inventions happen. However, farmers' participation in the development of new products or technologies is important to ensure that these are directly addressing the problems that our farmers are facing. When these technology generators are linked to the industry, markets open and opportunities for growth happens.
If you look into the crystal ball and project ahead by 10 years, what's one development for the larger food value chain regionally that you think will come to fruition?
Now, because of the pandemic, people have realized the importance of food security at the community level. Establishing local food baskets will definitely transcend the pandemic, coupled with urban agriculture or edible landscaping in homes and communities. On a higher level, ASEAN integration will also play an important role in ensuring the free flow of goods or trade within the region.