BANGKOK, Thailand – Twenty-one administrators, and senior and junior faculty members representing 14 Philippine State Universities and Colleges joined a cross-visit to Kasetsart University (KU) in Thailand on 5-9 December 2022. They drew insights, learned from, and gathered some of the best practices in terms of governance, quality management system, research and development, and extension as well as strengthening academe-industry-government cooperation and interaction in KU during their visit.
Recognizing that higher education is critical for sustained economic and social growth, the Thailand cross-visit participants observed how KU, the first agricultural university in Thailand, strengthened its education policy, teaching, and learning through the conduct of cutting-edge research in rice, vegetable, and fruit production and marketing, development of state-of-the-art farming practices, production of high protein food supplements, to name a few, which significantly contributed to the growth of the country's agricultural and rural sector. The group noted that KU has taken a proactive stance by providing the enabling environment that produces graduates with the abilities and skills needed for employment and citizenship, promotes research, and at the same time build a collaborative relationship and sustainable partnerships with the government, researchers, the industry, civil society, and development partners.
The Cross-Visits to Higher Education Institutions in SEAMEO Member Countries-Thailand is one of the components of the Philippine Commission on Higher Education (CHED)-funded project on Leveling-Up Philippine Higher Education Institutions in Agriculture, Fisheries, and Natural Resources (LevelUPHEI AFAR) implemented by SEARCA. The project primarily aims to upgrade the institutional capacities of the State Universities and Colleges – Association of Colleges of Agriculture in the Philippines, Inc. (SUC-ACAP, Inc.) and its 75 members through Short-term Training Programs and Cross-Visits, and participation in University Consortium activities. The cross-visit was organized in partnership with the International Affairs Division of Kasetsart University, a leading research university in Thailand. The cross-visit specifically aims to: (1) provide participants with first-hand experiences in improving their pedagogical skills; (2) equip them to think laterally to develop innovative and entrepreneurial strategies; and (3) learn from 'model universities' best practices in terms of governance structure and quality assurance systems.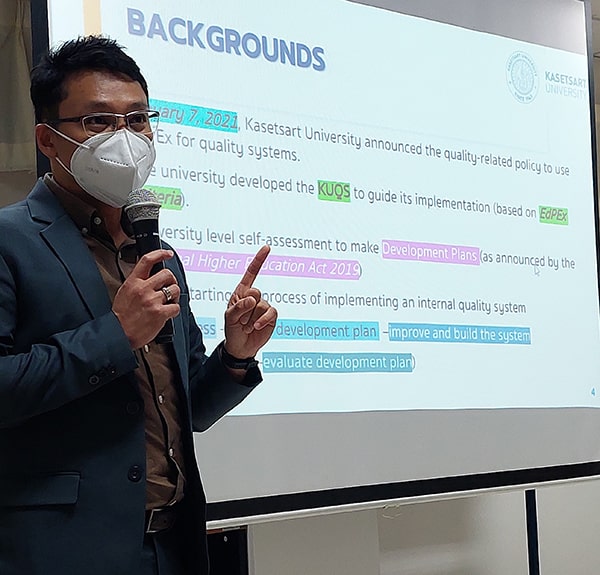 On the first day of the cross-visit, the participants visited KU's Bangkhen campus where Associate Professor Apichart Rodchanaworan, Assistant to the President for Quality Development, presented the University's Governance Structure and Quality Assurance System. Dr. Rodchanaworan pointed out that KU's Quality System Development Policy aims to implement quality throughout KU organizations towards "excellence" that strongly adheres to the Education Criteria for Performance Excellence (EdPEx). The EdPEx provides a framework and an assessment tool that could be used as a basis for developing an implementation model of a quality assurance system. According to Dr. Rodchanaworan, following the EdPEx framework has streamlined KU's policy to develop systematic approaches in working and finding solutions to problems, thus, contributing to improved quality of education and organizational sustainability.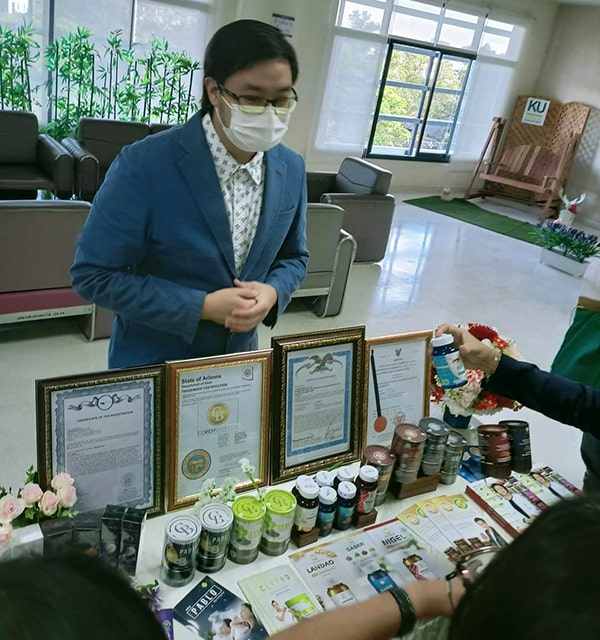 Against the backdrop of KU's Strategy on "Re-skill, Upskill, and New skill," the activity also allowed the participants to visit KU's School of Integrated Science (SIS), which promotes lifelong learning and offers a unique, flexible, and multidisciplinary non-degree courses (micro- credential programs) in collaboration with the government and the private sector. The visit to the Academic Service Promotion Section of the KU Office of Innovation and Social Engagement gave the participants a glimpse of the university's innovative strategies towards Intellectual Property (IP) protection, consultation, education, and IP awareness, IP network cooperation, maintenance of IP database, technology transfer contract management and negotiation, and technology transfer matching and commercialization, IP and patent applications. The participants met with Dr. Chan Makenton, a KU alumnus and Managing Director of CORDYBIOTECH, a well-known biotechnology business that specializes in cell cultures, plant and herbal extracts, and other products for health, beauty, and wellness. CORDYBIOTECH has a Good Manufacturing Practices (GMP) compliance pilot-scale manufacturing facility located inside Kasetsart University, R&D Building and a large-scale plant for mass production.
One of the key roles of higher education institutions is to drive innovation, with the aim of finding solutions to global challenges such as healthcare, environmental protection, and food and nutrition security, among others. In KU- Kamphaeng Saen Campus, the group visited the Kaset Fair, which is touted to be one of KU's largest and most popular agricultural fairs that showcases innovations in research and technologies developed by the faculty and students. The agri-fair serves as a venue for forging linkages, collaborations, and partnerships among researchers and scientists, inventors, industry, community stakeholders, consumers, and farmers. One of the highlights of the Kaset Fair is the display of new varieties of agricultural produce which harnessed the potentials of traditional and unconventional plant breeding methods in developing new varieties of rice (rainbow rice), tomato, and vegetables to showcase that agriculture is both a science and an art.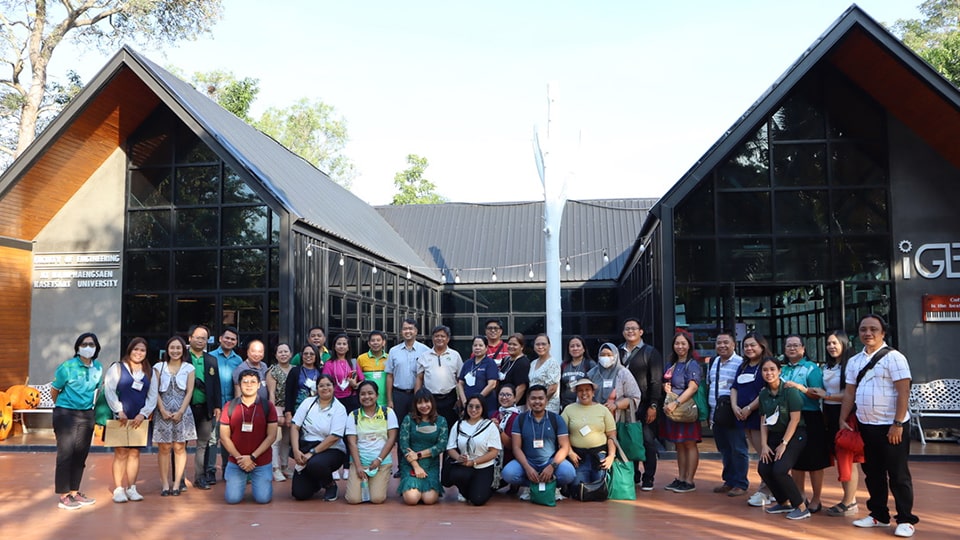 At the Faculty of Engineering, Assistant Professor Wanrat Abdullakasim, PhD, Deputy Dean for International Affairs, presented the state-of-the-art facilities and smart farming technologies utilizing data-driven computer programs and artificial intelligence developed by their researchers and faculty members.
A tour of KU Agriculture Knowledge Center, the Faculty of Fisheries, and the Institute of Food Research and Product Development also formed part of the itinerary of the cross-visit.
Dr. Nova A. Ramos and Ms. Rosario B. Bantayan, Head and Program Specialist, respectively, of the Education and Collective Learning Department-Training for Development Unit, co-facilitated and coordinated the cross-visit. They were ably assisted by local coordinators from Kasetsart University led by Dr. Buncha Chinnasri, Associate Professor, Faculty of Agriculture, together with Ms. Thanaporn Khamsawat and Ms. Patcharaporn Sreesawad, Foreign Relations Officers, International Affairs Division, KU.