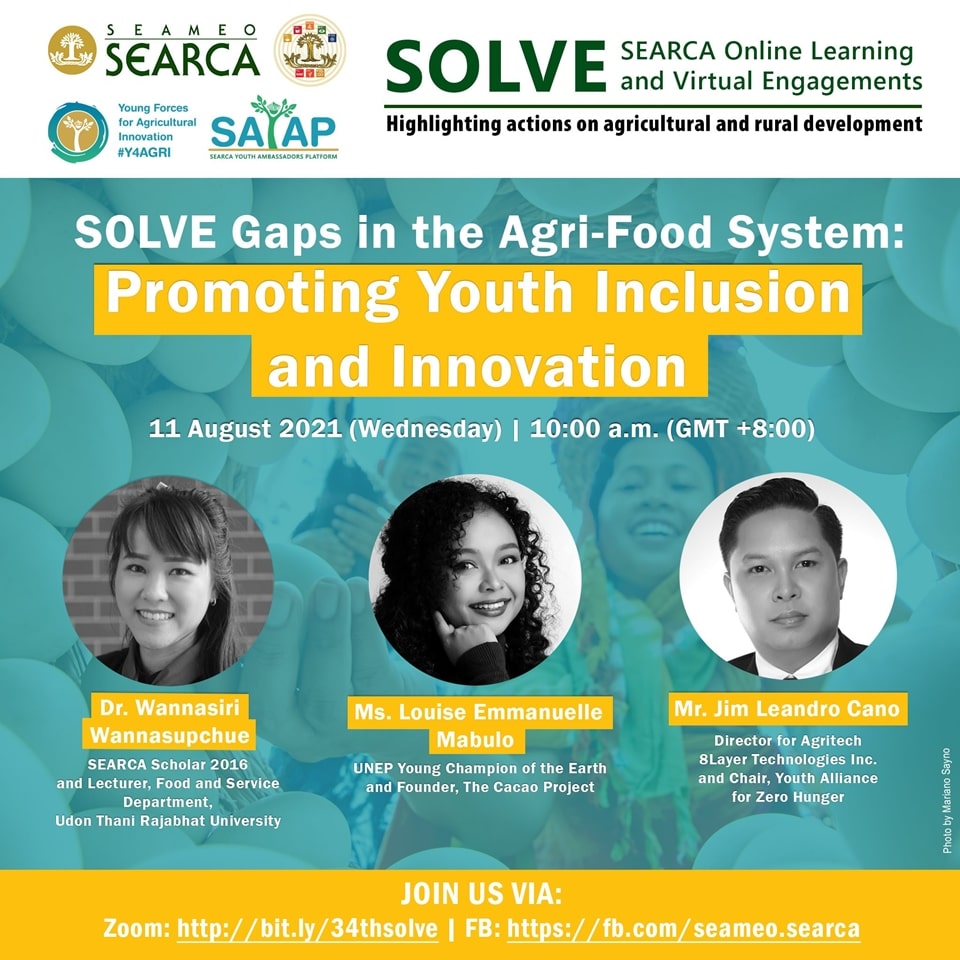 The Southeast Asian Regional Center for Graduate Study and Research in Agriculture (SEARCA) conducted its 34th SEARCA Online Learning and Virtual Engagement (SOLVE) webinar titled "SOLVE Gaps in the Agri-Food System: Promoting Youth Inclusion and Innovation" on 11 August 2021 via Zoom and Facebook Live.
SEARCA identified Gender and Youth Engagement in agricultural and rural development (ARD) as one of its key priority areas that would accelerate transformation through agricultural innovation. Putting spotlight on the youth sector, the Center establishes the Young Forces for Agricultural Innovation (#Y4AGRI) as its banner youth engagement initiative. Guided by the principle of "by the youth, for the youth, and with the once youth," the #Y4AGRI program aims to nurture young people as partners and leaders of societal change for agricultural innovation.
In line with the celebration of the 2021 International Youth Day with a theme, "Transforming Food Systems: Youth Innovation for Human and Planetary Health", this webinar aims to highlight different challenges faced by the youth and the success stories of young enablers in implementing communal efforts to combat food insecurity and food shortage.
Dr. Wannasiri Wannasupchue, Lecturer at the Udon Thani Rajabhat University, Thailand, and also a SEARCA Scholar, discussed the details on Halal food industry while upholding religious and hygienic considerations in its farm to fork process. She enumerated several motivations of getting Halal certification which are food quality guarantee, customer demand, positive attitude on Halal certification, and broaden business opportunities.
Dr. Wannasupchue also prides the fact that there is an increasing number of SEARCA scholars among her kind who have an interest in studying Halal certification.
Reverberating the Thai's passion for ensuring food safety among the community, Ms. Louise Emmanuelle Mabulo, Founder of The Cacao Project, shared her personal experience on how the youth can help support farmers especially in this time of the pandemic.
"My venture was created to harness our resources to rethink our consumption and production methods, but it was also created with the spirit of empowering the next generation to make a tangible and real difference, by working with small communities to have global impact," said Ms. Mabulo.
The young agripreneur furthered that youth, as leaders of the movement, should have intergenerational collaboration in the effort to revolutionize food systems. At the same time, learn how to preserve tradition and knowledge and translate them into an intersectional world.
Lastly, Mr. Jim Leandro Cano, Director for Agritech at 8Layer Technologies Inc., Chair of the Youth Alliance for Zero Hunger and a Steering Committee Member of Young Professionals for Agricultural Development (YPARD), gave an overview of what the 16th High-Level Panel of Experts (HLPE) report of the UN Committee on World Food Security (CFS) is covering. He also touched concepts on digital agriculture in pushing for an enabling learning environment among digital natives.
Mr. Cano discussed the four fundamental pillars for youth engagement and employment in food systems which are agency, equity, rights, and recognition. Moreover, he presented the policy recommendation for enhancing skills and employability among the youth which are the following: (1) Provide an enabling environment for youth as agents of change; (2) Securing dignified and rewarding livelihoods; (3) Increasing equity and rights to resources; (4) Enhancing knowledge, education and skills; and (5) Fostering sustainable innovation.
Mr. Cano concluded, "The future belongs to the youth. But we need to create the necessary enabling environment today, where they can grow, thrive, and be part of decision-making processes that affect their future."