Highlights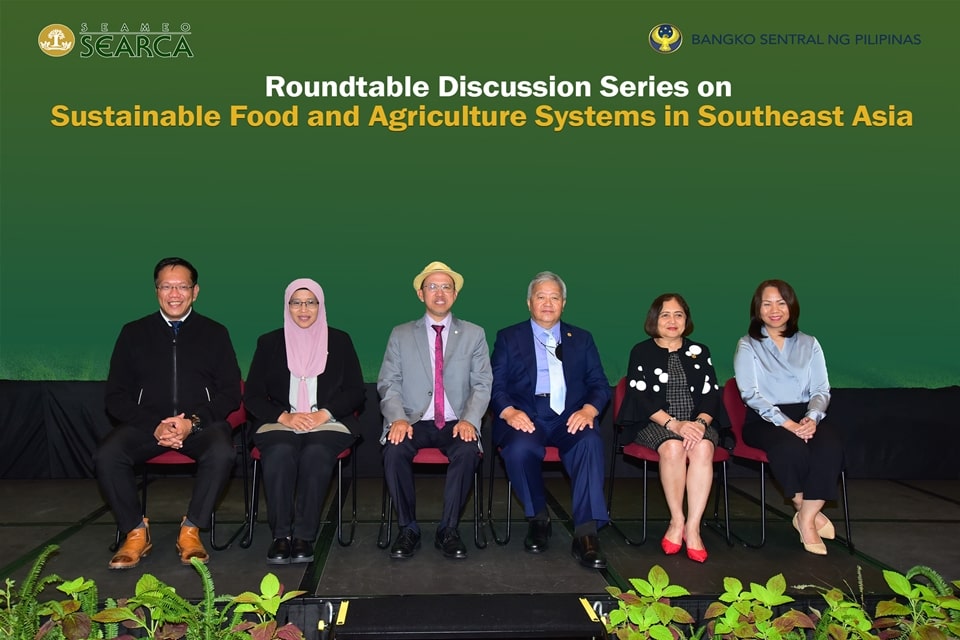 The second day of the RTD was devoted to the stocktaking of the status, gaps, and opportunities in carbon farming in agriculture in Southeast Asia, with the view of establishing mechanisms for carbon credits and developing a market that will benefit smallholder farmers. The plenary sessions contextualized technical and financial initiatives in Southeast Asia relevant to carbon farming in agriculture.
Assistant Governor Lyn I. Javier of the BSP and Director Alicia Ilaga, Climate-Resilient Agriculture Office, Department of Agriculture (DA), led the opening of the RTD.
In her speech, BSP Assistant Governor Javier emphasized the need to adopt climate-smart solutions for the Philippines to achieve its seventy-five percent (75%) greenhouse gas emissions reduction target by 2030. Likewise, DA Director Ilaga stressed the urgency of the climate crisis being faced and the need for collective and wide-scale actions to address the same.
During the first plenary session, Undersecretary Mark Dennis Joven of the Philippine Department of Finance shared various efforts of the Philippine government in mobilizing finance for green and sustainable projects. He highlighted the importance of stakeholders' participation in climate change financing and enumerated ways forward, including building the capacity of local government units to formulate and implement green projects, deepening financial markets to enable green financing to flourish, and facilitating investments to support the implementation of the country's Nationally Determined Contributions.
Meanwhile, in the second plenary session, Dr. Gregorio introduced SEARCA's initiative on Web-based Integrated and Spatial Engine and Smart Ecosystem (WISE) Carbon Farming. This initiative will provide a platform and a set of standards to offer carbon credits to farmers as an added income stream. He added that WISE Carbon Farming is intended to improve carbon farming models of climate-smart technologies and approaches under Southeast Asian conditions and increase their adoption by farmers.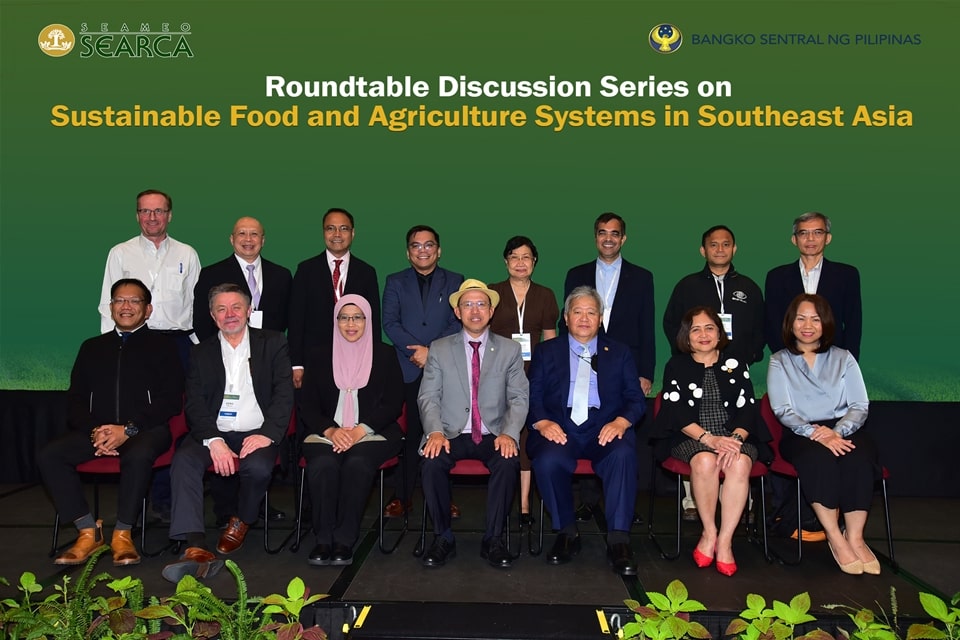 RTD Day 2 was composed of five (5) thematic sessions. The first session was moderated by Dr. Claro Mingala, Scientist III, Officer-in-Charge – Deputy Executive Director for Production and Research of DA. It focused on carbon crediting, policies and guidelines for sustainable and resilient agriculture, and lessons learned from nature-based solutions projects in Southeast Asia.
The panelists for the first thematic session were Dr. Reiner Wassmann, SEARCA Senior Fellow; Mr. Rory Jay Dacumos, OIC-Assistant Director at NEDA; and Dr. Jake Brunner, Head for Lower Mekong Subregion, International Union for Conservation of Nature. The first session dealt with the challenges in implementing the Clean Development Mechanism in rice, such as a lack of standardized guidance for methane measurements and field stratification. The panelists accentuated the significance of business models, investment, and finance in driving initiatives in the agriculture sector.
The second thematic session of RTD Day 2 was moderated by Ms. Irene Maranan, Vice President of Ayala Corporation Energy. The panelists for this session included Mr. Marc Dumas-Johansen, Agriculture and Food Security Specialist at the Green Climate Fund (GCF), and Andres Ruba Jr., Vice President and Division Head​, Agribusiness and Luzon Commercial Credit​ at the Bank of the Philippine Islands.
During the discussion, Mr. Dumas-Johansen underscored the critical role that GCF plays in supporting developing countries in transforming their agriculture and food systems towards low-emission, climate-resilient approaches. Likewise, Mr. Ruba, Jr. highlighted the role of banks in providing climate financing for programs and projects that promote climate resilience.
The third thematic session looked into the out-scaling and adoption of different carbon farming technologies, approaches, and practices in different agroecosystems leading to a carbon credit and market that will be designed and implemented together with farmer partners and other stakeholders.
Dr. Rico Ancog, Professor and Dean of the School of Environmental Science and Management, UP Los Baños (UPLB), moderated the panel discussion which included Dr. Roger Hegarty, Professor at the University of New England; Dr. Rodel Lasco, Executive Director of Oscar M. Lopez Center; and Dr. Virender Kumar, Deputy Platform Leader and Senior Scientist, Sustainable Impact Platform, International Rice Research Institute (IRRI).
The panelists emphasized the importance of operationalizing research, improving productivity by adopting technologies that would improve income while lowering emission intensity, as well as developing enabling policies that would incentivize farmers.
The fourth session elaborated on digital tools for integrated food and agricultural systems. Dr. Nathaniel Bantayan, UPLB Vice Chancellor for Research and Extension served as the moderator for this panel discussion composed of Dr. Eero Nissila, Managing Director of Newfields Consulting Inc., a Finnish company; Dr. Thomas Jaekel, GIZ-CIM/IRRI Development Specialist I-Rice Partnership (CIM Integrated Expert) at Thailand's Rice Department; and Mr. David Chen of Singapore-based AgriG8.
The panelists highlighted the importance of a technological leap in mechanization and digitalization as a major structural change needed in Southeast Asian agriculture by 2030.
The fifth and the last session focused on education, capacity building, and partnerships for wise carbon farming. It highlighted the importance of research project outputs or results serving as inputs in higher education curricula.
Dr. Maria Cristeta Cuaresma, SEARCA Senior Program Head for Education and Collective Learning, moderated this panel discussion comprised of experts including Dr. Roland Treitler, Project Director and Principal Advisor, ASEAN German Climate Action Programme, GIZ GmBH, Indonesia; Dr. Isabelle Providoli, Senior Research Scientist, Centre for Development and Environment at University of Bern, Switzerland; Dr. Eleanor Milne, Affiliate Scientist and Independent Consultant, Colorado State University; and Dr. Buncha Chinnasri, Assistant to the President for Quality Development, Kasetsart University, Thailand.
The panelists shared their experiences in embedding sustainable agriculture topics in higher education and beyond and introduced various tools and training courses for estimating carbon and GHG emissions and sustainable land use management. Likewise, they emphasized the need to focus the curriculum on sustainable production and the importance of training various stakeholders, including the public sector, youth, women, private sector, nongovernmental organizations, decision-makers, and policymakers.