SEARCA Regional Professorial Chair Grant
AY 2022-2023
Revolutionizing Agriculture
Empowering the Community with KKU's
Dr. Sirikachorn Tangkawattana
Dr. Sirikachorn Tangkawattana, an Associate Professor at the Department of Pathology, Faculty of Veterinary Medicine, Khon Kaen University in Thailand, has been awarded by the Southeast Asian Regional Center for Graduate Study and Research in Agriculture (SEARCA) with a Regional Professorial Chair Grant for AY 2023-2024 for her groundbreaking work on the Lawa Model. Her immense contribution to the field of OneHealth, pathology, and zoonotic diseases for the development of her country's health system has been duly recognized by the Center through the grant.
Growing up, Dr. Sirikachorn found joy in helping other people understand concepts that she is well versed in and seeing them arrive at solutions to their problems. In her final year at the veterinary school, she attended a seminar and special problem course, which led her to find her passion for research and teaching. Upon graduation, Dr. Sirikatchorn decided to become a lecturer. For Dr. Sirikachorn, teaching is a way of sharing technical knowledge and life experiences. It relates to both intellectual and psychological growth. She likens teaching to planting a tree. Whether the seeds are good or bad, teaching will serve as the decisive environment that will make a difference in how they will grow.
Dr. Sirikachorn considers being a teacher and a community worker as her most significant contribution to society. As a teacher, she helps her students become good citizens that will make a difference in the community. As a community worker, Dr. Sirikachorn generously shares her technical knowledge and life skills. Despite knowing that her expertise is just but a drop in the vast ocean of knowledge, Dr. Sirikachorn believes that it is still important to help solve the pressing issues that the world faces. She advises the youth not to think that the knowledge they have is little and useless because it can still help others who are struggling. Dr. Sirikachorn quotes Bertrand Russell "We know very little, and yet it is astonishing that we know so much, and still more astonishing that so little knowledge can give us so much power."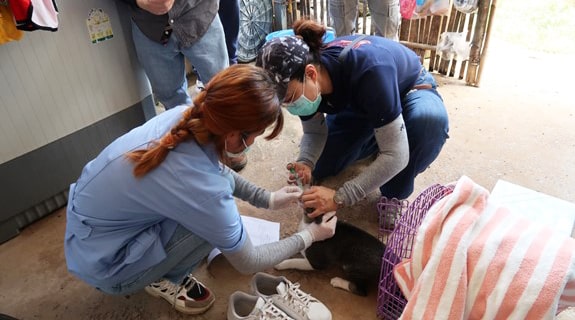 Dr. Sirikachorn with a veterinary student for a project on animal reservoir host of liver fluke.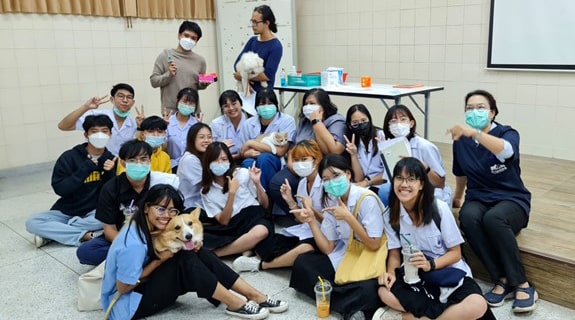 Dr. Sirikachorn in her skin examination class.
As part of the Regional Professorial Chair Grant, Dr. Sirikachorn delivered her public lecture titled "From Liver Fluke Control to Community's Supplemental Income/Agricultural Benefits" on 6 December 2022 at Nong Lam University, Vietnam. She explained the source of the problem of liver flukes such as the Esan traditional eating habit, agriculture practices that offer the perfect environment for the liver fluke, low awareness of its health implications, irrigation development or flooding prevention, and the discontinuity of liver fluke control policy from the government.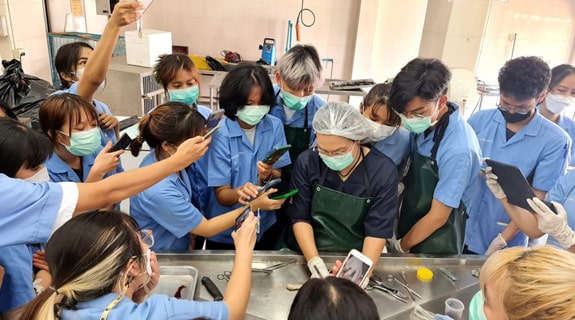 Dr. Sirikachorn during her necropsy class at KKU veterinary school.
Dr. Sirikachorn conducting fieldwork during flooding.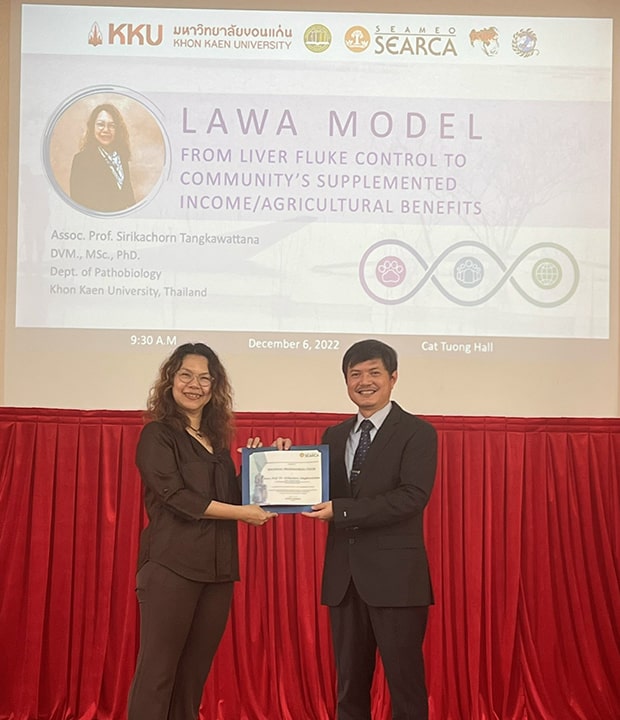 (L-R) Dr. Sirikachorn and Dr. Nguyen Tat Toan, Vice President of Nong Lam University and SEARCA Alumnus, after the public lecture.The liver fluke causes significant economic losses in the community and Dr. Sirikachorn's proposed Lawa Model ensured the community's active participation in addressing the problem with the help of anthelmintic drugs as treatment, health education, and ecosystem monitoring. Because of its ingenuity in using an EcoHealth/One Health approach, the National Health Policy of Thailand adopted the model. The World Health Organization also selected the Lawa Model as one of the two showcases on neglected parasitic zooneses control. At the end of Dr. Sirikachorn's public lecture, Dr. Nguyen Tat Toan, Vice President of Nong Lam University and SEARCA Alumnus, handed over the Professorial Chair certificate on behalf of SEARCA.
Dr. Sirikachorn's work is an example of how the transdisciplinary approach and community-based participation can lead to practical and sustainable solutions for problems. Her work benefits the economy, environment, and human health. As an awardee of the SEARCA Regional Professorial Chair Grant, Dr. Sirikachorn plans to encourage her students and peers in the academe to contribute their knowledge more to the community.
Dr. Sirikachorn Tangkawattana graduated with a PhD in Biomedical Science at Khon Kaen University. She conducts research on Opisthorchis viverrini and cholangiocarcinoma (CCA) with the Tropical Disease Research Center KKU, WHO Collaborating Centre for Research and Control of Opisthorchiasis. As a prolific researcher, her studies relate to animal reservoirs and the pathogenesis of opisthorchiasis and liver fluke-related diseases.