.
Young professionals, agripreneurs, public servants, and students who are leading projects and advocating for Philippine agriculture have convened in the 1st SEARCA Virtual Youth Camp on 19 June 2021 via Zoom.
The camp enabled youth perspectives on challenges and solutions in the agri-food system amidst and post-pandemic. There were 21 youth representatives from the academe, business, civil society, and government sectors who shared their insights on navigating the agri-food system and engaging the youth on it.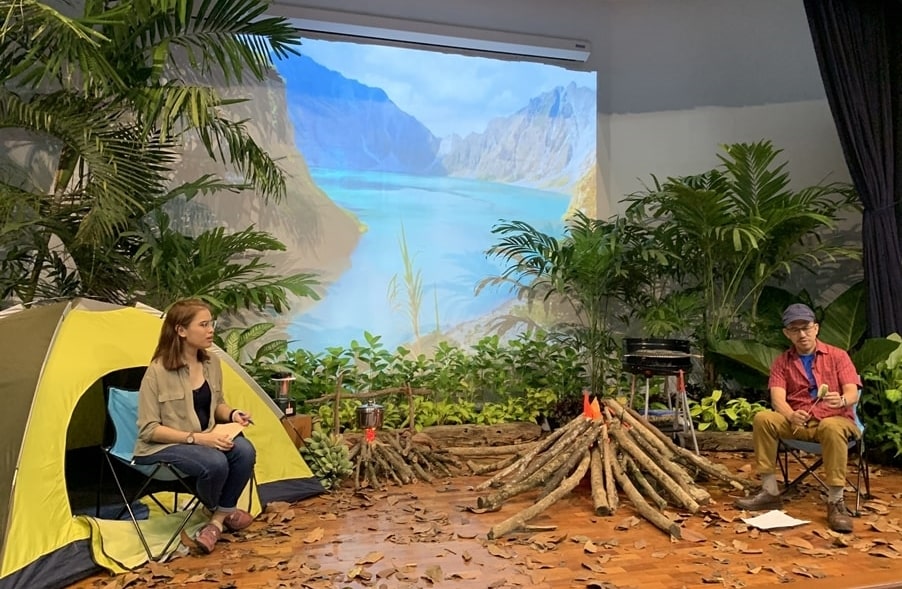 Dr. Glenn B. Gregorio (right), SEARCA Director, and Ms. Jean Rebecca D. Labios (left), SAYAP member, setting the tone of the virtual youth camp during the campfire session
Gracing the virtual event for a "Campfire" session were two UN Food Systems Champions, SEARCA Director Dr. Glenn Gregorio, and AGREA President and Philippine Department of Agriculture Food Security Ambassadress, Ms. Cherrie Atilano. The two leaders shared their narratives in agriculture and emphasized the role of young people in transforming the food systems.
"In agriculture, you can directly feed your family, your community, and the world. The youth can contribute in transforming traditional ways in agri-food systems through technology and innovation," said Dr. Gregorio in his "young once" pep talk.
On the other hand, Ms. Atilano gave her "young one" pep talk highlighting that young people can change the game and narrative of agriculture. "Food is our umbilical cord to Mother Earth. It's something that all of us, especially young people, should think about," she added.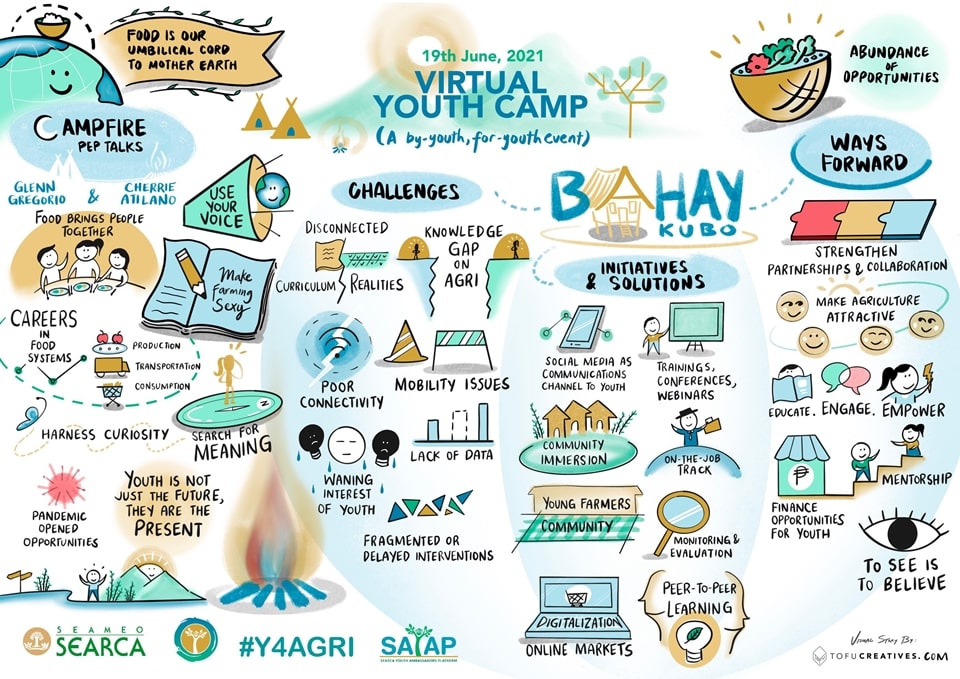 Visual summary of the virtual dialogue
The participants were then grouped into three separate camps for a "Bahay Kubo" session where they engaged in sharing and discussions of agri-food system challenges and solutions from their respective sectors. Among the challenges they identified were: (1) knowledge gaps in agriculture; (2) disconnect between agri-curriculum and realities; (3) poor internet connectivity; (4) mobility issues and lack of data; and (5) fragmented or delayed interventions. Meanwhile, inter-sectoral perspectives on how they are addressing the issues identified were also highlighted. Among the youth's best practices were the use of social media as a primary communications channel to the youth, capacity-building, community immersions, peer-to-peer learning, and the establishment of a young farmers community.
Moving forward, the participants echoed that to further enhance youth engagement in the agri-food system, there is a need for strengthening partnerships among the different sectors, raising awareness on the value of agriculture, and empowering the youth through mentorship and finance opportunities for agri-business ventures.
Mr. Sonny Pasiona, Senior Communications Associate and SEARCA Youth Lead, concluded the virtual dialogue by stressing the essence of the youth camp. "The Bahay Kubo sessions reminded us of our bayanihan spirit as we share our collective experiences during the pandemic and how we can work better together to move the agriculture sector forward," he said.
"The conversations don't stop here because we need act on what we have discussed here, we need to take these into actionable solutions in our respective sectors," Mr. Pasiona added.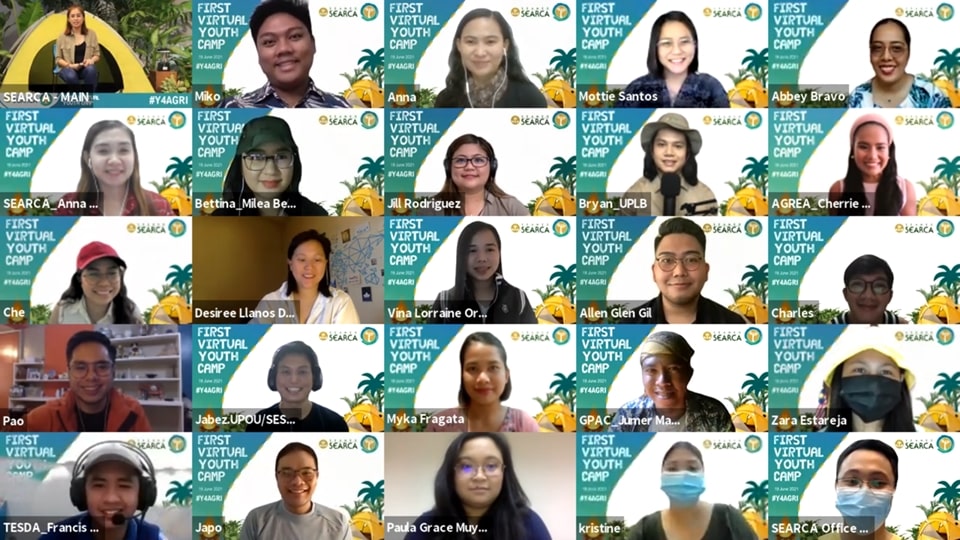 Participants, speakers, and organizers of the First SEARCA Virtual Youth Camp, 19 June 2021 via Zoom
The virtual youth camp was organized by the members of the SEARCA Young Ambassadors Platform (SAYAP) composed of 15 young staff of the Center. The camp is one of the platforms giving voice to the youth as part of the Young Forces for Agricultural Innovation (#Y4AGRI), SEARCA's banner youth initiative aligned to the Center's Gender and Youth Engagement priority area of the 11th Five-Year Plan