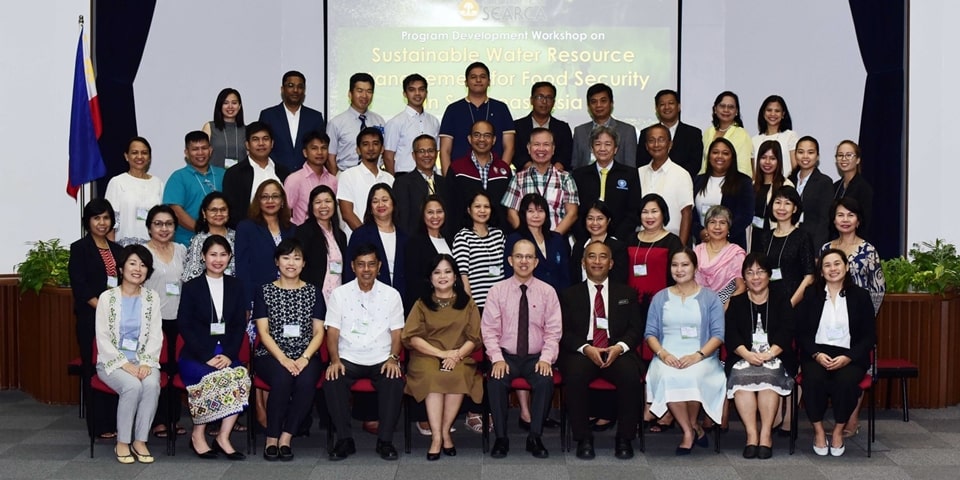 LOS BAÑOS, Laguna, Philippines. The Southeast Asian Regional Center for Graduate Study and Research in Agriculture (SEARCA), together with the University of the Philippines Los Baños (UPLB) Interdisciplinary Studies Center for Water (IdSC Water), and the UPLB College of Engineering and Agro-industrial Technology (CEAT), held the Program Development Workshop on Sustainable Water Resources Management for Food Security in Southeast Asia on 26-28 June 2019 at SEARCA Headquarters, College, Los Baños, Laguna, Philippines.
The workshop aimed to contribute to sustainable water resource management systems for food security in Southeast Asia through stocktaking of research, policy, and other initiatives; identifying gaps that can be addressed through research and development, capacity building, and knowledge management; and developing an umbrella program that will provide a platform for coordination and strengthen it, networking, and collaboration in research and development, capacity building, and knowledge management among key stakeholders.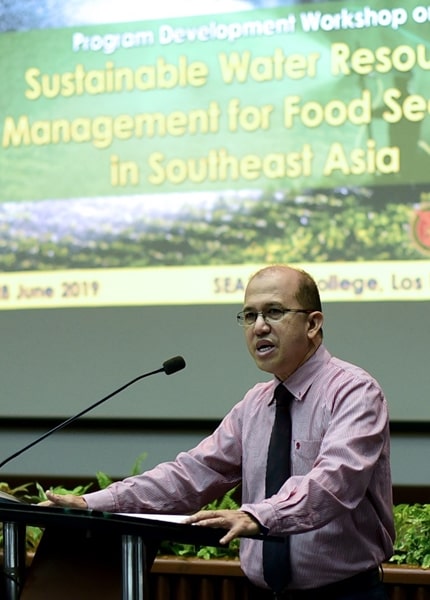 In his welcome remarks, Dr. Glenn B. Gregorio, SEARCA Director, emphasized that food security faces challenges from diminishing water supply, food demand is on the rise despite limited water resources, intensified industrialization affects water demand, and that it is crucial to "link sustainable water resources with food security."
Engr. Ir. Abdullah Isnin, Director-General of the Department of Irrigation and Drainage of the Malaysian Ministry of Water, Land, and Natural Resources and the current Chair of the ASEAN Working Group on Water Management highlighted the potential gaps and issues that the workshop needed to address. He shared that about 90 percent of people in Southeast Asia are exposed to unsafe drinking water, deteriorating water quality and pollution leads to environmental issues and public health threats, and that water resource fragmentation is a major concern.
Country reports on the state of water resources and planning were presented by the Philippines, Vietnam, Thailand, Lao PDR, Malaysia, and Indonesia. The Philippines included in its presentation the plans ofgovernment to create a department solely for water resource management–the Department of Water. Vietnam talked of its National Action Plan for Efficient Water Resource Management, Protection, and Use, which is nearing completion and approval. Thailand reported on the government's four-pillar masterplan, their risk management measures, and on their National Water Resource Committee that acts as a single chain of command during big crises, among its other pivotal roles. Lao PDR stressed that in as much as 90 percent of Lao people are located along the Mekong River, their Integrated Water Resource Management strategies are crucial to their development plans. Malaysia's National Water Balance System innovatively makes forecasts, warnings, and reports for certain climate situations through a WhatsApp group, a website, and through local government authorities. Indonesia has its Water Resource Infrastructure Development Plan for 2014-2019 and plans to continue developing dams in the years to come to further strengthen its water resource management.
Technical sessions followed, which covered managing high variability of water supply in agriculture, the challenges and cooperation in integrated river basin management, modernizing agriculture for improved crop and water productivity, and policy support to water security in agriculture for database management, investments, and governance.
Drawing from the technical sessions, the first workshop was conducted to determine priority areas and gaps in research and development. The second workshop came up with the themes for the Umbrella Program for Sustainable Water Resource Management for Food Security in Southeast Asia.
Around 50 experts, scientists, researchers, and officials representing the ministries/departments of agriculture, selected higher education institutions, national water and irrigation related agencies in the Southeast Asian Region, irrigators' associations and small water-impounding system associations (SWISAs), local government units, as well as farmer associations participated in the event.