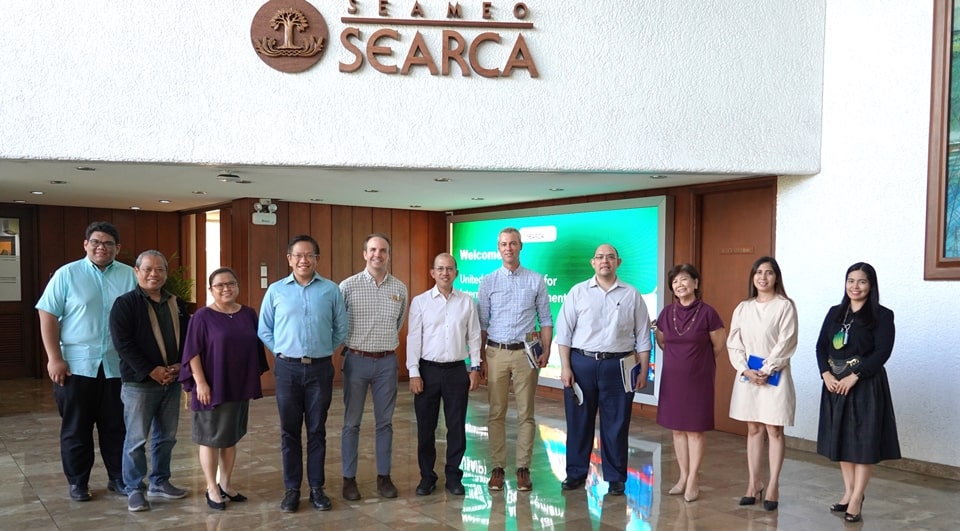 The SEARCA team led by Dr. Glenn B. Gregorio (center) welcomed the United States Agency for International Development (USAID) delegation that visited SEARCA on 8 September 2022. The USAID officials comprised Dr. Brent Edelman (fifth from right), General Development Advisor; Mr. Emil Francis De Quiros (fourth from right), Private Sector Engagement Officer; and Mr. John Avrett (fifth from right), US Embassy Manila Economic Officer.
Officials from the United States Agency for International Development (USAID) led by its General Development Advisor, Dr. Brent Edelman, visited the Southeast Asian Regional Center for Graduate Study and Research in Agriculture (SEARCA) on 8 September 2022. They discussed the current food security situation in the Philippines, underlying causes of food insecurity, and potential short-term and medium-term solutions.
"Food insecurity is becoming an increasingly important issue for the US Embassy and the US Government here in the Philippines. We are trying to figure out what are the primary food security needs of the Philippines on a short, medium, and long-term basis for us to provide development assistance," said Mr. John Avrett, US Embassy Manila Economic Officer.
Dr. Glenn B. Gregorio, SEARCA Director, gave a briefing on SEARCA's programs under its 11th Five-Year Plan focused on Accelerating Transformation Through Agricultural Innovation (ATTAIN) to help promote food security in the Philippines and in the Southeast Asian region.
Food and nutrition security is one of SEARCA's seven priority areas. SEARCA activities in this area that were discussed include the scaling up of School-plus-Home Gardens cum Biodiversity Enhancement and Enterprise (SHGBEE) in eight schools in Busuanga and Coron in Palawan, Philippines; the School Edible Landscaping for Entrepreneurship (SEL4E) in 11 schools in the province of Rizal; the First International Conference on SHGBEE with the Regalo ng Kilit Foundation and Kansas State University; and the Agricultural Transformation and Market Integration in the ASEAN Region: Responding to Food Security and Inclusiveness Concerns (ATMI-ASEAN) that established a Network of Policy Advisors and Analysts in the ASEAN Region (NePAAA), conducted high-level policy forums, and developed national and regional value chain roadmaps.
Dr. Gregorio also shared large-scale investments identified under the National Agriculture and Fishery Modernization and Industrialization Plan (NAFMIP) 2021-2030 of the Philippines, which SEARCA was commissioned by the Asian Development Bank (ADB) to formulate.
"The interventions of the NAFMIP include consolidated production and postharvest facilities, construction of critical infrastructures spatially integrated within agri-fisheries industrial business corridors, modernized food terminal facilities, smart irrigation and water impoundment, large scale infrastructures such as fish ports and ICT interventions, scaled up mechanization and adoption of commercial scale-oriented technologies, large-scale production and distribution of biologically safe technologies, R&D facilities, and development of agri-fishery enterprises linked to large investors," said Dr. Gregorio.
"The Philippines was actually doing quite well in addressing food insecurity in the past decade or so. However, with the COVID-19 pandemic, if we don't address the structural issues such as the vulnerability of the Philippines to international markets in terms of food, fuel, and fertilizers, then how could we go back to normal in another five to 10 years?" said Dr. Edelman.
"SEARCA strives to operationalize our international commitment within the frameworks of the 2030 Agenda on Sustainable Development that includes SDG 2 or Zero Hunger, the Global Agenda of the World Economic Forum, and the Kuala Lumpur Declaration on ASEAN 2025," Dr. Gregorio said.
The USAID officials were received by Dr. Gregorio; Assoc. Prof. Joselito G. Florendo, SEARCA Deputy Director for Administration; Ms. Corinta C. Guerta, Technical Advisor to the Director; Dr. Maria Cristeta N. Cuaresma; Senior Program Head, Education and Collective Learning Department (ECLD); Asst. Prof. Glenn N. Baticados, Program Head, Emerging Innovation for Growth Department (EIGD); Ms. Sharon A. Malaiba, Unit Head, Partnerships Unit (PU); and Mr. Jerome Cayton C. Barradas, Project Coordinator II, Research and Thought Leadership Department (RTLD).