The Southeast Asian University Consortium for Graduate Education in Agriculture and Natural Resources (UC) successfully wrapped its 2020 activities with the virtual conduct of the 6th UC Graduate Forum (UCGF) hosted by Universitas Gadjah Mada (UGM) in Yogyakarta, Indonesia from 10-11 December 2020. The participants were warmly welcomed by Prof. Panut Mulyono, Rector of UGM, during the opening ceremony.
The UCGF is an annual event that aims to provide an opportunity for graduate students from UC member institutions to share new knowledge, research ideas, and experiences in an open platform. It also encourages transdisciplinary studies and promote greater integration of research through strategic partnership among the UC members; and strengthen the relationship between and among the UC members.
The theme of this year's UCGF is "Resilient Food and Agricultural System for Accelerating Economic Recovery: Strategy and Implementation" which discussed the strategy and implementation across countries on how food and agricultural systems can withstand and bounce back from the shocks of the global pandemic. The forum has five subthemes: Sustainable Production System, Logistic and Value Chain, Sustainable Agribusiness, Agro-industry 4.0, and Institution and Society. It was attended by faculty members and graduate students from UGM, IPB University, Universiti Putra Malaysia (UPM), University of the Philippines Los Baños (UPLB), Kasetsart University (KU), Universitas Brawijaya (UB), Tokyo University of Agriculture (Tokyo NODAI), and National Taiwan University (NTU). The Southeast Asian Regional Center for Graduate Study and Research in Agriculture (SEARCA) was also in attendance as Secretariat to the UC.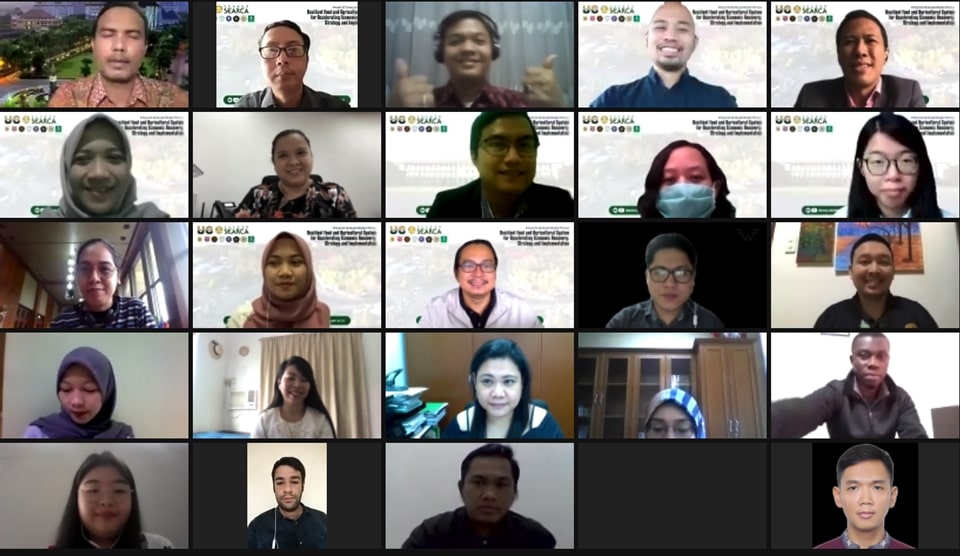 Mr. Joselito G. Florendo, SEARCA Deputy Director for Administration, delivered the opening remarks and encouraged the attendees to be more open to both new and old ideas, new technologies, and diverse approaches to shape a future where people from all walks of life will thrive. He also expressed SEARCA's full support to the region's initiative to further strengthen food and agricultural systems.
Dr. Glenn B. Gregorio, SEARCA Director, delivered a keynote speech on "Defining a forward-looking and Transformative Food and Agricultural System Initiative in Southeast Asia and beyond" and shared a video presentation on the innovEIGhts model of open collaboration for academe-industry-government partnerships. Dr. Gregorio highlighted the importance of collaboration in both education and agriculture, during the time of pandemics and disruptions.
As part of the program, all UC member institutions introduced their programs and activities relevant to the consortium. Dr. Pedcris M. Orencio, Program Head of Research and Thought Leadership Department, presented SEARCA's programs and services while Dr. Maria Cristeta N. Cuaresma, Program Head of the Education and Collective Learning Department discussed the various UC grants and activities.
During the breakout sessions on the 1st day, the students presented their research studies in various fields ranging from smart solutions to agriculture value chain challenges, IoT application to agriculture, innovative agribusiness models, consumer behavior on the purchase of agriculture products, heritage tourism development, institutions involved in rural agriculture, and research towards sustainability.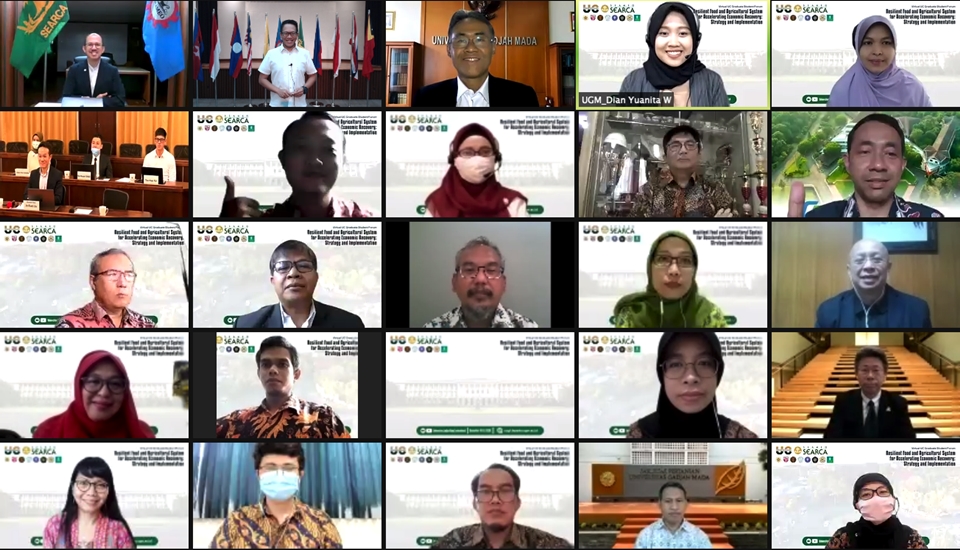 For the 2nd day of the UCGF, invited speakers shared their knowledge on the subthemes. Prof. Budi Guntoro from the Faculty of Animal Sciences, UGM, discussed Sustainable Production System; Associate Prof. Nitty Hirawaty Kamarulzaman from the Faculty of Agriculture, UPM, tackled Logistic and Value Chain; Assistant Prof. Jewel Joanna S. Cabardo from the College of Economics and Management, UPLB, talked about Sustainable Agribusiness; Associate Prof. Nathdanai Harnkarnsujarit from the Faculty of Agro-industry, KU, shared about Agro-industry 4.0; and Prof. Muhammad Firdaus from the Faculty of Economics and Management, IPB University, discussed about Institution and Society.
The UCGF closed with the announcement of awards for both best paper presentation and cultural performances. Mr. Rival Valcin from Tokyo NODAI was the Best Presenter for the subtheme on Sustainable Agribusiness. He was also awarded 2nd place for his guitar and song performance showcasing his heritage. UPLB took home multiple awards with Ms. Rodelina C. Deyto awarded as the Best Presenter on the subtheme Sustainable Production System and Mr. Emmanuel Flores awarded as the Best Presenter for the subtheme on Logistic and Value Chain. Team Liwanag of UPLB also bagged 1st place for their performance of "Sempurna", an Indonesian song, accompanied by the re-telling of the Philippines' Malakas and Maganda.
Ms. Atcharawan Srisa from Kasetsart University was awarded Best Presenter for the subtheme on Agro-industry 4.0 while Ms. Jessica Irena Antono from UGM was Best Presenter for the subtheme on Institution and Society. In terms of video content, NTU placed 3rd and 2nd with an entry from Kilana Putri Anindita and Ko-Hsuan Shao of Indonesian scenic spots and the Taiwanese culture, respectively. The 1st place was awarded to UB with the entry from Yogita Ayu D. S., Filoza Marwi, Mohammed Al-Hadi Ibrahim Bosha Ahmed, Paramyta Nila Permansari, and Yunika Nisa Afifa which showed the tourism of East Java where their university is located
Dr. Arini Wahyu Utami from UGM and Dr. Cuaresma closed the UCGF by congratulating the graduate students for their research presentations as well as showcasing their talents. Dr. Cuaresma acknowledged that this goes to show that the students are not only excelling in their major fields but also in the field of arts.
The next UC Graduate Forum shall be hosted by National Taiwan University in Taipei, Taiwan in 2021.