SEARCA celebrated the accomplishments and academic achievements of the 38 SEARCA scholars who completed their studies this academic year 2020-2021 during the Testimonial Program held on 12 August 2021 via Zoom. Of the 38 graduates, eight (8) obtained their degrees from IPB University, Indonesia; three (3) from Kasetsart University, Thailand; 18 from the University of the Philippines Los Baños (UPLB); six (6) from Universiti Putra Malaysia (UPM); one (1) from University of Melbourne and one (1) from University of Tasmania, both in Australia; and one (1) from Tokyo University of Agriculture, Japan. A number of them were supported by SEARCA's collaboration with the German Academic Exchange Service or DAAD in Germany, the International Development Research Centre or IDRC of Canada, Universiti Putra Malaysia, Tokyo University of Agriculture or Tokyo NODAI, and the Philippine Carabao Center.
Dr. Maria Cristeta N. Cuaresma, Program Head for Education and Collective Learning, congratulated the 38 SEARCA graduates and encouraged them to continue being SEARCA's Ambassadors of Goodwill when they return to their respective home institutions.
Dr. Glenn B. Gregorio, SEARCA Director, emphasized in his message that the new graduates embody the realization of SEARCA's vision to be the leading enabler and champion of excellence in agricultural and rural development in Southeast Asia. He added, "You are the model of what SEARCA is; we are confident that you will carry with you the SEARCA class and the SEARCA advantage."
On behalf of the Master's graduates, Mr. Hector Bryan P. Grama, from UPLB, expressed his gratitude to SEARCA and its partners for the trust given to them. Likewise, speaking on behalf of the Doctoral graduates, Ms. Tuan Syaripah Najihah, from UPM, promised that she will give back to the community the knowledge she gained during her PhD experience.
Dr. Liza G. Battad of the Philippine Carabao Center delivered her message during the program while Mr. Christian Strowa of the German Academic Exchange Service sent his warm greetings via email. Both representatives of SEARCA's partner institutions congratulated the graduates for their success.
Dr. Josefina T. Dizon, President of the Regional SEARCA Alumni Association (RSAA), administered the RSAA Oath of Membership. She welcomed the new SEARCA alumni and asked them to participate actively in their in-country alumni association activities.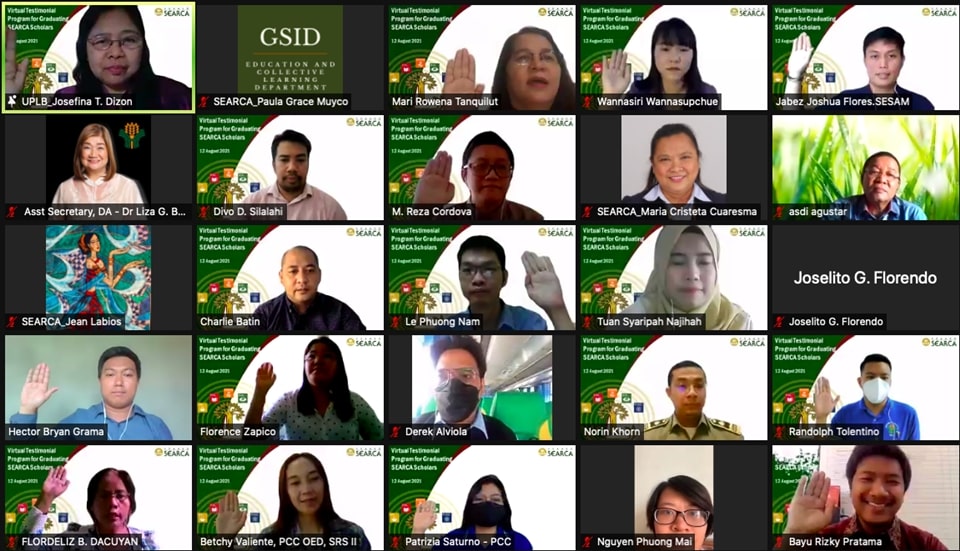 SEARCA awarded for the first time two Outstanding SEARCA Scholars for AY2020-2021. These scholars were evaluated according to: i) academic grade point average; ii) duration of studies in the degree program; iii) papers presented in international conferences; iv) publications in scientific journals; v) academic awards or recognitions received and; vi) other curricular activities or engagements. The awardees were,
Bayu Rizky Pratama, Double degree in MS in Agricultural and Resource Economics (KU) and MS in Agricultural Management (University of Montpellier SupAgro)
Muhammad Reza Cordova, PhD in Aquatic Bioscience, Tokyo University of Agriculture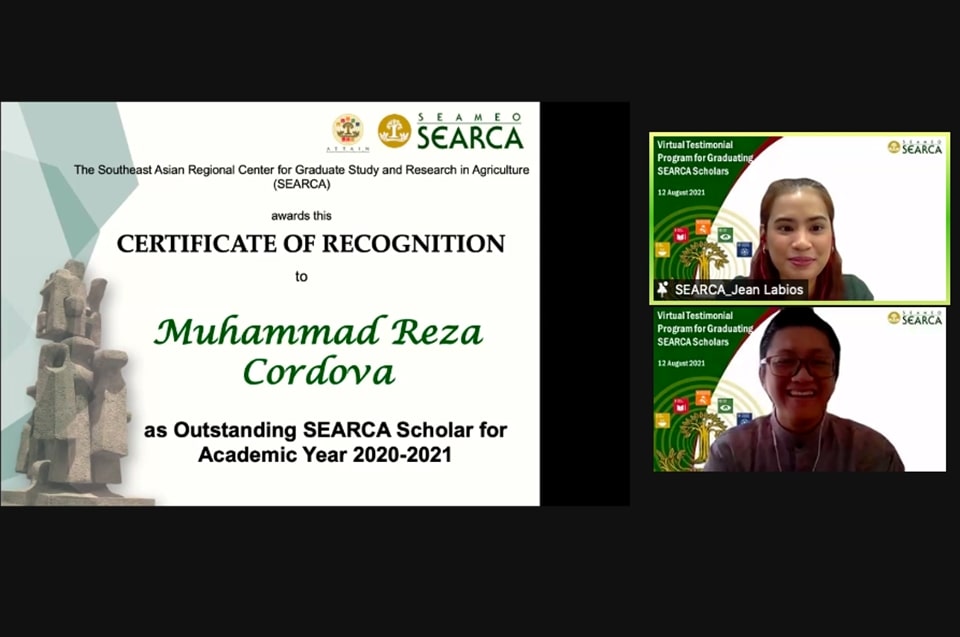 Special Awards were also given to the scholars who completed their degrees on time.
Ines Soares Pereira, Timor Leste, MS in Environmental Science
Patrizia Camille O. Saturno, Philippines, Master of Food Science
Rojino Da Cunha, Timor Leste, MS Plant Breeding and Biotechnology
Tobias Moniz Vicente, Timor Leste, MS Plant Breeding and Biotechnology
Le Phuong Nam, Vietnam, PhD in Agricultural Economics
Muhammad Reza Cordova, Indonesia, PhD in Aquatic Bioscience
Tuan Syaripah Najihah Tuan Mohd Razali, Malaysia, PhD in Agricultural Technology
Prof. Joselito G. Florendo, Deputy Director for Administration of SEARCA, closed the program with a final request for the graduates, "When you are already in your respective home countries, fulfilled with what you have become and satisfied with the accomplishments you have made, please do not forget SEARCA."