The post graduate course, which commenced in 6 October 2014, involved six modules and a roster of high-profile resource persons from UPLB and other institutions including Kasetsart University of Thailand, International Institute of Rural Reconstruction (IIRR) in Silang Cavite, and the Philippines Department of Agriculture with Assistant Secretary Romeo Recide giving a lecture on the ASEAN Integrated Food Security (AIFS) Framework and Strategic Plan of Action on Food Security (SPA-FS), 2015-2020.
The different lectures were complemented with group discussions, case studies, and field visits to relevant sites such as IIRR, Department of Science and Technology's Food and Nutrition Research Institute, Costales Nature Farms in Majayjay, Laguna, and one of Asia's leading agro-industrial and food conglomerate, Charoen Pokphand Foods Philippines, Corporation.
"We drew the best for this course, and I have never seen such a high level of commitment from all the collaborating institutions," said Dr. Percy E. Sajise, during the course's Closing Ceremonies held on 29 October 2014 at the SEARCA Residence Hotel. Dr. Sajise served as the coordinator and lecturer of the said summer course.
Having been involved from the conceptualization and implementation, Dr. Sajise expressed fulfillment after seeing how the participants were able to integrate in their project proposals what they have learned from the different lectures and field trips.
Meanwhile, UPLB Chancellor Rex Victor Cruz, in his message, reminded the participants that continuous learning is essential. "SEARCA has effectively promoted the pursuit of continuous learning and we thank SEARCA for partnering with UPLB in this endeavor," he added.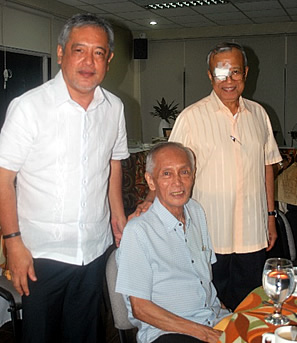 The summer course is foreseen to be one of the staple offerings of SEARCA in collaboration with UC and its member universities. UC will work towards making the summer school an accredited graduate course among the UC members in order to attract more graduate students to join.
"Thank you for teaching us to do everything sustainable," said Maryono, a Lecturer from the Bogor Agricultural University.
On the other hand, as a sign of appreciation for what she has learned, Meryl Bernardino, a graduate student from the UPLB looks forward to putting up her own vegetable garden once she goes back to Pangasinan.
Kuan Chee Hao, a PhD student from Universiti Putra Malaysia said the summer school was a good platform to learn about food and nutrition security. "When I go home, I will promise to plant seeds of sustainable development in my heart, water it every day and hopefully influence my colleagues to do the same."
{vsig}1865-summer-school-maiden-offering-brings-to-a-close{/vsig}