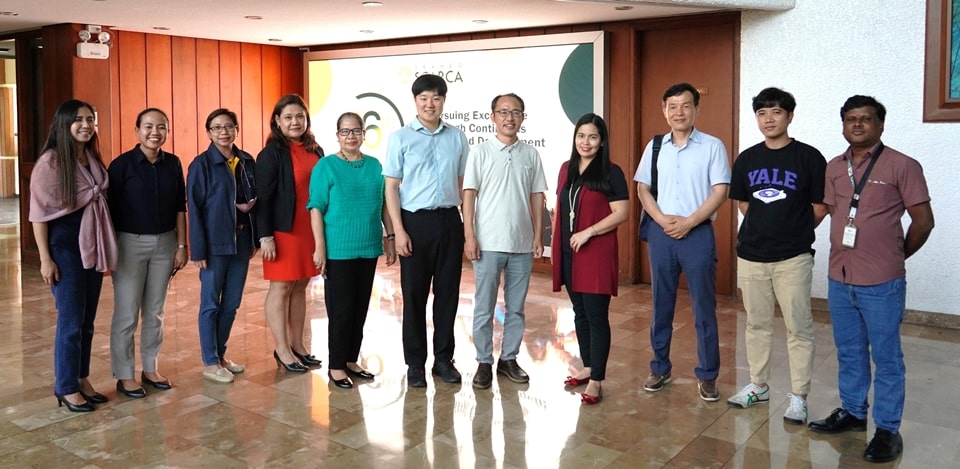 The Southeast Asian Regional Center for Graduate Study and Research in Agriculture (SEARCA) welcomed faculty members from Sejong University on 25 November 2022 to benchmark the Center's programs and activities and to learn more about SEARCA and Philippine agriculture and medicinal plants.
They were received by Dr. Nova A. Ramos, Head, Education and Collective Learning Department-Training for Development Unit (ECLD-T4DU); Ms. Sharon A. Malaiba, Head, Partnerships Unit (PU); Ms. Beatrisa L. Martinez, Executive Coordinator, Office of the Director; and key support staff.
SEARCA partnered with Sejong University in Seoul, South Korea, for the capacity building of Southeast Asian scientists and researchers through a Master's or Doctoral degree in the fields of Integrated Biological Sciences and Industry, and Bioresource Engineering.
In April 2020, the MOA for the joint scholarship was signed and will be effective for four years, starting Academic Year 2020-2021 to AY 2023-2024.
During the short visit, the two parties discussed further the fields for the scholarship, which are agriculture, food technology, aquaculture, smart-farming, and animal science. Dr. Joong Hyoun Chin, Associate Professor of Plant Breeding and Genetics, Department of Integrative Biological Sciences, and Industry, said they aim to have two MS and two PhD students per year for the Sejong-SEARCA Scholarship.