Given every two years, the search is ongoing for the awardee for 2017. The selected candidate will join the roster of distinguished achievers who have been stewards of agricultural and rural development (ARD) and whose accomplishments serve as inspiration and help catalyze the promotion of ARD in SEA.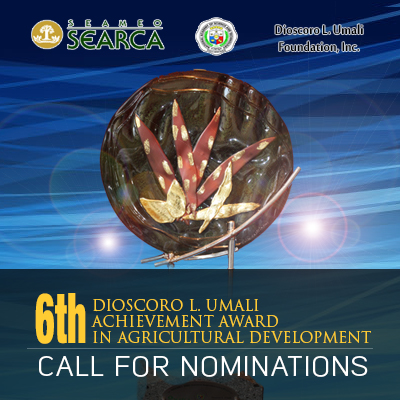 The recipient for the year 2015 was Mr. Tin Htut Oo from Myanmar, who was cited for tirelessly championing a new vision in agricultural policy making, thereby contributing in no small measure to the agricultural and rural development of his native Myanmar and the rest of the Southeast Asian region. Other awardees include Dr. Sjarifudin Baharsjah (2013), a development advocate and public servant from Indonesia whose pioneering of the agribusiness systems concept to promote agricultural development in his country led to improved incomes and welfare of small farmers; Dr. Ramon C. Barba (2011), a plant scientist from the Philippines whose simple mango flower-induction technology has enhanced the productivity of the agriculture and food processing sectors; Dr. Charan Chantalakhana (2009), a pioneer in cattle and buffalo genetic improvement from Thailand who has promoted smallholder farming systems; and Dr. Vo Tong Xuan (2008), an agronomist from Vietnam who has promoted diversified and sustainable agriculture.
The award is named after the illustrious Dr. Dioscoro L. Umali who was an educator, institution-builder, science statesman, development luminary, and prime mover of agricultural and rural development in SEA in his time. He was the founding director of the Southeast Asian Regional Center for Graduate Study and Research in Agriculture (SEARCA) and a National Scientist of the Philippines whose scholarship and quest for excellence fuelled a vision for a progressive SEA. Likewise, his leadership in the field of agriculture has led to the development of the University of the Philippines College of Agriculture, now University of the Philippines Los Baños, into a premier institution of higher learning in Asia.
Launched on 27 November 2007, the award is a collaboration among SEARCA, National Academy of Science and Technology (NAST) Philippines, and Dioscoro L. Umali Foundation (DLUF). It comes with a cash prize of USD10,000.
Nominations can be sent to The Secretariat, Umali Award, SEARCA, College, Los Baños, Laguna, Philippines 4031 or via email . For more information, visit The Dioscoro L. Umali Achievement Award in Agricultural Development page.