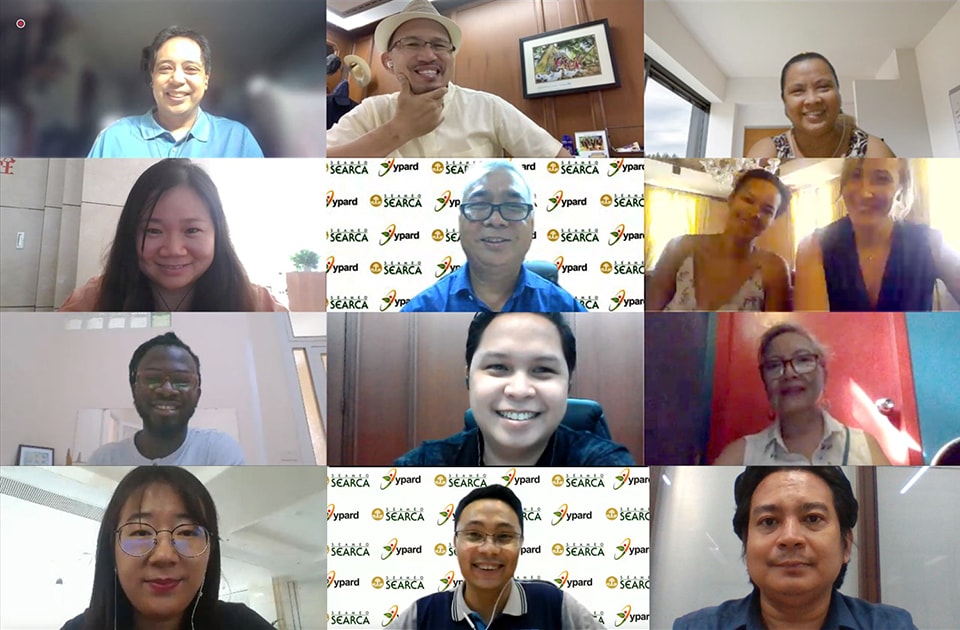 SEARCA officials and staff virtually met with the YPARD Global Team following the recently signed Memorandum of Understanding signifying the commitment of both organizations to advance youth integration in ARD.
The Southeast Asian Regional Center for Graduate Study and Research in Agriculture (SEARCA) organized a virtual meeting with the Young Professionals for Agricultural Development (YPARD) on 22 July 2020 to discuss areas for collaboration that will engage the youth in agriculture and rural development (ARD).
The meeting took off from the Memorandum of Understanding (MOU) between the two organizations signed on 01 July 2020 which was facilitated by the SEARCA Partnerships Unit and YPARD Philippines. YPARD is an international movement by young professionals with a vision for a food-secure world without poverty where young people are enabled to fully contribute.
Dr. Glenn Gregorio, SEARCA Director, said that the partnership with YPARD signifies SEARCA's commitment to integrate youth engagement in ARD as among the priority areas of the Center in its 11th Five-Year Plan (2020-2025).
"SEARCA is excited to work with the youth who will be our partners in agri-innovation and help them turn their 'crazy' ideas into practical solutions to issues in agriculture and rural development," Dr. Gregorio told the YPARD Team.
In the said meeting, Dr. Yemi Adeyeye, YPARD Global Director, introduced YPARD's direction and further action for education, research, and rural advisory services for young people.
One of the first activities under this new collaboration will be a SEARCA Online Learning and Virtual Engagement (SOLVE) webinar with YPARD on 12 August 2020 in celebration of the International Youth Day.
Dr. Adeyeye was joined by Mr. Jim Cano, YPARD Philippines Representative, and the YPARD Regional Coordinators and Communication Officers: Dr. Bi Jieying and Ms. Jiaxin Dong, Asia Pacific; Mr. Kofi Acquaye, Africa; and Dr. Libuška Valešová and Ms. Stacy Hammond, Europe.
With Dr. Gregorio in the meeting were members of the SEARCA Executive and Management Committees and staff of the Partnerships Unit. They were: Dr. Maria Cristeta N. Cuaresma, Education and Collective Learning Department Head; Dr. Nova A. Ramos, Training for Development Unit Head; Dr. Pedcris M. Orencio, Research and Thought Leadership Department Head; Mr. Benedict A. Juliano, Applied Knowledge Resources Unit Head; Mr. Jaymark Warren T. Dia, Management Information Systems Unit Head; Ms. Corinta C. Guerta, Technical Advisor to the Director; Dr. Maria Celeste H. Cadiz, Consultant; Ms. Bea L. Martinez, Executive Assistant to the Director; Dr. Romeo V. Labios, Technical Advisor for Partnerships; Ms. Leah Lyn D. Domingo, Public Relations Specialist; Ms. Maria Teresa B. Ferino, Administrative Associate; and Mr. Sonny Pasiona, Communications Associate/Youth Program Focal Person.