Mr. Nathan P. Felix, SEARCA Senior Public Relations Associate
Mr. Nathan P. Felix, Senior Public Relations Associate of SEARCA, was conferred 2020 University of the Philippines Los Baños (UPLB) Outstanding Leadership Award during the Recognition of Graduating Scholars and Donor Partners by the UPLB Office of the Vice Chancellor for Student Affairs (OVCSA), 30 July 2021.
The UPLB Outstanding Leadership Award is conferred to an individual who has demonstrated outstanding leadership and contribution to student activities and programs in their College and the University and have a deep sense of community awareness and involvement.
In 2020, Mr. Felix graduated magna cum laude with the Bachelor's degree in Communication Arts at UPLB under the UP Presidential Undergraduate and Leadership Scholarship Grants administered by the UP System. He immediately joined SEARCA to work with the Center's public relations (PR) and communications activities under the Partnerships Unit. As a young PR practitioner, he promotes the programs and partnerships activities related to SEARCA's strategic plan 2020-2025 with the theme, Accelerating Transformation Through Agricultural Innovation (ATTAIN).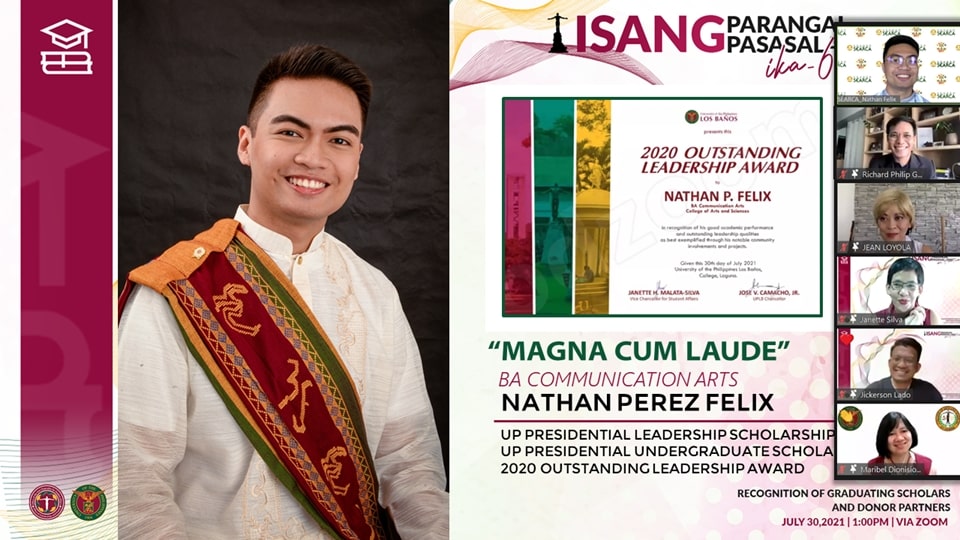 Mr. Felix receives the UPLB Outstanding Leadership Award from UP officials (top to bottom, right side): Professor Richard Phillip A. Gonzalo, UP System Assistant Vice President for Academic Affairs (Student Affairs) and Director of the Office of Student Financial Assistance; Dr. Jean O. Loyola, UPLB Vice Chancellor for Academic Affairs; Dr. Janette H. Malata-Silva, UPLB Vice Chancellor for Student Affairs; Professor Jickerson P. Lado, UPLB Director of the Office of Scholarship and Grants; and Dr. Maribel L. Dionisio-Sese, Dean of the UPLB College of Arts and Sciences.
"I am deeply honored for this recognition, and this pushes me to do better as a young leader. With my work at SEARCA, I hope to carry on with my advocacy to further strengthen the role of arts and humanities in agricultural and rural development," said Mr. Felix.
Gender and youth engagement in agricultural and rural development (ARD) is among the priority areas of SEARCA's ATTAIN plan. Mr. Felix is also a representative to the SEARCA Youth Ambassadors Platform (SAYAP), an internal empowerment platform for young employees of SEARCA aligned to the Center's Young Forces for Agricultural Innovation (#Y4AGRI) program. Through SAYAP, Mr. Felix is able to sharpen his skills and contribute to the overall branding and implementation of #Y4AGRI activities both for internal and external youth stakeholders.
"I am fortunate to have been given the opportunities with SAYAP to put my skills into practice, while also continually learning from other young staff of SEARCA from various disciplines of agriculture and related fields of communication, information technology, finance, and economics. As young leaders, we both feel the challenge and excitement to help advance Southeast Asian agriculture," Mr. Felix concluded.