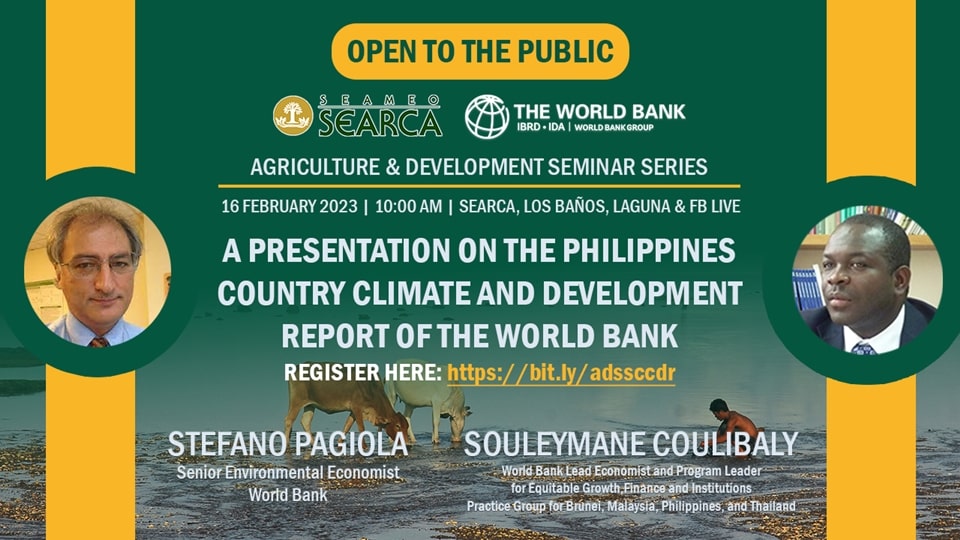 The Southeast Asian Regional Center for Graduate Study and Research in Agriculture (SEARCA) in partnership with the World Bank (WB) will conduct its second Agriculture and Development Seminar Series (ADSS) for Fiscal Year 2022/2023 on 16 February 2023, with a discussion on the climate impacts on agriculture.
The presentation on the Philippine Country Climate and Development Report (CCDR) in the ADSS will be presented by Dr. Stefano Pagiolo, WB Senior Environmental Economist, and by Dr. Souleymane Coulibaly, WB Lead Economist and Program Leader for Equitable Growth, Finance and Institutions Practice Group for Brunei, Malaysia, Philippines, and Thailand.
Dr. Glenn Gregorio, SEARCA Director, and Assoc. Prof. Ts. Dr. Nur Azura Binti Adam, SEARCA Deputy Director for Programs, will also speak during the event.
The CCDR comprehensively analyzes how climate change will affect the country's ability to meet its development goals and pursue green, resilient, and inclusive development. Moreover, it helps identify opportunities for climate action by both the public and private sectors and prioritizes the most urgent development challenges impacted by climate change in the Philippines.
WB's report is aligned with SEARCA's Enhanced Agriculture and Rural Development (ARD) towards Climate Resilience priority area in accelerating transformation through agricultural innovation (ATTAIN).
The panel discussion of the ADSS will be moderated by Dr. Rico C. Ancog, Dean, University of the Philippines Los Baños (UPLB)-School of Environmental Science and Management (SESAM). Panel discussants will be composed of Dr. Patricia Ann Sanchez, Professor, UPLB-SESAM; Dr. Rodel Lasco, Executive Director, Oscar M. Lopez Center for Climate Change Adaptation and Disaster Risk Management Foundation, Inc.; and Dr. Rex Victor Cruz, Professor Emeritus, UPLB-College of Forestry and Natural Resources (CFNR), and SEARCA Senior Fellow.
The second hyflex ADSS will be held at the SEARCA Umali Auditorium, and it will be aired via Zoom and Facebook live.