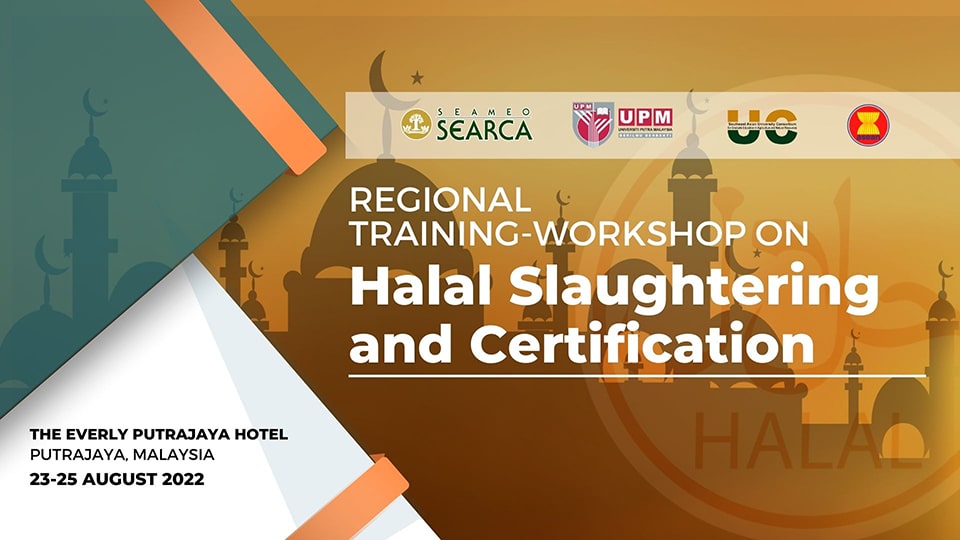 PUTRAJAYA, Malaysia – The Southeast Asian Regional Center for Graduate Study and Research in Agriculture (SEARCA), in partnership with the Universiti Putra Malaysia – Halal Products Research Institute (UPM-HPRI), will conduct the Regional Training-Workshop on Halal Slaughtering and Certification on 23-25 August 2022 at The Everly Hotel, Putrajaya, Malaysia. The training-workshop aims to enhance the capacities of Halal professionals, practitioners, policymakers, and other key players and stakeholders on Halal slaughtering and certification as well as to increase the exchange of knowledge and information and to explore potential collaborations for further development of the Halal industry in the ASEAN region.
This collaborative capacity building initiative of SEARCA and UPM is designed to support the ongoing initiatives of the ASEAN Working Group on Halal Food (AWGHF). Specifically, this learning event addresses Strategic Thrust 2 of the AWGHF Plan of Action 2021-2025 which targets to boost regional and international collaboration through capacity building and information exchange to improve the adoption of Halal best practices in the region. Moreover, this regional training-workshop relates to the AWGHF's recommended thematic areas which include Halal good management practices, slaughtering practices, production, and standard awareness. With this, the event has been recognized as an official ASEAN event.
Representatives from the AWGHF, the Southeast Asian University Consortium for Graduate Education in Agriculture and Natural Resources (UC), as well as the private sector will serve as participants in this event. The participants are expected to prepare a Re-entry Action Plan (REAP) that will outline suggested strategies and actions on how to address the current gaps and challenges in the Halal industry in their respective countries and in the ASEAN region.