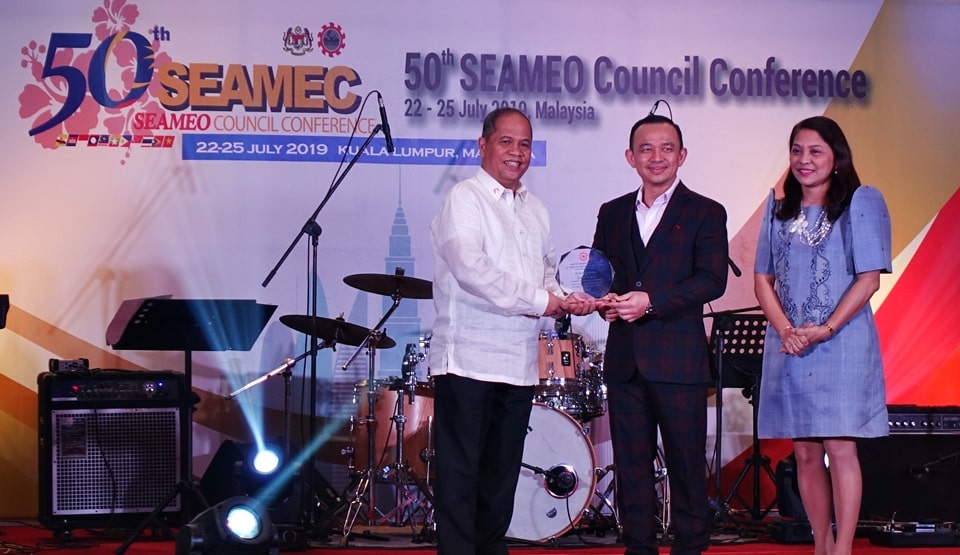 Mr. Ricardo A. Menorca, SEARCA Unit Head for General Services, receives the SEAMEO Service Award from Malaysian Education Minister Maszlee Malik on 23 July 2019. With them is Dr. Ethel Agnes Pascua-Valenzuela, SEAMEO Secretariat Director.
PETALING JAYA, Malaysia – Mr. Ricardo A. Menorca, Unit Head for General Services of the Southeast Asian Regional Center for Graduate Study and Research in Agriculture (SEARCA) received the SEAMEO Service Award at recognition rites during the 50th SEAMEO Council Conference held here on 22-25 July 2019.
The Southeast Asian Ministers of Education Organization (SEAMEO) is an inter-government treaty body founded in 1965 to promote regional cooperation in education, science, and culture in Southeast Asia. SEARCA is one of the oldest among SEAMEO's 26 specialist institutions.
The SEAMEO Service Award is given biennially to recognize exemplary staff members of each SEAMEO specialist institution and its Secretariat who have demonstrated high level of achievement in their work performance, innovation and creativity, professionalism, and commitment that contribute to the success of the organization. The recipients of the SEAMEO Service Award are selected by their home institutions based on a standard set of criteria.
Mr. Menorca joined SEARCA in 2003 and is the 12th SEARCA staff to receive the SEAMEO Service Award.
Mr. Menorca travelled to the SEAMEO Council Conference with the SEARCA delegation led by Dr. Glenn B. Gregorio, SEARCA Director. With them were Ms. Adoracion T. Robles, Officer-in-Charge, Office of the Deputy Director for Administration and Unit Head for Management Services; Ms. Julita G. Ventenilla, Unit Head for Internal Audit; and Ms. Leah Lyn D. Domingo, Public Relations Specialist.
The conference is a ministerial level forum that discusses education initiatives and policies in the region and set out the strategic directions for implementing the programs and projects of SEAMEO.
This year's conference was hosted by the Ministry of Education of Malaysia and was attended by education ministers and high-level government education officials from SEAMEO member states and associate members as well as top officials and representatives from SEAMEO institutions, development partners, and international organizations.