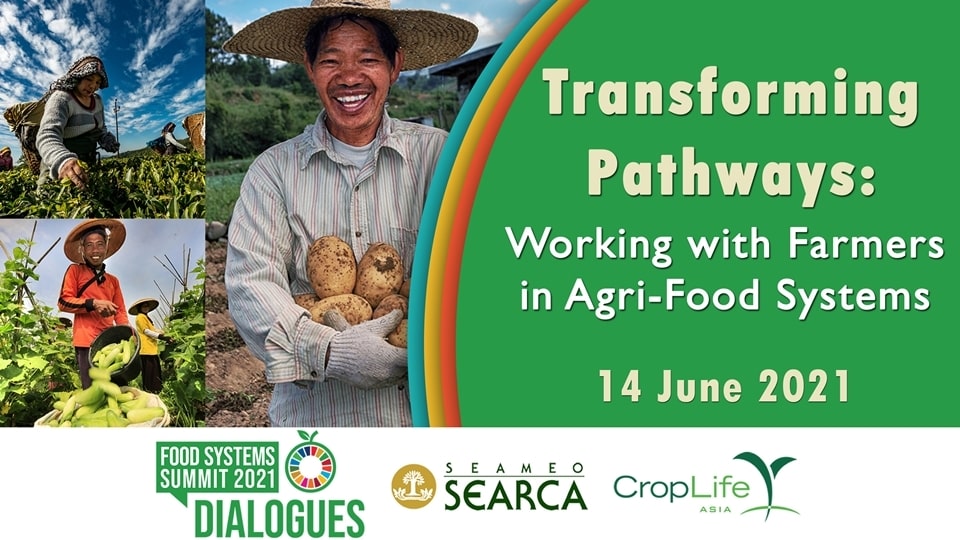 Recognizing the importance of listening and including farmers in the process of transforming agri-food systems, the Southeast Asian Regional Center on Graduate Study and Research in Agriculture (SEARCA) and CropLife Asia (CLA) hosted "Transforming Pathways: Working with Farmers in the Agri-food Systems". This independent dialogue in connection with the United Nations Food Systems Summit (UNFSS) was held last 14 June via Zoom.
"There is a need to transform agricultural systems for long-term sustainability. In this process, farmers, the people who produce our food, must have an active role. This begins with transforming farmers into "transfarmers". This is a new breed of farmers called with progressive mindsets and perspectives on farming as a business operating in a modern agriculture ecology," said SEARCA Director and UNFSS Champion, Dr. Glenn B. Gregorio.

SEARCA Director and UN Food Systems Summit Champion, Dr. Glenn B. Gregorio and CropLife Asia Executive Director, Dr. Siang Hee Tan emphasized the significance of strengthening multi-sectoral collaboration and empowering farmers in their welcome remarks.
Aimed at increasing utilization and improving farmer collaboration with the academe, industry, and the government (AIG) towards transformed food systems, more than 30 farmer-leaders from Indonesia, the Philippines, Thailand, and Vietnam took part in a three-hour dialogue with representatives from AIG. The dialogue was a platform to share information, knowledge, and experiences related to three topics aligned with UNFSS action tracks. These are (1) using digital technologies in producing safe and nutritious food for all; (2) developing policies that promote an enabling environment for nature positive production; and (3) fostering partnerships to build resilience to vulnerabilities, shocks, and stresses.
Dr. Gregorio further emphasized that the enabling environment to support the needed change for smallholder farmers should come directly from the farmers themselves. "Let us understand where our farmers are in terms of policy, technology, and industry development and of course, their integrated phases to have more action points and effective strategies in programs that benefit them the most," he added.
National Academy of Science and Technology Academician and University of the Philippines Mindanao Professor Emeritus Dr. Eufemio T. Rasco, Jr. set the tone for the discussion as dialogue curator. Dr. Rasco worked with Dr. Zool Hilmi Ismail (Malaysia), Dr. Karen Eloisa T. Barroga (Philippines), and Dr, Kanokwan Chodchoey (Thailand), in facilitating three breakout sessions to gather insights from the farmers. These were on the influencing conditions that should be in place to foster change in the farming sector. The sessions focused on three major threads: (1) policy, which concerns different government institutions; (2) technology, a concern for research and development institutions and the academe; and (3) resilience, which concerns everyone, but is dependent on a sound collaboration industry players.

The participants of the dialogue composed of more than 30 farmer-leaders from Indonesia, the Philippines, Thailand, and Vietnam along with other stakeholders from the AIG and partners from SEARCA and CropLife Asia's network.
Emerging key recommendations and action points centered on the need for multi-sectoral support on interventions such as improving market access; capacity building activities on new technologies especially for ageing farmers; providing crop diversification and insurance programs; reducing economic risks of farming through good agricultural practices; laymanizing research results for farmers; and using digital technology such as weather forecasting equipment to protect crops from natural calamities.
According to CLA Executive Director Dr. Siang Hee Tan, "this partnership between SEARCA and CLA helps in raising the voice of our farmers at a critical time for Asia and the world. Dr. Tan continues "we look forward to continuing our work together to ensure that our farmers are enabled and empowered to meet the challenges of a growing world".