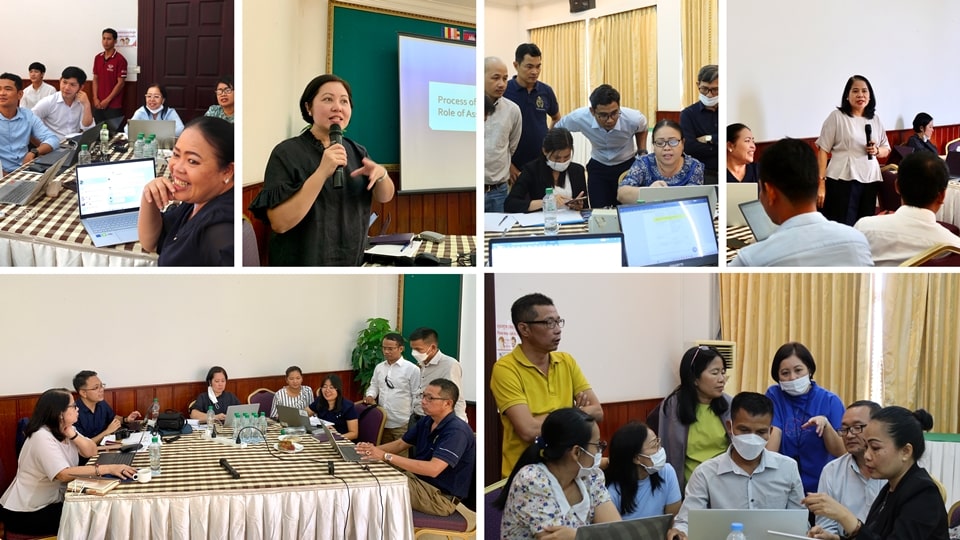 Participants from the Royal University of Agriculture engage in lectures and workshops on QA with the SEARCA training management group.
KAMPOT CITY, Cambodia – The Southeast Asian Regional Center for Graduate Study and Research in Agriculture (SEARCA) conducted a training-workshop on internal quality assurance (IQA) for 24 higher education institution (HEI) leaders and officers of the Royal University of Agriculture (RUA) on 22–25 May 2023.
The activity aimed to build the capacities of focal points and internal assessors on the IQA process and implementation, finalize the IQA manual of RUA, and assess the milestones and partnership experience of the SEARCA-RUA project.
Vice-rectors, deans, and officers of various faculties and the IQA office of RUA participated in the workshop. "These officials and staff showed strong commitment to improving the quality of their processes, programs, and service delivery to their stakeholders," said Dr. Nova Ramos, head of SEARCA's Training for Development Unit (T4DU). Serving as one of the training facilitators, Dr. Ramos was joined by Mr. Sonny Pasiona, T4DU program specialist, and Dr. Rhea Gumasing, associate professor from the University of the Philippines Los Baños and IQA project consultant.
The activity was the second face-to-face workshop after the 12 online workshops held for the last three years of project implementation, covering various topics on quality assurance (QA). In the onsite workshop, Dr. Gumasing further discussed the participants' roles and responsibilities in the QA process and presented the results of an internal survey on their current QA skills and capacities. A role-playing exercise enabled the participants to practice the QA process from the perspectives of an assessor, program holder, and observer.
With inputs and guidance from the SEARCA training management group, the participants crafted the RUA's IQA manual with rationale, structures, frameworks, tools, and other significant document sections. This manual is the training-workshop's major output.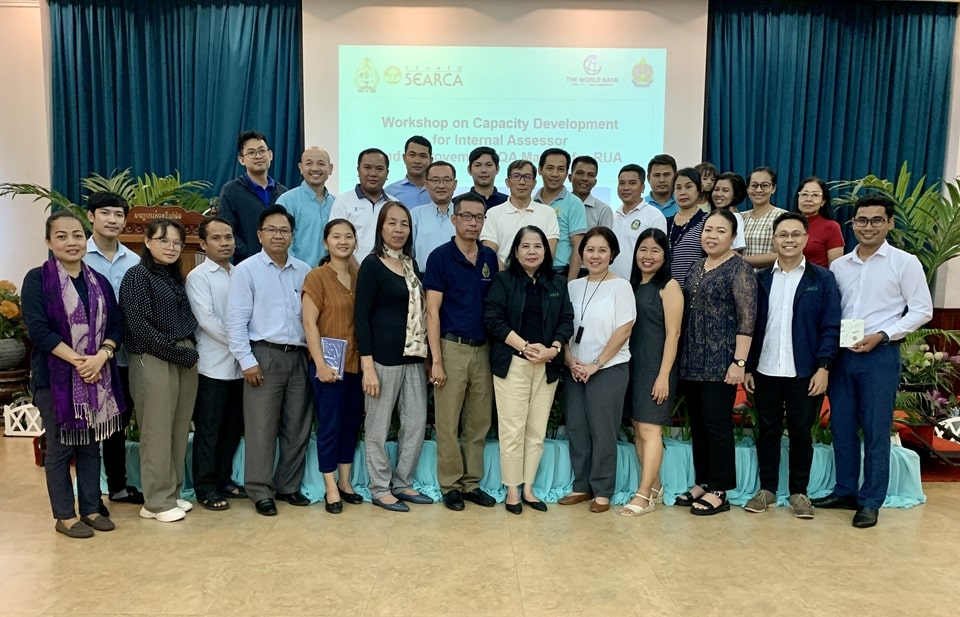 RUA officials and staff with the SEARCA team at the closing session of the quality assurance training-workshop.
Dr. Seng Mom, vice-rector of RUA, thanked SEARCA for the support and technical assistance to the project. "The IQA manual is for us to strengthen the quality of academic, scientific, and technological education within RUA's faculty program through academic quality assurance and research to meet our economic and social development needs," she said.
The capacity-building initiative was part of the broader partnership of RUA and the World Bank under the Higher Education Institutions Capacity Improvement Project (HEICP). The initiative aligns with SEARCA's institutional development assistance (IDA) efforts to Southeast Asian universities, including RUA, which has been a long-time partner of the Center in its IDA activities.