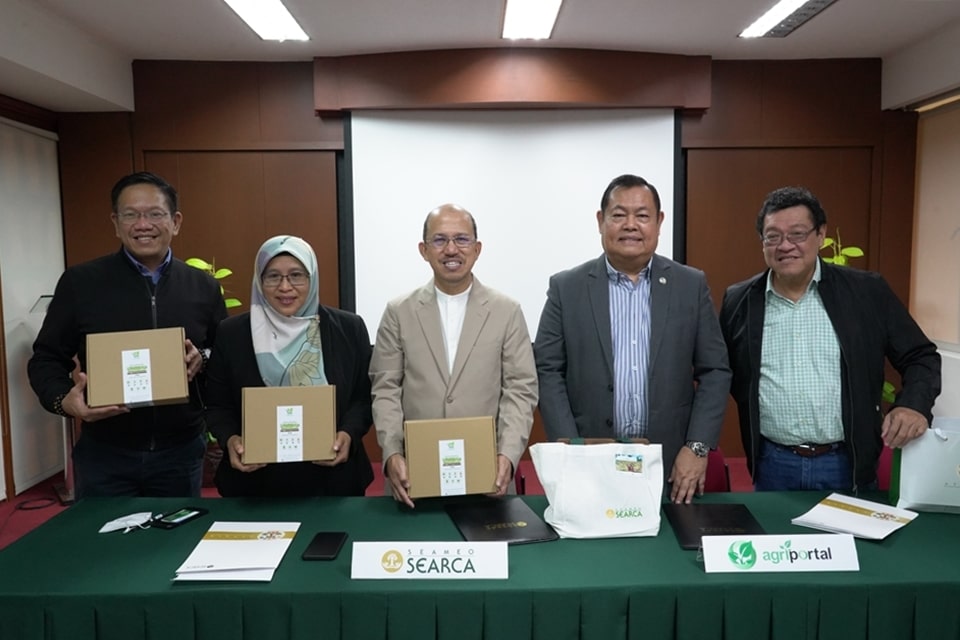 AgriPortal Advocates Philippines, Inc. (AgriPortal) and the Southeast Asian Regional Center for Graduate Study and Research in Agriculture (SEARCA) entered into a Memorandum of Understanding (MOU) on 17 January 2023.
Under the five-year accord, SEARCA and AgriPortal have complementary objectives and a mutual desire to collaborate in a number of areas of common interest such as education, training, and research.
Signatories are Dr. Glenn Gregorio, SEARCA Director, and Dr. Junifen Gauuan, Chairman of the AgriPortal Board of Trustees. The signing ceremony was held at SEARCA and witnessed by key officials and staff members of SEARCA and AgriPortal.
AgriPortal is a nongovernmental organization functioning as a one-stop agricultural solution in absolute fulfillment toward a transformed "HEARTS" of the nation. It is dedicated to revive and renew the agriculture industry in the Philippines by bringing together various faith-based communities into agri-enterprise and agribusiness.
Under the agreement, SEARCA and AgriPortal will collaborate in promoting and disseminating planting and gardening of "Bahay Kubo" seeds to K-12 learners in the country with the help of the Philippine Department of Education (DepEd). The Bahay Kubo Project is SEARCA and AgriPortal's combined initiativethat aims to educate the Filipino youth the essence of agriculture and how can they contribute through small yet impactful actions in home and in school. SEARCA will provide the kickstarter manual for the production of vegetable seeds while AgriPortal provides vegetable seeds to schools and other stakeholders.
The collaboration will also include webinar series on sustainable agriculture and agricultural enterprises mainly catering overseas workers. The webinar series is SEARCA's bid to promote sustainable agriculture across Southeast Asia.